Coconut oil soap can easily be made at home with virgin organic coconut oil, lye, essential oils and water, and can quickly help boost the health and appearance of your skin.
What is Coconut Oil Soap?
As the name implies, coconut oil soap is an all-natural soap that eliminates many of the harsh and abrasive chemicals typically found in mass-produced soaps, while also providing moisturizing, exfoliating, antioxidant and anti-bacterial benefits to the skin of your hands, face, and body. Made from a small amount of ingredients, you can produce a hard soap that can strengthen your immune resistance, make your skin look younger and less wrinkled, and clear up blemishes and inflammation. [1]
According to USDA, coconut oil contains vitamins such as vitamin E and vitamin K that help improve the skin health. It is a common ingredient in many soap varieties, but it is often found in smaller amounts, along with a wide range of other chemicals and additives, such as parabens, formaldehyde, triclosane, dioxane and various fragrances, among others. While these added chemicals serve a purpose, they can also have long-term negative effects on the skin. For those who want to live a chemical-free life, coconut oil soap is a healthy option that can easily be made at home and used every day! [2] [3]
Coconut Oil Soap Benefits
There are many benefits of coconut oil soap that can help your skin look younger, feel smoother and experience fewer breakouts. This is primarily due to the high fatty acid content of this oil, including medium-chain fatty acids like lauric acid, capric acid, and caprylic acid. Furthermore, coconut oil soap benefits from vitamin E, vitamin K, various polyphenolic compounds and other antioxidants, all of which can have a measurable effect on your skin. [4]
Younger-looking Skin
Unlike many other soaps on the market, coconut oil soap contains a high level of antioxidants and vitamins that serve a similar purpose, namely to eliminate free radicals and stop their damaging effects on skin cells. Over time, our skin begins to lose its elasticity and develop wrinkles, much of which is due to the impact of free radicals. These are natural byproducts of cellular metabolism that can damage cells or cause them to mutate into cancerous cells. Vitamin E and the polyphenols in coconut oil can stop this breakdown and ensure that the skin of your face, hands, and body retain their elasticity. Furthermore, these antioxidant effects can clear up blemishes and speed the healing of scars and pimples, leaving your skin looking smooth, youthful and healthy. [5]
Antibacterial Resistance
Coconut oil contains high levels of medium-chain fatty acids, also known as triglycerides, which possess antibacterial, antiviral and anti-fungal properties. This can eliminate bacterial presence on the skin that causes acne and breakouts. Furthermore, hand-washing is one of the body's main defenses against the transfer of germs and pathogens to the eyes, mouth and other gateways to the body, meaning that coconut oil soap can protect against a very broad range of potential illnesses and infections. [6]
Moisturizing Properties
Dry skin is an irritating and seemingly constant problem for some people, and adding moisture to the skin is crucial. Coconut oil can permeate the skin and help the skin retain moisture, while also combating oxidative stress and making your skin smooth and supple to the touch. This specialized soap can give your entire body a moisturizing shield against dryness, inflammation, and irritation, which can easily lead to infections and more serious skin conditions, such as psoriasis, acne, and eczema. [7]
How to Make Coconut Oil Soap?
You can make coconut oil soap with simple ingredients like lye, essential oils and water, along with the base oil, by following these simple steps below.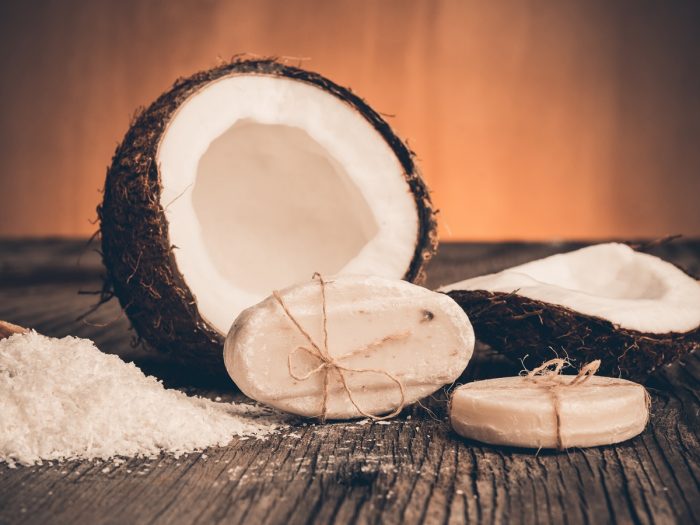 How to Make Coconut Oil Soap: Easy Recipe
That coconut oil is good for the skin is a known fact. Well, have you tried making it at home? Follow these simple steps as given below to make your own version of coconut oil soap at home.
Print
Pin
Rate
Cook Time:
1
hour
15
minutes
Total Time:
1
hour
25
minutes
[8]
[9]
Ingredients
4

cups

virgin organic coconut oil [10]

1/2

cup

lye

1.5

cups

water

1

tbsp

essential oil (lavender, melaleuca etc.)

depending on your fragrance preference

Crockpot

Thermometer

Glass bowls (various sizes)

Measuring cups

Blender

Plastic Spoon

1

bowl

Vinegar

spatula

Rubber Gloves/Long-sleeved Shirt/Safety Glasses

Bread Pan
Instructions
To make coconut oil soap, first, turn your crockpot on low.

Fill a medium-sized bowl with water and go outside with the lye, safety gloves, glasses, and long-handled spoon. Lye is extremely potent, as are the fumes, so do not do this in the house, and be sure not to breathe in any fumes.

Slowly mix the lye into the water, stirring gently. The mixture will quickly become very hot, so be careful! Let this mixture cool outside for 5-10 minutes.

Add the (liquefied) coconut oil to the low-heat crockpot.

Slowly add the lye mixture into the crockpot; do not let any of this splash onto your skin.

Stir the crockpot with a wooden spoon a few times, waiting for it to take on the consistency of pudding.

Cover your crockpot and allow it to cook on low for 45-60 minutes.

The final mixture should look something akin to vaseline, with a pH between 7-10. The heat will reduce the lye's alkaline nature, but if the pH reading is above 10, it is not done "cooking". You can test the pH with a pH strip, but allow it to soak for at least a minute for an accurate reading. The mixture should feel slightly waxy to the touch.

Add essential oils once the lye mixture is at the right pH level and stir briefly. Do not add them before the mixture is cool, or the scent will be lost.

Carefully spoon the mixture into your bread pan and allow it to cool. The coconut oil will harden rather quickly, so as soon as the mixture feels cool to the touch and relatively firm, cut it into soap-sized bars.

Place the bars on a rack in the open air, or somewhere with good air flow. Allow the bars to fully dry out and harden for the next few days, and then let them sit for 2-3 weeks before use.

Then, start lathering up and enjoy the impressive effects of your brand-new coconut oil soap!
Connect With Us
If you have tried this recipe, we would love your feedback in the comments section below. And while we can't taste it, we would love to see how it turned out! You can connect with us on Facebook or Instagram and tag your picture with #organicfactsrecipes. [12] [13]
Do you wish to share your winning recipes with us? Please click here and fill in the details to get started.