Coconut oil lotion is an incredible way to protect your skin and improve its appearance, thanks to its moisturizing, antioxidant, antibacterial and anti-inflammatory properties. It is also very easy to make, can last for years, and doesn't contain any of the harsh chemicals or additives that you will find in most store-bought lotions.
This powerful and popular oil has become a mainstay for those who take a natural approach to health, and with good reason. Coconut oil is rich in medium-chain fatty acids, specifically lauric acid, capric acid and caprylic acid, which can easily permeate the skin to moisturize dry patches and prevent oxidative stress. Oxidative stress, due to age or sun damage, can manifest as wrinkles, age spots and discoloration, but this oil's antioxidant powers can mitigate or prevent those effects. Furthermore, coconut oil contains vitamin E and K (source: USDA), both of which are known to stimulate growth and protect the skin from harmful radiation. Those medium-chain fatty acids mentioned above also have antibacterial, antiviral and anti-inflammatory properties, meaning that they can protect your skin from conditions like psoriasis, eczema, acne and many other unpleasant skin irritations. [1] [2]
Coconut oil lotion is easy to make and extremely effective, with no negative side effects, except for those very rare individuals who are allergic to coconuts! You will find coconut oil in many lotions that you find in traditional stores, but if you want to ensure that you are using an all-natural product that can be used all over the body, simply make your own at home! [3]
How to Make Coconut Oil Lotion & Bar?
Some of the best coconut oil recipes include beeswax, Shea butter, essential oils and vitamin E oil, all of which are beneficial for the skin on their own. These lotions can come in many different forms, depending on the recipe that you choose and the consistency that you desire, but two of the most popular types are as a traditional cream lotion and a lotion bar. [4]
The cream lotion is excellent as a daily scrub for dry skin patches, the hands, and face, particularly under the eyes and on wrinkles. The lotion bars can be used a bit more liberally, as they won't melt as quickly from body heat, and deliver even more benefits, due to the other ingredients they contain.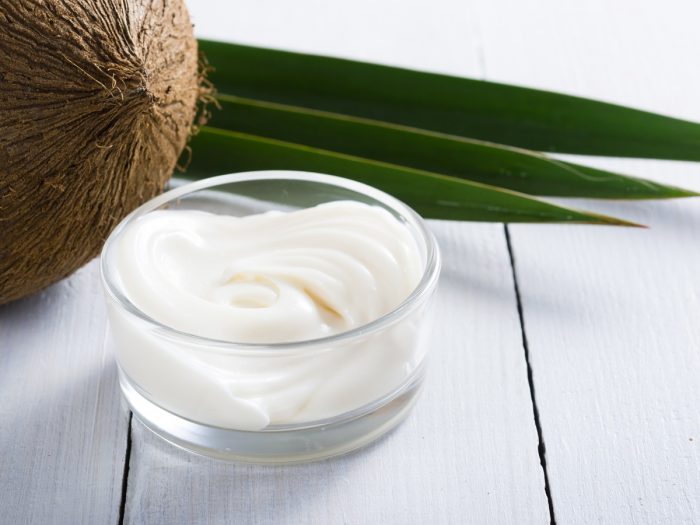 DIY Coconut Oil Lotion & Bar Recipes
Coconut oil lotion and bar are full of nourishing properties, making your skin soft and subtle. We have added essential oils for fragrance. You can pick any fragrance you like.
Print
Pin
Rate
Ingredients
Coconut Oil Lotion
2

cups

virgin coconut oil

2

tsp

vitamin E oil

6-10

drops

essential oil (pick one based on fragrance)
Coconut Oil Lotion Bar
1

cup

coconut oil

1

cup

cocoa butter

1

cup

beeswax

1

tsp

vitamin E oil

5-6

drops

lavender essential oil
Instructions
Coconut Oil Lotion
Put the coconut oil and the vitamin E oil into a bowl and mix thoroughly with a blender for 4-5 minutes. This will add volume to the mixture and ensure that the two parts won't separate during storage.

Add the essential oils and then blend for another 30 seconds.

Pour the mixture into a glass jar or small container and store in a cool, dark place.
Coconut Oil Lotion Bar
Heat a pan filled with approximately 1 inch of water on the stove, bringing the water to a boil.

Add the coconut oil, cocoa butter, beeswax and vitamin E oil to a glass mason jar.

Place the mason jar in the pan, allowing the heat from the water to melt the contents of the jar.

Stir the mixture continuously throughout this heating process.

Remove the jar from the pan and add the lavender essential oil.

Stir the mixture as it cools, but do not let it harden.

Pour the smooth mixture into molds (muffin pans work very well for this).

Allow them to sit for 1-2 hours, or put them in the refrigerator to speed the process.

Once they are completely hardened, gently pop out the coconut oil lotion bars!