You may know Ghana for its chocolate and coffee, but did you know that it is also known for its delicious street food – kelewele? Kelewele is simply some old school deep-fried plantains, caramelized with goodness to make your soul happy. Crunchy and spicy on the outside and soft and sweet on the inside, kelewele (as they are popularly known in Ghana), has the potential to push the West African cuisine in the global food arena. You can either have it as it is or with peanuts and as a side dish to your protein-rich main course meal such as barbequed beef or chicken.
How to Make Kelewele?
In West Africa, kelewele is sold as popular street food. By West Africa, we mean, Ghana, Nigeria, Liberia, Cameroon, and Ivory Coast. While it is known as kelewele in Ghana, it is known as aloco in Ivory Coast and dodo in Nigeria. This sweet and spicy West African street food is quite easy to prepare at home. All you need to do is cut ripe plantains and coat it with various spices before deep frying it in peanut oil or any other oil of your choice. Let us take a look at some of the important steps or pointers to remember while making this famous West African street food at home.
Traditionally, some people prefer to use overly ripe plantains for this dish, but it tends to soak up a lot of oil. That is why, in this recipe, we make use of reasonably ripe plantains.
Kelewele can be custom-made as per your choice, however, the three basic ingredients are ginger, salt, and hot pepper. Spice recommendations differ according to individual preferences and also the region in which this dish is made. Apart from the basic ingredients, some also use spices like cardamom, nutmeg, star anise, and cloves.
Some also like to use onions in the recipe. This is, however, optional. You can blend fresh ginger and onions along with the aforementioned dry spices to make the paste for spicy kelewele sauce. You can either blend two shallots or one bulb of onion with an inch of the ginger root along with the dry ingredients to make the paste. You can then pour this sauce over the plantains (that can either be sliced or cubed as per your preference) and then thoroughly mixed together before being deep-fried and caramelized. Let us take a look at the detailed recipe below.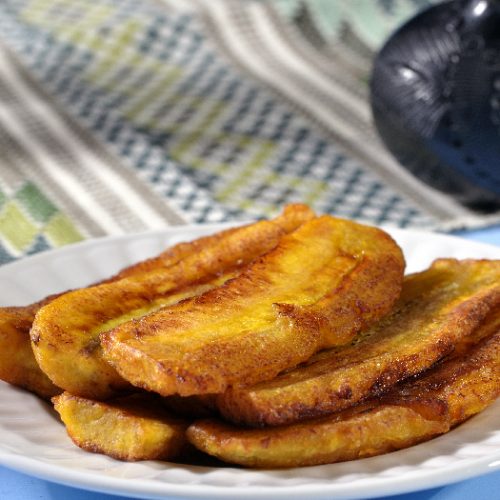 Homemade Kelewele Recipe
The perfect recipe to bring Ghana's popular street food to your dinner table! Crunchy on the outside, and soft on the inside - this is what soul food tastes like!
Print
Pin
Rate
[1]
[2]
Ingredients
Instructions
To make kelewele, first, peel the reasonably ripe plantains and cut them either into vertical slices or bite-sized cubes, according to your preference.

Add the ginger-garlic and onion paste along with the aforementioned dry spices and salt to make the spicy paste to mix the plantains in. Mix the sliced plantains with the spicy paste in such a way that it is evenly distributed.

Meanwhile, heat the peanut oil or olive oil, whichever you choose to use. Once the oil has heated up, drop the sliced plantains into the oil using a slotted spoon.

Fry the plantains till they turn golden brown and caramelized around the edges. Enjoy the yummy fried plantains aka kelewele with some delicious dips. You can also serve it alongside rice or barbequed chicken, pork ribs and beef steaks.
Notes
Don't put too many sliced plantains all at once into the pan. This won't allow them to fry evenly and consistently. It is okay to fry them in batches so as to ensure that they turn brown evenly.
Make sure that the oil is properly heated before frying the plantain slices. When it isn't properly heated, the plantain slices tend to soak too much oil and will end up being too soft.
Also, be careful and ensure you remove the sliced plantains on time. Over-frying the plantains can ruin the taste.
So maybe when life gives you plantains, you make some spicy kelewele and make your soul happy. If you have any other interesting way to make this dish, share it here. And while we can't taste it, we would love to see how it turned out! You can connect with us on Facebook or Instagram and tag your picture with #organicfactsrecipes. Do you wish to share your winning recipes with us? Please click here and fill in the details to get started. [4] [5]