The nutritional health benefits of khichdi, a traditional Indian comfort food made of rice, lentils, and turmeric, include its ability to nourish the body, aid in digestion, lower cholesterol, and boost heart health. It is an important part of an Ayurvedic diet as it is a simple, wholesome, and nutritious meal which contains a combination of macro-nutrients such as carbohydrates, protein, and fiber. Khichdi also contains essential vitamins and minerals such as vitamin C, vitamin B complex, magnesium, potassium, calcium, and phosphorus.
What is Khichdi?
Khichdi or khichadi is an Indian porridge-like blend that is made by cooking rice, green or yellow lentils, turmeric, cumin, clarified butter (ghee), and salt in a pre-heated large pot. It can be had plain or with minimal spices. This humble dish has gained popularity internationally because of its powerful medicinal properties.
In India, khichdi is often given to babies as it is easily digestible and nourishing. Most doctors recommend this dish as the 'go-to' food to people when they have digestive problems, fever, or are in poor health. To put it simply, the importance of this dish in an Indian's life is perhaps the same as that of chicken soup in an American's life.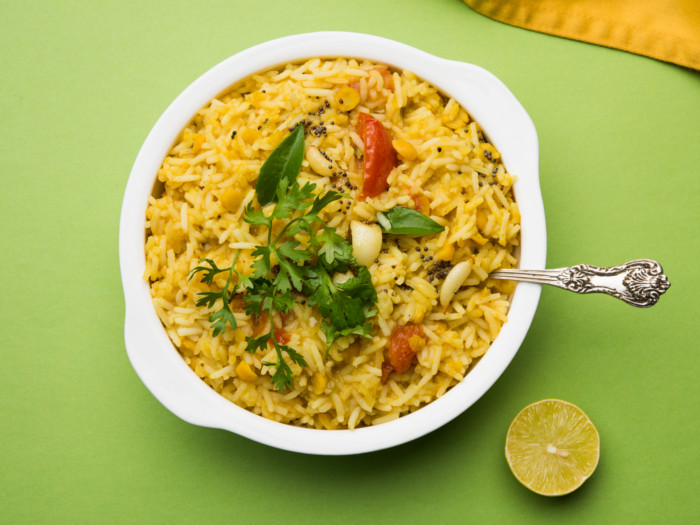 Khichdi Health Benefits
The nutritional benefits of khichdi are as follows :
Wholesome & Nutritious Meal
The rice and lentil combination in khichdi helps give the right mix of carbohydrates, dietary fiber, and protein. This gluten-free simple vegetarian meal has all 10 essential amino acids, making it a complete protein source. According to the USDA National Nutrient Database, white rice is packed with essential vitamins and minerals such as vitamin B, potassium, phosphorus, folic acid, and manganese. Lentils, on the other hand, are0 also power-packed with protein and similar minerals and vitamins.
Aids in Digestion
Cumin used in khichdi aids in digestion by increasing the activity of digestive enzymes in the body. This spice also releases bile from the liver, which helps in the digestion of fats and certain nutrients in the gut. Furthermore, consumption of khichadi helps detoxify the system which keeps the digestive system in order and helps promote weight loss.
Anti-inflammatory
Turmeric, used in khichdi, is known for its potent anti-inflammatory properties. Turmeric contains curcumin and aids in relieving arthritis pain. The spice contains bioactive compounds with powerful medicinal properties that increase the antioxidant capacity of the body whilst improving brain function. In the 'Turmeric, the Golden Spice' chapter of Herbal Medicine: Biomolecular and Clinical Aspects, it is stated that turmeric is a well-documented treatment for various respiratory conditions such as asthma, bronchial hyperactivity, runny nose, cough, and sinusitis. It also helps treat allergies, liver disorders, anorexia, rheumatism, and helps heal diabetic wounds.
Reduces Blood Sugar Levels
Lentils used in khichadi can significantly reduce blood sugar levels. A 2018 study conducted by the University of Guelph, Alison Duncan, Department of Human Health and Nutritional Sciences, and Dan Ramdath of Agriculture and Agri-Food Canada stated that replacing half of your portion with lentils can lower your blood glucose levels by more than 20 percent and improve your body's response to carbohydrates, benefiting people with diabetes.
Boosts Heart Health
Lentils are rich in polyphenols which have the ability to lower blood pressure and help prevent various cardiovascular diseases. According to an NIH study, lentils administered to laboratory animals showed that it actively reduced the total cholesterol, LDL or bad cholesterol, and triglyceride levels. The study recommended that lentils should be consumed on a regular basis as it has the potential to reduce the risk of coronary artery diseases.
Great Source of Macro-nutrients
Freshly prepared khichdi is usually eaten with clarified butter (pure cow's ghee), which is a great source of macro-nutrients, protein, complex carbohydrates, and fat. Hari Sharma, a researcher at the Center for Integrative Medicine and Department of Pathology, The Ohio State University, USA, calls ghee the healthiest source of edible fat that promotes longevity, strengthens the brain and nervous system and lubricates the connective tissues and joints. If you were to add vegetables to it, it would further add to the nutritional component.
Gluten-free
Another advantage of eating khichdi is that it is gluten-free, which is beneficial for people who suffer from gluten sensitivity or celiac disease. Celiac disease gives rise to a number of gastrointestinal symptoms. Patients who have substantial and rapid symptoms of the disease should thus opt for a gluten-free diet, such as khichdi, as it will aid in their weight loss and also prevent ailments like diarrhea and steatorrhea.
Detoxification
Khichdi is a staple of an Ayurvedic diet and is known to be the perfect detox food. It's tridoshic that
means
it helps balance the basic elements such as earth, water, and fire in the body, thereby increasing overall energy and immunity levels while stimulating the digestive enzymes.
Khichdi Recipe
It is fairly simple to prepare khichdi. Follow the simple instructions below to prepare this nutritious, yet delicious, meal.
Calories: 250-270
Ingredients
1-2 tbsp of ghee or clarified butter
1 cup of rice

½

cup of split pigeon peas
1 tsp black mustard seeds
1 tsp cumin
1 tsp turmeric powder
½ tsp of coriander powder

½ tsp of fennel seeds

½ tsp of fenugreek seeds

3 bay leaves
3 cloves
½ tsp salt (rock salt is best)
7-10 cup water
1 small handful chopped fresh cilantro leaves
How to Make
Step 1: Soak the lentils in water for 30 minutes before you start cooking. Ensure you drain the water completely thereafter. This will help soften the lentils and reduce cooking time.
Step 2:

Take rice and lentil

in a bowl

in the aforementioned proportion and rinse it thoroughly.
Step 3:

Then place it in a pre-heated large pot with 2 cups of water and let it cook on medium heat for some time.
Step 4:

Thereafter, add the spices to the rice and lentils' combination.

Step 5:

Add water and bay leaves and bring it to a boil. Ensure you boil it for at least 10 minutes.

Step 6: Turn the heat low, cover the pot and continue to cook until the rice and lentils soften. This is expected to take at least 30-40 minutes. Alternatively, you can cook it in a traditional pressure cooker for 20 minutes.
Step 7: Before serving, add the cilantro leaves and salt to taste.
Step 8:

Enjoy your meal hot with a tsp of ghee/clarified butter on top!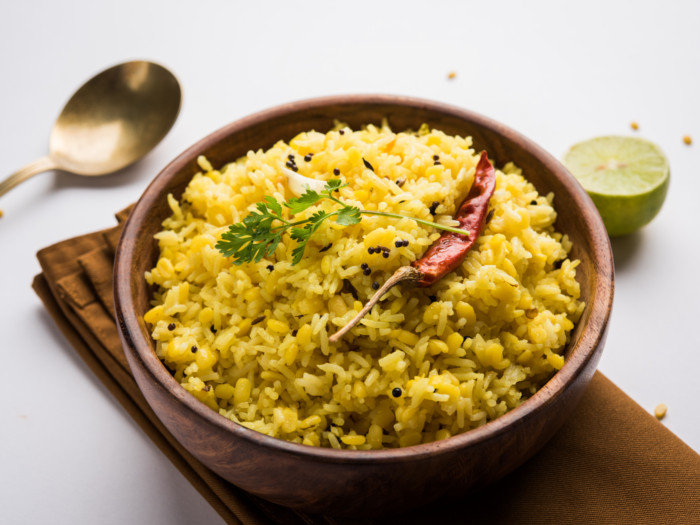 Mung Beans Khichdi Recipe
Among the most common and noteworthy variants of khichdi is the one made with mung beans or moong dal, which is very good for digestion. Let's take a look at the recipe below.
Servings: 2 people
Cook time: 25 minutes
Calories: 250.4
Ingredients
1 to 2 tbsp of ghee or clarified butter
1/2 to 3/4 tsp of cumin
1/2 to 3/4 tsp of fresh ginger root
1 small onion chopped
1 green

chili

slit (optional)
1/2 tsp of turmeric powder
1 small deseeded or chopped tomato
1 cup rice
1/2 cup mung beans (moong dal) or skinned split mung beans
3-4 cups of water
1 pinch of

a

safoetida

(optional)

2-3 beans (optional)

1 carrot (optional)
How to Make
Step 1:

Soak the dal in water for 15 minutes at least before beginning to cook. Ensure you drain the water completely before you start cooking. Meanwhile, if you wish to add vegetables, chop them into fine pieces and keep aside.
Step 2:

Take a pre-heated large pot and heat clarified butter in it.
Step 3:

Add

cumin seeds

and allow it to crackle in the clarified butter. Once it turns brown and the fragrance of the spice is released, fry the ginger root on medium heat. Ensure it doesn't get burnt.
Step 4:

Add asafoetida that has many benefits and adds flavor to any recipe. Thereafter add chopped onions and green chilies. Ensure that the raw smell of the onions goes away.

Step 5: Now, to this add chopped tomatoes, salt, and turmeric and saute until they turn soft and squishy. If you're adding carrots and beans, then add them here and saute for few more minutes till they soften.
Step 6: Add drained mung beans/skinned split mung beans and rice to the mixture and saute for 3-5 minutes.

Step 7

:

Add 3 to 4 cups of water to it. Now cover

the pot and continue to cook until you

get it to a porridge-like consistency.
Step 8:

Add salt as per taste. Stir well.
Step 9: Add a tsp of ghee to enhance the taste. Enjoy it as a hot meal!
Note: You can make khichdi using millets, oats or brown rice as well if you want to make it more nutritious.
Khichdi is best enjoyed along with yogurt/raita, pickle, chopped onions or papadum on the side. To make the dish vegan, just skip the ghee and use oil only. You may use other vegetables like spinach, sprouts, broccoli or cauliflower.
Khichdi tastes best only when it is warm. As it begins to cool, it tends to get thick. Just add more water and a little salt while warming it on medium heat and bring it to the desired consistency. You can also add meat to it when not consuming it for cleansing purposes.