One of America's favorite sandwiches, peanut butter and jelly, is almost 120 years old. It was in 1896 that Good Housekeeping, a women's magazine, came up with the idea of this nut butter sandwich. In its May issue, the magazine published a recipe for homemakers to try grinding peanuts in a meat grinder and spreading the resultant creamy nut butter on bread. In the following month, a culinary magazine, Table Talk, also came up with a peanut butter sandwich recipe. Until this time, the addition of jelly was not popular. The very first recipe of peanut butter and jelly sandwich appeared in the Boston Cooking School Magazine of Culinary Science and Domestic Economics written by Julia Davis Chandler. And that's how, in 1901, an American classic – PB&J – was born.
You must be hungry after the little history class. So let us jump to the recipe, shall we?
How to Make Peanut Butter and Jelly?
Peanut butter and jelly, also known as PB&J, is made by spreading one or more layers of peanut butter as well as jelly on bread slices. From kids to adults, everyone finds happiness in this simple dish. If you are having a lazy day or an emergency situation where you cannot cook a wholesome meal, PB&J is a great go-to option.
Peanut Butter and Jelly Recipe
Mastering the art of making PB&J will take you no more than one session. The best part about it is that you can never go wrong. Think of it as a white shirt and denim. Can anyone ever look bad in those? No, right? So go ahead and start your own PB&J party!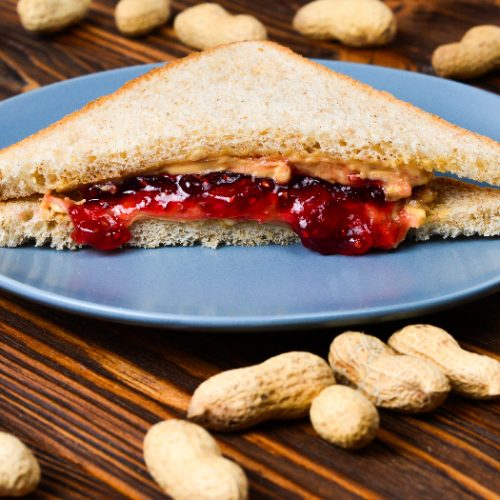 Traditional Peanut Butter and Jelly Sandwich
Nothing compares to the comfort provided by PB&J. It gets ready in a span of minutes and is over before you know!
Print
Pin
Rate
Ingredients
4

slices

bread

white, preferable

2

tbsp

peanut butter

creamy or chunky

2

tbsp

grape jelly
Instructions
Spread the peanut butter on two slices of the bread. Cover the corners as well.

Now, spread jelly on the other two slices of bread.

Avoid nut-buttering the slice on which you are going to put jelly or else the jelly will have nothing to cling on to. It will easily slide out of the sandwich while you are eating it.

Once done, put the slices with peanut butter and jelly together to form a sandwich and cut it diagonally. Repeat the same with other slices.

Your PB&J is ready to eat!
Notes
If you are not a fan of white bread, you can use any bread you like. For people with gluten intolerance, use gluten-free bread.
Grill the sandwich if you like having it crispy.
You can substitute grape jelly with strawberry jelly, applesauce or any jam of your choice.
Try to make a fluffernutter by replacing the jelly with marshmallow fluff.
You can jazz up the sandwich by adding fruit slices like banana or strawberry slices to it.
If you are feeding the sandwich to your toddler, cut off the sides of the sandwich. You can use the sides to make breadcrumbs for thickening your soup.
How to Make Peanut Butter Sandwich?
If you are a diehard peanut butter lover or you are running out of jelly, a basic peanut butter sandwich will surely have you covered when you are hungry. It is incredibly easy to make and tastes amazing too. All you have to do is apply peanut butter on the bread and enjoy the snack!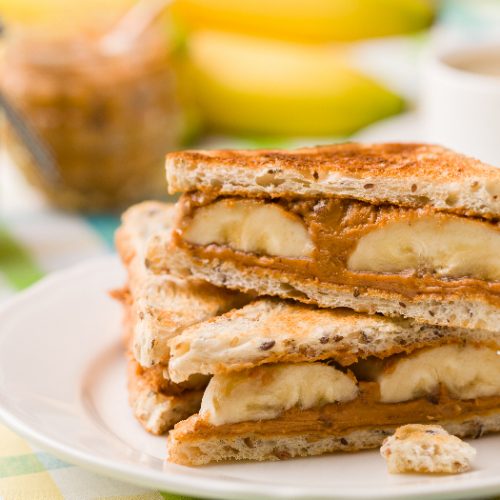 Basic Peanut Butter Sandwich
This sandwich is an ode to all the peanut butter lovers!
Print
Pin
Rate
Instructions
Spread the peanut butter evenly on all the bread slices.

Now, place two slices together to make a sandwich. Repeat the same for the rest of the slices.

Cut the sandwiches diagonally and serve!
Notes
You can grill the sandwich for a crispier feel.
If you like, add banana or apple slices to your sandwich for a wholesome snack.
FAQs
What are the nutrition facts of peanut butter and jelly?
A peanut butter and jelly sandwich (93 g), made with white bread, smooth peanut butter containing salt, and jelly, has 10 g of protein, 42.4 g of carbohydrates, 2.79 g of fiber, and 12.8 g of sugar. Moreover, it has minerals like phosphorus, potassium, sodium, magnesium, and iron. The sandwich contains vitamins including niacin, folate, and choline. It has a total fat content of 14 g, of which the good fats, including monounsaturated fats are 6.85g and polyunsaturated fats are 3.85 g. [1]
A peanut butter and jelly sandwich contains approximately 326 calories.
Is PB&J good for you?
PB&J is made with a generous amount of jelly and peanut butter on white bread. Peanut butter is a good source of protein and unsaturated fat. Grape jelly is generally made of a lot of sugars and retains very few nutrients. White bread can be unhealthy as it is low on essential nutrients like fiber. This means that the overall status of the sandwich tilts towards unhealthy and you may want to eat it occasionally instead of every day. [2]
Is PB&J good for weight loss?
The classic PB&J may not be the best if you eat it regularly. It is full of calories and sugars that could jeopardize your weight loss goals. You can tailor your sandwich with healthier alternatives like whole grain bread, jellies that have no-added-sugar, and peanut butter made with low sodium and sugar.
Which jelly is best with peanut butter?
The jelly holds a 50 percent stake in the PB&J enterprise. And hence, it is absolutely important that you select a jelly that complements the peanut butter. You want to choose a jelly that is mildly sweet and retains the taste of the fruit it is made of. For example, if it is grape jelly, the taste should dawdle between sweet and tart.
Did you know that an average American has relished over 1500 PB&J sandwiches before graduating? Maybe that is some food for thought for you! Do you have some interesting, quick-to-make, sandwich recipes for us? Do share them with us here.