If you're someone who loves to experiment with food, then pineapple casserole is definitely for you! This classic Southern dish is an unusual amalgamation of cheddar cheese, pineapple chunks, and buttery cracker crumbs, which is the perfect balance between sweet and savory. This dish is a huge hit as a side dish or a dessert at any party or family get-together. Want to know more about it? Let's find out.
How To Make Pineapple Casserole?
Alternatively known as scalloped or baked pineapple, the pineapple casserole is a dish, which is made by mixing sweet, canned versions of the fruit, a bit of flour, and oodles of cheddar cheese. Contrary to popular belief, the combination of cheese and pineapple is absolutely divine. The sharp and strong cheesy flavor cheddar complements the juiciness and sweetness of the pineapples. This is further enhanced when topped with crushed crackers that have been mixed with melted butter. At the same time, the brown sugar added to the cracker gives it an intense caramelized flavor that adds to the buttery crunch of the crust. Take a look at the detailed recipe below.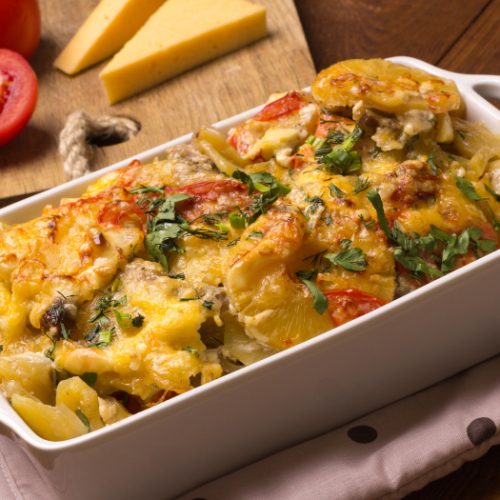 The Classic Southern Pineapple Casserole Recipe
The amalgamation of buttery soft crackers, sweet & tangy pineapples, & delicious cheddar cheese, will not make you stop at one bite!
Print
Pin
Rate
[1]
[2]
Ingredients
2

cans

of pineapples

drained with juice

1/4

cup

butter

melted & unsalted

2

cups

of sharp cheddar cheese

grated

6

tbsp

all-purpose flour [3]

1

cup

of brown sugar

1

sleeve

crackers

buttery & crushed
Instructions
To make pineapple casserole, first, preheat the oven to 350°F. Take a 2-quart baking dish and spray it with non-stick cooking spray. Meanwhile, drain the canned pineapples very well and reserve 6 tablespoons of the juice for the recipe

Now, take a large bowl and in it add 6 tablespoons of pineapple juice, flour, brown sugar, and stir them well. To this, add the pineapple chunks and mix well. Once done, pour all of this into the baking dish and sprinkle grated cheddar cheese over it.

Take a medium bowl and add the melted butter to the crushed cracker crumbs. Stir it vigorously till it is properly coated in butter. Now, sprinkle over some cheese on it and bake it for about 30 minutes. Then, allow the casserole to be for 10 minutes or so till it thickens. Once done, serve warm.
FAQs
Here are some frequently asked questions pertaining to the recipe.
What other types of cheese can be used to make the pineapple casserole?
Usually, this dish is made with cheddar cheese. The sharpness of the cheese works well with the overall sweetness of the dish. However, if you were to substitute it, you could use Gouda cheese, Longhorn, or Colby Cheese.
Can you store pineapple casserole?
It is best to have the dish fresh as it tastes better that way. However, if you have to store it, wrap the container ( in which it is kept) tightly with plastic before putting it in the refrigerator. You can refrigerate it for up to 5 days. Freezing the casserole is not recommended. While reheating it, you can cover it in foil and keep it in an oven for 10 minutes or so. You can also put it in a glass bowl and microwave it.
How is the dish best eaten?
The dish can be devoured as a side dish or as a dessert. If had as a side dish, you can serve it alongside:
If you tried our pineapple casserole recipe, we would love to hear how it turned out. Write to us in the comment section below