This Christmas, we encourage you to make this juicy pork loin roast with a smoked paprika rub and honey-mustard glaze the star of your holiday menu. Roasts are a low-hassle dish while entertaining because once you are done with the prep, all you have to do is put it in the oven and work on the side dishes and desserts. Maybe, you can sneak in a glass of wine too! So let's find out what it takes to make a delicious, fuss-free pork roast.
Pork Loin Roast
Boneless pork loin is the leanest and the most tender part of the animal and it differs from pork tenderloin. Pork loin is from the top, back portion of the animal while the tenderloin runs along the backbone. Pork loin is much wider and you can easily slice wide steak-like pieces, which makes it a wonderful option for big family dinners. It is also a budget-friendly cut of meat. While cooking pork loin, make sure you cook at the right temperature and for the correct amount of time to ensure that it doesn't dry out. For the best results, you want to cook it for an average of 25 minutes per pound.
How To Make Roasted Pork Loin?
Pork loin roast is a simple dish to prepare and most of the ingredients used to flavor the pork are pantry staples. This particular recipe ensures juicy and fork-tender meat every single time you make it. So, let's get straight to it.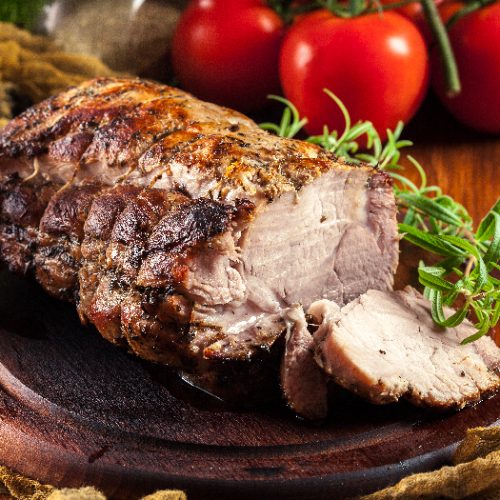 Best Pork Loin Roast Recipe
This pork loin roast recipe is a keeper! You can enjoy this fork-tender meat with a side of roasted vegetables for a wonderful weeknight dinner. It can just as easily be the star on your holiday menu.
Print
Pin
Rate
Total Time:
1
hour
10
minutes
[1]
[2]
Instructions
Preheat the oven to 375˚F. Lightly grease a baking dish or a casserole dish with olive oil.

Whisk the olive oil and lemon juice well. Prepare the spice rub by mixing the spices in a bowl and add it to the olive oil-lemon juice mixture.

Pat the pork loin dry with paper towels and use a fork to make holes in it. Take the spice mix and rub it well all over the pork loin. Make sure it is coated well.

Sear the pork in a pan for 3 minutes on each side until brown.

Make the honey-mustard glaze by blending all the ingredients well. Brush it all over the meat.

Place the pork loin, with its fat layer up, on the greased dish. Cook it in the oven for 50-55 minutes. You can use a meat thermometer to check for doneness. The internal temperature of the pork loin should be 145˚F. If you want your pork loin well done, you can cook it for five minutes more.

Let the pork loin rest for 10-15 minutes before serving and slicing. Serve it by spooning the juices from the pan on the meat. Enjoy your delicious and juicy pork loin!
What to Serve with Pork Roast?
A juicy pork roast pairs well with creamy mashed potatoes or roasted potatoes (You can try out our delicious Comforting & Easy Mashed Potatoes Recipe). You can also upgrade the side dish to a creamy cauliflower mash, buttery grits, or a silky smooth mac and cheese. If you are looking for a lighter option, steamed green beans or roasted brocolli works well. You can also make hearty salads or slaws to accompany the roast. Apple bacon slaw is an excellent option with pork roast.
Connect With Us
If you have tried this recipe, we would love your feedback in the comments section below. And while we can't taste it, we would love to see how it turned out! You can connect with us on Facebook or Instagram and tag your picture with #organicfactsrecipes. [9] [10]
Do you wish to share your winning recipes with us? Please click here and fill in the details to get started.