By the look and sound of it, Beef Wellington is indeed a magnificent entrée that is worthy of a duke. The procedure to make this delicacy is quite elaborate and complicated, which further adds to its regal demeanor. Many believe that the dish was first prepared to celebrate the victory of the first Duke of Wellington, Arthur Wellesley, against Napolean Bonaparte at the infamous Battle of Waterloo. On the other hand, the French believe the dish to be theirs as beef served in a pastry crust is so 'boeuf en croute'. Historians remain divided about its origin, but whether English or French, one cannot deny that it has evolved to become a mouth-watering dish reserved for special occasions over the years.
What is Beef Wellington?
Beef Wellington is a delicacy made of pâté stuffed with a fillet of beef, coated with mustard sauce & duxelles (made of sautéed onions, shallots, garlic, & herbs). The fillets are sliced pieces of the beef tenderloin, which is typically dressed and then wrapped, baked and served in a perfectly dry-roasted puff pastry crust. The delicious dish is usually served along with Madeira sauce, made by mixing demi-glace sauce and Madeira wine.
How to Make Beef Wellington?
Over the years, this dish has been reinvented by different chefs, from Martha Stewart to Gordon Ramsay. Ramsay's love for the dish is quite popular, thanks to his recipe from Hell's Kitchen, which has been endlessly recreated by food connoisseurs and patrons. It is quite a lengthy process to prepare Beef Wellington. Simply put, it requires you to bake a seared beef tenderloin to medium-rare perfection in a pastry crust, by daubing it in thick mustard sauce and wrapping it in a coating of crepe, salty prosciutto and duxelles. So what are we waiting for? Let us get started.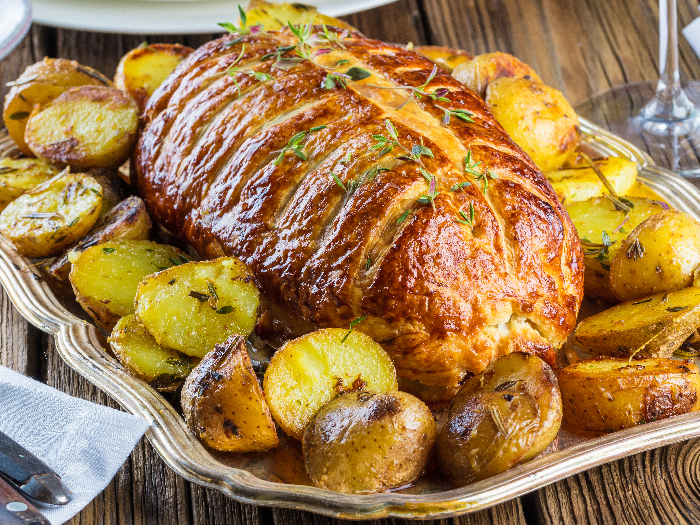 To make the perfect Beef Wellington, here are a few steps you need to keep in mind.
We start by

seasoning

the beef tenderloin, one of the most tender cuts of beef you will ever come across, with salt. Given that the tenderloin is devoid of bones or much marbling, it is not the most flavorsome cut of the meat. This is perhaps why it needs to be seared before starting with the recipe. Searing the meat from all sides adds flavor to the Wellington in its entirety. (To understand how to sear the tenderloin, read our article, 'A Beginner's Guide To

Roast

Beef Tenderloin'.)
To add an interesting zing to the meat, dab the seared tenderloin with a layer of mustard. You can experiment with a variety that suits your tastebuds, whether that be, whole grain mustard, dijon, honey mustard or the spicy brown variant.
Now get to the 'duxelles' part, which will surely take the overall taste of the dish to another level. Duxelles are typically a mixture of

shallots

, mushrooms, and thyme/parsley or any other herb of your choice. It would be advisable for you to cook this mixture on low heat and not rush it as the essence of the flavor lies in losing as much of the moisture as possible. If the moisture is not completely lost, it could lead to a soggy bottom of the pastry crust while

baking

the Wellington in the oven.
While cooking the

mushrooms

properly is one way of ensuring no-soggy bottoms, another way of doing so is by wrapping your tenderloin in prosciutto. For the uninitiated, prosciutto is Italian ham cured by drying. Covering the tenderloin properly with a layer of prosciutto will create a barrier for moisture and enhance the deliciousness of the dish by adding an extra dose of meaty flavor. All you need to do is place a layer of prosciutto onto a layer of plastic wrap and spread the duxelles evenly on to it before wrapping your tenderloin.
You can also add in an extra layer of crepe in the Wellington to add a little extra insurance to the fillet and the duxelles, whilst enhancing the overall taste. This step is optional. However, we will be adding it to our recipe.
Now coming to the final step, before it is put in the oven to bake, some people like to make their own puff pastry from

scratch

, which we must add is quite a tedious process. Those who want to avoid this lengthy process can buy theirs from an online e-commerce portal or specialized

bakery

stores.
To have a proper understanding of the Beef Wellington recipe, let us take a look at the step-by-step process of making it.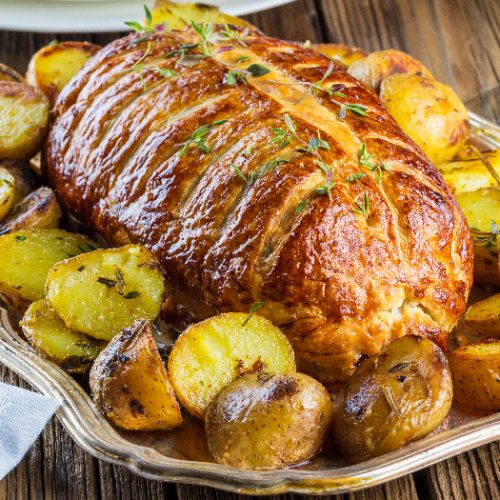 Delicious Beef Wellington Recipe
Relish this delicious meat baked to perfection in a pastry crust!
Print
Pin
Rate
Cook Time:
2
hours
15
minutes
Total Time:
2
hours
30
minutes
Ingredients
To make Beef Wellington
1

centre-cut

beef tenderloin

3

tbsp

olive oil

(for greasing)

salt and black pepper

(to taste)

2

tbsp

Dijon mustard

12

thin

slices of prosciutto

14

oz

frozen puff pastry, thawed

2

egg yolks

1

tbsp

milk
To make mushroom duxelles
2

tbsp

extra virgin olive oil

salt and pepper

(as per taste)

1 and a 1/2

lb

mixed mushrooms

(roughly chopped)

1

shallot

(roughly chopped)

1

sprig

parsley or thyme
To make herb crepe
2

eggs

1/2

cup

all-purpose flour

2

tbsp

minced chives

1/4

cup

water

1/2

cup

milk

1

tsp

sugar

1/2

tsp

salt

4

tbsp

butter
Instructions
To make Beef Wellington, take a freshly cut tender beef tenderloin and tie it in four places using kitchen twine. Now season it generously with salt and pepper. Note that for every pound of meat you will need a teaspoon of salt and pepper.

Now, coat the bottom of a heavy skillet with olive oil and keep it over high heat. Once done, take the beef tenderloin and place it in the pan, which may be nearly smoking. Sear it well until it becomes well-browned all over, including the ends. Keep changing the position of the tenderloin from side to side. It should not take more than 12 minutes. Now transfer it onto a plate and allow it to cool. When it has cooled down, cut off the twine and coat the tenderloin entirely with mustard. Once done, keep it in the refrigerator to cool.

In the meantime, start preparing the duxelles. Pulse mushrooms, shallots, thyme or parsley in a food processor until it is finely chopped.

Add butter to a skillet and let it melt over medium heat. Ensure the butter doesn't burn. Add the mushroom mixture to it and let it cook until the liquid has properly evaporated. This should ideally not take more than 25 minutes. This step is important as you do not want your pastry bottom to get soggy if the mushrooms let out water later while they get baked. Once done, season it with salt and pepper and allow it to cool in the refrigerator.

Now start working on the herbed crepes. Whisk together eggs, flour, salt, sugar and chives. Thereafter, add milk, water, a tablespoon of butter and whisk it together until it is smooth and properly blended. Your crepe batter is ready.

Now, over medium heat, place a crepe pan or a large skillet. Add olive oil, and 1/4th cup of the whisked mixture. Once done, rotate the pan over the heat. This will cause the batter to spread evenly over the surface. Gradually, you will see the edges of the crepe begin to curl as it cooks. Note that the crepe cooks quite quickly. It does not take more than 45 to 60 seconds. Once done, flip the crepe to let the other side cook. Once cooked, either sides of the crepe will become pale golden brown in color. Now, take the pan down from the heat. Add olive oil again to it and continue with the procedure till you are done with the batter. Set the crepes aside

Place a plastic wrap over a work surface. Ensure that it is double the length and width of the beef tenderloin. In the middle of the plastic wrap, evenly spread the crepes. Spread the duxelles evenly on the crepes. Place the prosciutto over the duxelles in a rectangle that is more than sufficient in size to cover the entire tenderloin and add more duxelles and evenly spread it over.

Preheat the oven to 425° F. In the meantime, season the beef tenderloin properly and place it at the bottom of the duxelles-covered prosciutto. Once done, carefully roll the meat into the prosciutto-mushroom mixture using the plastic wrap and tightly fasten it by tucking the ends. Once rolled, twist the ends of the plastic wrap and tightly wrap it into a log before you keep it in the refrigerator to cool. This helps to maintain its shape and structure without allowing the layers to leak or fall apart.

After sometime, lightly apply flour on the work surface and spread out the puff pastry. Roll it into a rectangle - one that will cover the beef tenderloin perfectly. Ensure that it is slightly bigger than the prosciutto cover. Now, remove the tenderloin from the refrigerator. Take out the plastic wrap and place the tenderloin on the bottom of the puff pastry. Tightly roll the beef into the pastry but not before you brush the other three edges of the pastry with egg wash.

Once the entire tenderloin is covered properly in a puff pastry, trim any extras that you get. Use a fork to seal well and ruffle the edges. Again wrap the log tightly into a plastic wrap and allow it to chill for 20 minutes in the refrigerator. Thereafter, take out the plastic wrap and use a foil-lined baking sheet to transfer the tenderloin. Apply egg wash on the sheet and sprinkle it with salt.

Allow the pastry to bake till it turns golden and medium-rare. This should take up to 45 minutes. Once done, let it rest for around 10 minutes before carving it out. Serve them hot with a side of sauteed vegetables, potato wedges, salad or Madeira wine.
Connect With Us
If you have tried this recipe, we would love your feedback in the comments section below. And while we can't taste it, we would love to see how it turned out! You can connect with us on Facebook or Instagram and tag your picture with #organicfactsrecipes.
Do you wish to share your winning recipes with us? Please click here and fill in the details to get started.