In recent years, beard oil has become an essential part of many men's grooming habits. As the beard-growing trend continues to grow, more and more men have realized the importance of protecting their facial hair just as much as the hair on their head.
Benefits of Beard Oil: Not only is beard oil able to improve the luster and texture of your beard hair but can also moisturize the skin beneath, preventing itching or rashes. Beard oil also makes your beard easier to control, which can give you a sleek and groomed appearance, rather than a scraggly and uneven beard within a few hours of your morning shower. [1]
While there are plenty of beard oil products on the market, some who prefer an alternative approach to health choose to make their own beard oils from essential oils and all-natural ingredients. There are many great beard oil recipes, most of which contain some combination of carrier oils, such as jojoba oil, almond oil or argan oil, as well as certain essential oils, including lavender oil, rosemary oil, lemongrass oil, ylang-ylang oil or cedarwood oil.
Using a good beard oil recipe is critical if you're making your own blend at home to improve the look and feel of your facial hair. [2]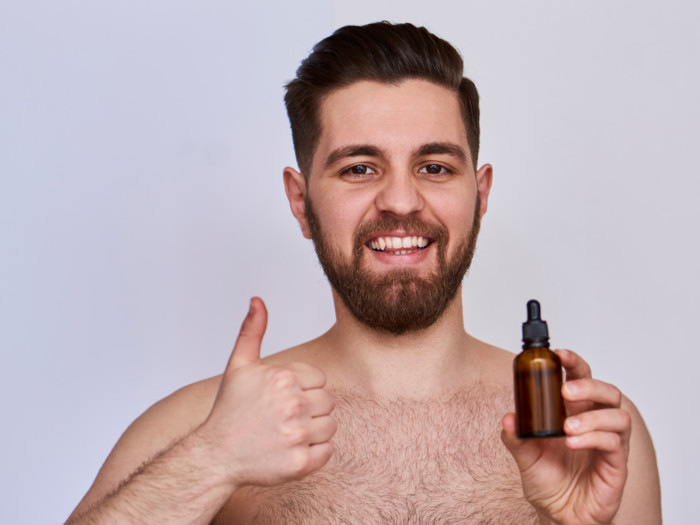 How to Make & Use Homemade Beard Oil
Here's the secret to your thick and smooth beard!
Print
Pin
Rate
Ingredients
4

drops

cedarwood oil

4

drops

sandalwood oil

1

tbsp

coconut oil

1/2

ounce

jojoba oil

1/2

ounce

argan oil
Instructions
To make beard oil, add cedarwood, sandalwood, coconut, jojoba, and argan oil into a small bottle (preferably tinted) with a cap that seals tight. Shake the mixture vigorously before using.

You will only need a few drops on your hands, or you can use an eyedropper to apply directly to your beard.

Massage your beard as well as the skin beneath it with this oil.

For best results, apply the beard oil just after you get out of the shower, which is when your pores are likely to be open.

This will lead to smoother and less irritatable skin. With the slight dampness, your beard will help soak the oil more effectively.

Most importantly, when you are done with your homemade beard oil, be sure to store it away from direct sunlight in a dry and cool place. This will help to keep the oil effective and viable for 6-12 months.
Notes
This homemade beard oil is not considered toxic, although there could be some side effects if an
excessive amount
is used, or if the proportions in the mixture are done incorrectly. Some of these essential oils can cause skin inflammation to those with sensitive skin.
Connect With Us
If you have tried this recipe, we would love your feedback in the comments section below. And while we can't taste it, we would love to see how it turned out! You can connect with us on Facebook or Instagram and tag your picture with #organicfactsrecipes. [3] [4]
Do you wish to share your winning recipes with us? Please click here and fill in the details to get started.