It was American author, Truman Capote, who in his short story titled, 'A Christmas Memory', called baking a fruitcake a special ritual of the holiday season- one that creates a profound bond between the young and the old, bringing the festive spirit alive. Fruit cake is synonymous with Christmas. It is a holiday dessert, which is a seasonal treasure typically made by combining flour, sugar, spices, dried fruits, and some hard liquor. But what makes this simple dessert special for many is the nostalgia associated with preparing it at home with the entire family. With just a few days remaining for Christmas, we have the perfect fruit cake recipe for you that could call upon the holiday spirit of the yore, without being too archaic. So what are we waiting for? Let us take a look at the detailed recipe below.
How to make Fruit cake?
Preparing a perfectly moist fruit cake is no mean feat. Fruit cakes can easily become dry and overly sweet much like the ones available in the stores. With this recipe, we attempt at baking a perfectly flavorful and soft fruit cake with an eclectic mix of tart and sweet dried fruits. The following are some of the important steps to keep in mind while preparing the delectable dessert.
This recipe usually includes a lot of dried fruits such as figs, prunes, apricots, cherries, and golden raisins. We would like to add that the dried fruits mentioned here are just suggestions and you can feel free to add or substitute your own favorites.
To offset the sweetness of this cake and enhance its overall flavor, ensure you soak these dried fruits in dark rum or brandy a day prior to baking. The ideal duration of soaking should be somewhere between 12 hours and 24 hours.
Soaking dry fruits in liquor overnight allows them to get properly hydrated and plumped up. These are then added to the cake batter the following day and properly mixed.
At this point, you can add dark chocolate chips to the batter to further enhance the flavor. This is, however, optional.
If you wish to enhance the flavor, feel free to add orange or/and lemon zest to it. Additionally, add grated apple, orange juice, as well as properly ground and crystallized ginger. Again, feel free to add any other fruit of your liking, which you think will go well with the other ingredients.
Lastly, you can either have it as it is or ice it as per your choice to give it a festive feel.
How to Store?
This is an important step in the entire fruit cake-making process. Here are a few things to keep in mind.
Once the cake is out of the oven and properly cooled, make sure to wrap it tightly in a cheesecloth, that is already soaked in alcohol. This step is important as it gives additional moisture making the cake softer. It also causes the flavors to seep into the cake properly. The alcohol offsets the overall sweetness of the cake and lends it a certain aroma, making it a delicious gastronomical delight.
Wrap the cake tightly and cover it properly with a wax paper before keeping it in an airtight container or a ziplock bag. Keep it this way in the refrigerator for almost 8 weeks or so. You can occasionally remove the cheesecloth and rewrap it and put it in the refrigerator as this will help it become more flavorful with time.
There are people who store their fruit cake for almost a month or two before consuming or gifting it. Like alcohol, they believe the longer the fruit cake is stored, the better it tastes. However, storing it just for a week is also enough. You can decide how long you wish to store it.
Recipe for a perfectly moist Christmas fruit cake
Let us look at the detailed procedure to make a perfectly soft and moist Christmas fruit cake.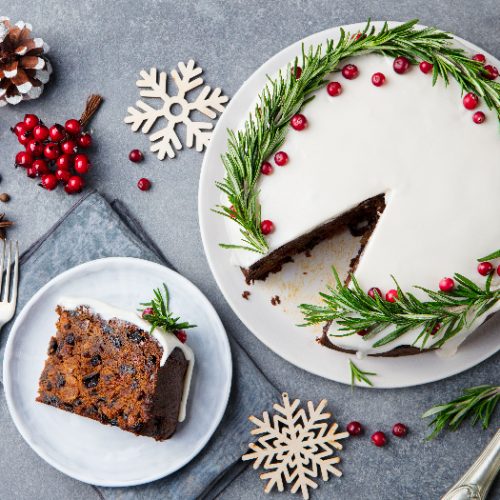 Deliciously Soft and Moist Christmas Fruit Cake
Loaded with an eclectic mix of dried fruits and an equally irresistible addition of orange zest, this is the perfect dessert for Christmas, one that is sure to take you down the memory lane!
Print
Pin
Rate
Cook Time:
1
hour
30
minutes
Total Time:
1
day
1
hour
30
minutes
Ingredients
3/4

cup

dark rum

1 and 1/2

cup

dark raisins

1 and 1/2

cup

golden raisins

1

cup

of dried tart cherries

1

cup

of dried black figs

1

cup

of dried prunes

2

cups

of dried apricots

1/2

tsp

of baking powder

1

tsp

of ground ginger

1

tsp

of ground cinnamon

1 and 1/2

cup

of all-purpose flour (unbleached)

1

tsp

of salt or kosher salt

1/4

tsp

nutmeg

4

ounces

butter (unsalted)

1/2

cup

of freshly squeezed orange juice

4-5

large

eggs

1

tbsp

freshly grated lemon zest

1

tbsp

freshly grated orange zest

3/4

cup

of brown sugar

1

apple (peeled and coarsely grated)

3

tbsp

of finely diced crystallized ginger

1/2

cup

of dark chocolate chips (optional)

3/4

cup

of almonds or pecans

1

large

piece of unbleached cheesecloth
Instructions
To make a homemade fruit cake, first, a day prior to baking, mix the dried fruits in a large mixing bowl. To it add 3/4 cup of dark rum and cover it tight. This will allow the dried fruit mixture to completely and properly soak at room temperature for half a day to an entire day (depending on your preference) before going ahead with the preparation of the fruit cake batter.

Once that is done, preheat the oven to 300°F, placing the rack in the center. Use a baking pan and properly grease and line it with a parchment paper before adding the cake batter.

Meanwhile, whisk together the all-purpose flour, baking powder, spices, and salt (as mentioned above) in a medium-sized mixing bowl. Keep the mixture aside. At the same time, in a separate bowl of a stand mixer with a paddle attachment, mix the softened unsalted butter and brown sugar together for 3-5 minutes till it becomes fluffy and light.

Once you get the desired consistency of the mixture, add the eggs one at a time. At this point, the mixture may look broken but that is acceptable. To this mixture, add the flour blend and continue to mix it well till it is fully absorbed.

Thereafter, add the lemon zest, orange zest, grated apple, diced caramelized ginger, almonds or pecans, and the soaked dried fruits to it. Note that if there is some alcohol left, (as in if all of it is not absorbed by the dried fruits) add it to the mixture. Use a large spatula to mix all the ingredients together in the bowl, scraping the edges of the bowl many times until all of them have been evenly combined.

Once the batter is made, transfer it onto the baking pan. Bake it for 75 to 90 minutes or until you see the cake is properly set. Remove the cake from the oven and place it on the rack for it to cool down completely before removing it from the baking pan.

Now comes the 'storing' stage. Once the cake has properly cooled, remove it from the pan and set it upright. Take a piece of cheesecloth and soak it in alcohol, preferably in a triple sec or medium sherry. Once done, wrap the cake tightly and cover it with wax paper before keeping it in an airtight container or ziplock bag. Store it in the refrigerator for as long as you want. You can serve this cake right away after it is taken out of the oven. But some people want the flavors to improve with time for which they keep it in the refrigerator for 8 weeks or so.

You can either garnish the cake with a light apricot glaze and place apricots or almonds over it, or simply spread a thin layer of icing atop the cake. Note that this step is not advised if you are planning to wrap the cake and allow it to age. Either way, it turns out quite delicious. Slice the cake with a jagged knife. If you do not wish to add icing to it, serve it with a small amount of salted butter and you're good to go!
Notes
If you want to tone down the sweetness of the cake, use the unsweetened version of the dried fruits.
If you want the flavor of the fruit cake to improve over time, we would recommend you to make this cake a month or two before Christmas. This way the cake will be rich in flavor and softer by the time you have it.
Feel free to substitute the recommended dried fruits with your own favorites.
If you do not have a stand mixer to blend the ingredients, do not stress over it. You can use your hand to mix the butter, brown sugar and other ingredients. That is how this cake was traditionally made.
Connect With Us
If you have tried this recipe, we would love your feedback in the comments section below. And while we can't taste it, we would love to see how it turned out! You can connect with us on Facebook or Instagram and tag your picture with #organicfactsrecipes. [1] [2]
Do you wish to share your winning recipes with us? Please click here and fill in the details to get started.