When it comes to comfort food, peanut butter cookies rule the roost. They are soft, chewy, sometimes even crunchy, and are downright delicious when dunked in milk. Peanut butter cookies are the perfect blend of sweet and buttery and can satiate your sugar cravings at any given point of time. This is a classic recipe that most baking enthusiasts try and test during the holiday season. Have you tried baking a batch of peanut butter cookies at home? If you haven't, then here's a recipe that is a must try!
Peanut Butter Cookie Recipe
The classic peanut butter cookie recipe is fairly simple. You don't require any fancy ingredients to make it- just the basics, which include flour, peanut butter, egg, butter, sugar, baking soda, salt, and baking powder. So let's get started with the recipe, shall we?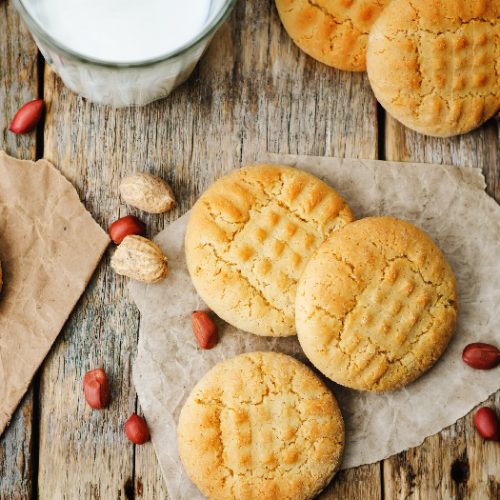 How To Make Peanut Butter Cookies?
Peanut butter-rich, soft, melt-in-the-mouth-good cookies that not only satiate your taste buds but also your soul!
Print
Pin
Rate
[1]
[2]
Instructions
To make peanut butter cookies, first and foremost, beat the butter really hard for two minutes until it becomes creamy. Then add the brown and the white sugar to it and beat it again for 2 minutes. Thereafter break an egg, and add it along with 1/2 a cup of peanut butter to the mixture.

Once that is done, in a separate bowl, add all the dry ingredients such as flour, salt, 3/4 tsp of baking soda, and 1/2 tsp of baking powder and whisk vigorously. Add this to the sugar and butter mixture and mix well. This is the cookie dough with which you will make the peanut butter cookies.

Once the cookie dough is ready, wrap it in plastic and refrigerate for at least 3 hours. Meanwhile, preheat the oven to 375 degree Fahrenheit, which is 190 degree Celsius.

Take the dough out of the refrigerator, and convert it into moderately sized balls. On a non-greasy cookie oven sheet, place the dough balls at least 3 inches away from one another.

Use a fork to flatten the dough balls and make criss-cross patterns on it. This process is known as forking the cookie dough. At this point in time, remember to dip the fork in the sugar syrup so that the fork doesn't stick to the dough and you can effortlessly make the criss-cross pattern.

Thereafter, place the cookies inside the oven and bake them at 375 degree Fahrenheit for nearly 10 minutes. After that, remove the cookies and place them in a rack to cool down. If you wish to make the cookies chewier, bake them for 15-20 minutes at 300 degree Fahrenheit.
Notes
If you don't go in for the typical forking method, you can also add chunks of chocolate to the dough to make peanut butter chocolate cookies.
Nutrition
Serving:
1
peanut butter ookie
|
Calories:
0.152
kcal
|
Carbohydrates:
17
g
|
Protein:
3
g
|
Fat:
8
g
|
Saturated Fat:
3
g
|
Cholesterol:
17
mg
|
Sodium:
122
mg
|
Potassium:
73
mg
|
Vitamin A:
2.6
%
|
Calcium:
1.3
%
|
Iron:
3.6
%
Connect With Us
If you have tried this recipe, we would love your feedback in the comments section below. And while we can't taste it, we would love to see how it turned out! You can connect with us on Facebook or Instagram and tag your picture with #organicfactsrecipes. [6] [7]
Do you wish to share your winning recipes with us? Please click here and fill in the details to get started.
Which Variety of Peanut Butter to Use to Make the Cookies?
What kind of peanut butter to use depends entirely on the texture of the cookies you desire! If you want your cookie dough to be stickier, you can use natural home-made peanut butter. On the contrary, if you want your cookies to be crunchy, you should make use of chunky peanut butter. However, the ideal variety of peanut butter to use is the regular creamy peanut butter.