Pineapple upside-down cake is an old favorite, with a caramelized pineapple layer in the bottom as the cake tin. That, together with the overall sponginess of the cake, makes for quite a savory delight. Pineapple upside-down cake is most suitable as a tea time treat with cream and can also be served with custard for dessert. Its versatility is what makes it so special and can be enjoyed by all.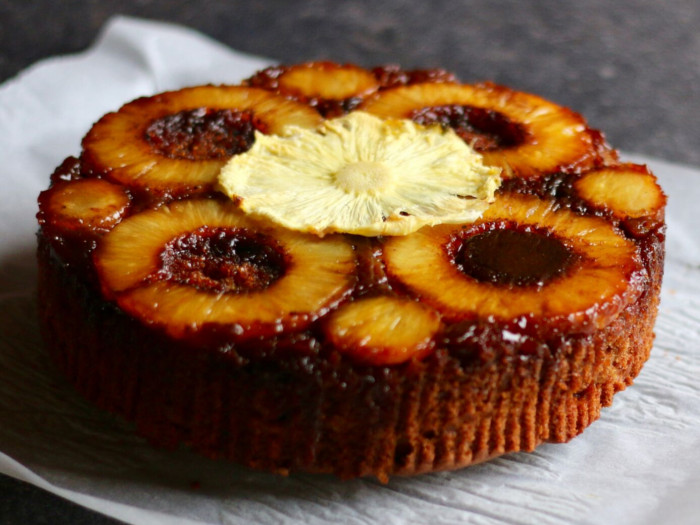 How To Make Spiced Pineapple Upside-Down Cake
Titillate your taste buds with this sinfully delicious dessert!
Print
Pin
Rate
[1]
[2]
Ingredients
For cake
To garnish
Dried pineapple 'flowers'

(optional) These can be made by cutting wafer thin slices of pineapple and drying out in a low oven (90 degrees for 2-3 hours)

100

ml

double cream

1

tbsp

icing sugar

A generous glug of spiced rum
Instructions
To make the caramel, place the butter, mixed spice and sugar into a pan and warm until the butter is completely melted and the sugar bubbling. Set it aside till it cools down.

Prepare your tin and line thoroughly with greaseproof paper.

Now, remove the skin of the pineapple and cut them either into rings (if using a round tin) or into segments (if using a loaf tin).

Place your pineapple into the base of the tin and pour over the cooled caramel.

Preheat your oven to 160 degrees C.

To make the cake cream, beat the butter and sugar until they turn fluffy and light. Thereafter, add the eggs, one by one, and then add the spices, flour, and bicarb. Mix until combined and then add the milk, mixing slowly until you have a glossy & smooth cake batter.

Pour it into a prepared tin and bake it in a preheated oven for 45 mins.

Leave it to cool for 10 minutes before you put it into a refrigerator.

To make the cream, whip it along with the icing sugar until soft peaks form in the mixture. Thereafter, add rum to it.

Serve with dried pineapple 'flowers' and spiced rum cream.
Notes
This cake freezes well. So, just take off the dried pineapple flowers before freezing
Seasonal alternatives include rhubarb & apple, use these fruits just the way pineapple is used in this recipe.
You can use a different flavor such as ginger. You can either use powdered ginger in the sponge cake or stem ginger in the topping.
If you are serving it as a warm dessert, serve it with Rum & Raisin ice cream or a spiced custard.
Connect With Us
If you have tried this recipe, we would love your feedback in the comments section below. And while we can't taste it, we would love to see how it turned out! You can connect with us on Facebook or Instagram and tag your picture with #organicfactsrecipes. [5] [6]
Do you wish to share your winning recipes with us? Please click here and fill in the details to get started.