If you are someone who is a Thai food aficionado, satay sauce or peanut sauce is definitely something you have come across. Peanut sauce is a quintessential ingredient in not only Thai but also the Malaysian and Indonesian cuisine. Satay sauce, (which it is popularly known as in South East Asia), is often used as a salad dressing, or a dipping sauce and goes well with chicken, meat and vegetables. It is typically made from ground roasted or fried peanuts, and in some cases made using peanut butter as well. You can try out our recipe below and pair it with some grilled chicken skewers to make for an interesting meal.
How to Make Satay Sauce?
In America, satay sauce is often made using peanut butter, which although tasty, is far from the authentic Thai or Pan Asian peanut sauce that we devour at restaurants. If you wish to replicate the original satay sauce, it is almost imperative to use whole, freshly roasted peanuts, which is first ground and then simmered with other ingredients to give it a fresh and genuine taste. The flavor of the peanuts blends in intricately with the spice flavors that are added and together make for a flavorful sauce/salad dressing or a dip. So what are we waiting for? Let's take a look at the recipe below.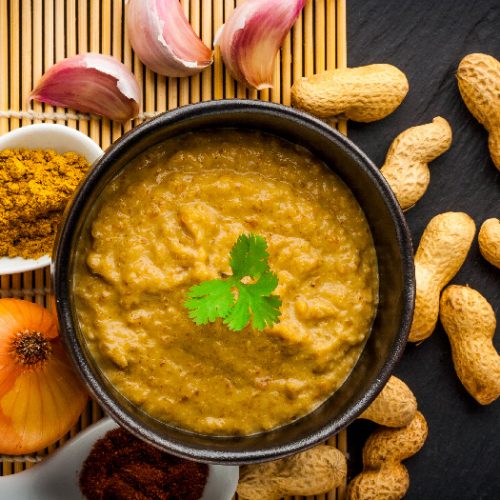 How to Make Homemade Peanut or Satay Sauce?
Enjoy the creamy, spicy and flavorful taste of this peanut sauce!
Print
Pin
Rate
[1]
[2]
Ingredients
1

cup

fresh and dry peanuts

2-3

cloves

garlic (minced) [3]

2

tsp

sesame oil

1/2

tsp

dark soy sauce

1/3

cup

water

2

tbsp

brown sugar

1/3

cup

coconut milk [4]

1/2

tsp

cayenne pepper/ Thai chili sauce

(change measurements as per taste)

1-2

tbsp

fish sauce (for non-vegetarians)

(adjust as per taste)

1.5-2.5

tbsp

regular soy sauce (for vegetarians)

1/2

tsp

tamarind paste/lemon juice
Instructions
To make satay sauce, combine all the ingredients in a food processor and blend well.

Blend the mixture well until the sauce develops a smooth consistency. If you want the sauce to be more watery, add extra water or coconut milk to it. Keep tasting the sauce as you prepare it so that you can change the proportions of the coconut milk/water and add the ingredients

as per your preference.

Once done, serve satay sauce warm or at room temperature with delicious grilled chicken skewers. Juicy strips of chicken soaked in a flavorful Asian marinade and dipped in an equally appetizing satay sauce is all you need to make for a delightful meal!
Notes
After blending all the ingredients, if the mixture is too salty, add fish sauce or soy sauce to tone down the taste.
You can also add a tsp of fresh lemon juice or tamarind paste if it's too salty.
If it isn't too spicy, you can add cayenne pepper or Thai chili sauce.
If you don't wish to consume the satay sauce right away, you can refrigerate it. This way it can stay for 2 weeks. If you wish to keep it for a longer duration, it would be advisable to freeze it.
Connect With Us
If you have tried this recipe, we would love your feedback in the comments section below. And while we can't taste it, we would love to see how it turned out! You can connect with us on Facebook or Instagram and tag your picture with #organicfactsrecipes. [5] [6]
Do you wish to share your winning recipes with us? Please click here and fill in the details to get started.