Soju is a popular Korean alcoholic beverage that is distilled from rice. It is the drink of choice in Korea, China, and Japan.
What is Soju?
A clear, almost tasteless liquor, soju has about half the alcohol of vodka, clocking in on average between 24-30% alcohol. Traditionally, it has been distilled with rice, but manufacturers now use several alternative starches, such as tapioca or wheat. No matter what starch is used, due to the distillation process, this form of liquor is always gluten-free.
Types of Soju
There are three types of this alcohol, including the following:
Nutritional Information
On an average, this type of liquor contains around 540 calories in one 360 milliliter bottle and contains roughly 20 grams of carbohydrates.
Benefits of Soju
The benefits of drinking this unique eastern alcohol range from stroke prevention to ear health:
How to Make Soju?
Let's take a look at the process of brewing soju.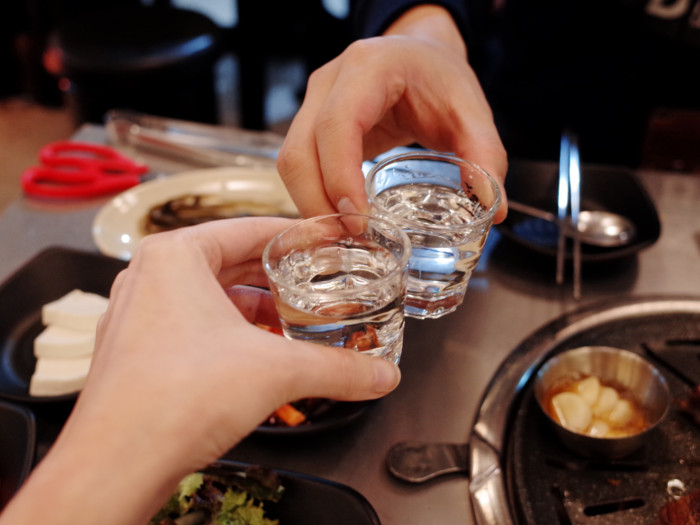 Homemade Recipe to Make Soju
Make your own batch of this Korean drink at home!
Print
Pin
Rate
Ingredients
2

cups

of white rice

4

cups

of cold water

1

packet

of yeast

8

tbsp

of Nuruk enzyme (specifically used for making rice wine)

2

cups

lukewarm water

4

tbsp

sugar
Instructions
To brew your own soju, you should first soak 2 cups of white rice in water for one hour, then steam.

Once cooked, place the rice in a sealable container and add 4 cups of cold water, yeast, and 8 tablespoons of Nuruk enzyme, which is sold specifically for making rice wine.

Stir the mixture twice a day for a week, then let it sit undisturbed for two weeks.

When ready, strain the mixture, and pour two cups of water through the strainer into the liquid.

Lastly, dissolve 4 tablespoons of sugar in your beverage and serve!
Notes
Given that this drink is likened to vodka by many, it can be used to make many cocktails. 
Soju vs. Sake vs. Vodka
Uses of Soju
Word of Warning: As with all alcoholic beverages, moderation is key. Overconsumption of soju can lead to liver damage, depression, and other issues associated with an excessive intake of alcohol.