Drinking strawberry tea is a deliciously fruity beverage that can impart a number of health benefits when prepared properly.
What is Strawberry Tea?
Strawberry tea is an herbal tea brewed using the leaves of the wild strawberry, scientifically known as Fragaria vesca. Also called a mountain strawberry or alpine strawberry, unlike the common strawberries found in grocery stores, the medicinal part of this fruit is the leaves. Some other variations of this tea consist of regular white or black tea that is sweetened with strawberries or even using the fruit themselves to brew the tea. However, the type of strawberry tea discussed in the remainder of this article is made from the fragrant dried leaves, resulting in a warm, relaxing tea that tastes surprisingly like strawberries!
How to Make Strawberry Tea
You can make your own strawberry tea at home quite easily, provided you can find dried wild strawberry leaves from a herbalist or natural grocer.
Step 1: Bring a pot of water to boil and then allow to sit for 1-2 minutes.
Step 2: Add 2 teaspoons of dried strawberry leaves to an infuser or teapot.
Step 3: Pour the hot water over the leaves and steep for 10 minutes.
Step 4: Strain out the leaves and serve warm.
Step 5: If iced tea is desired, pour the tea over ice cubes and store in the

refrigerator

for 30 minutes.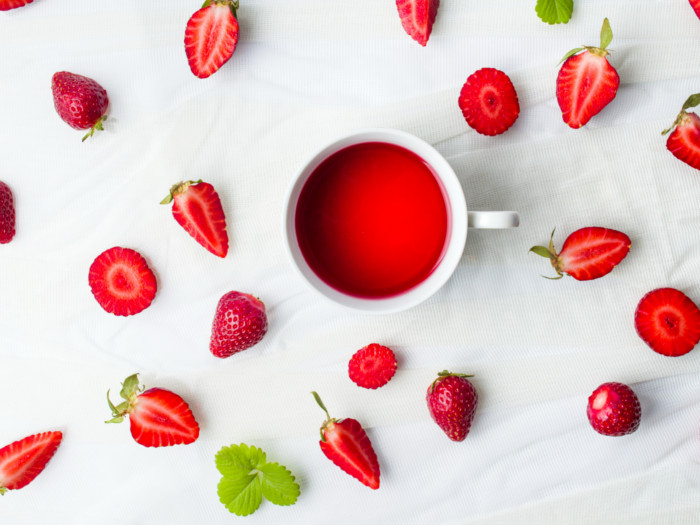 Strawberry Tea Benefits
Drinking strawberry tea may help in providing relief from diarrhea, and inflammatory issues. It may have the potential to protect bone mineral density and heart health.
Read on for the top benefits of strawberry tea include the following:
Side Effects
If you consume strawberry tea in excess, it can have some unwanted side effects, including the following:
Gastrointestinal

upset
Cramping
Bleeding disorders, since it is blood-thinning in nature
Finally, it is generally safe to drink this tea while pregnant, but as always, it is important to speak with your doctor before adding any herbal remedies to your health regimen during pregnancy.