Tamarind paste is a very common ingredient in certain Asian foods, particularly Thai dishes, and is also something that you can prepare at home quite easily.
What is Tamarind Paste?
If you have ever eaten a savory Thai dish, you've almost certainly encountered tamarind paste, the thick, brown, molasses-like substance with a slightly sour flavor. Made from the tamarind fruit, which bears the scientific name Tamarindus indica, this paste is a bit time-intensive to prepare, but it is a very versatile addition to your cooking repertoire. You will also find many uses for this thick paste in Mexican and Indian cuisines. [1]
This paste is rich in certain unique nutrients, including tartaric acid, as well as limonene, cinnamic acid, safrole, geraniol, tannins, and pectin. There are also trace amounts of potassium, calcium, zinc, iron, and selenium, among other antioxidants and active ingredients.
How to Make Tamarind Paste at Home?
While you can always purchase tamarind paste at the store, many people enjoy making their own. Although the process is a bit time-intensive, it is easy to do with the right ingredients and enough patience. In terms of ingredients, all you need are dried tamarind pods, which are readily available at import stores and regular markets in many parts of the world. So let's take a look at the recipe. [2]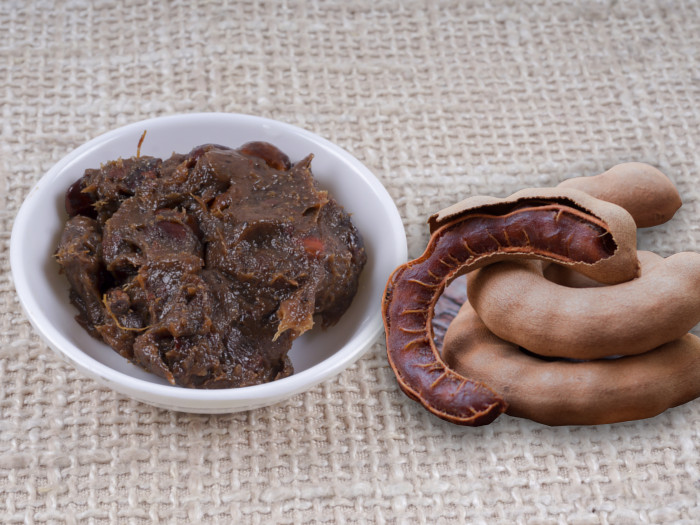 How to Make Tamarind Paste: Easy Recipe
A very important ingredient in South Indian cooking, tamarind paste is one of the essential souring agents that is used in a lot of recipes. It has a long shelf life and can be easily made at home. It can be very useful in everyday cooking. So how do we go about making it? Let's take a look.
Print
Pin
Rate
[3]
[4]
Ingredients
250

gms

dried tamarind

500

gms

water
Instructions
To make tamarind paste, purchase 250 gms of dried tamarind pods, roughly 20-30 pods per batch of paste.

Separate the fruit from the hard outer pod and remove the seed in each pod.

Add the fruit to a saucepan and heat to a boil. Cook for about 10 minutes, until the fruit is soft.

Press the boiled fruit against the sides of the pan, dissolving as much as possible into a paste.

Allow the mixture to cool for 10-20 minutes before storing in a glass, airtight jar.

The finished product should resemble molasses before use.
Notes
Once you have your tamarind paste prepared, you can use it in a variety of meals in your daily diet, including as a popular ingredient in chutneys, stews, and curries, as well as vegetable and noodle dishes. It is a popular addition to hot and sour soups and an ingredient in marinades. It is also added to refreshing, healthy shakes, often complemented by coriander seeds, cardamom, dates, honey, and cloves.
Tamarind Paste Substitute
If you don't have the patience to make your own tamarind paste or have no access to storebought varieties, there are some effective substitutes that can mimic the flavor and texture of this popular ingredient. Best tamarind paste substitutes are vinegar, lime juice, and mango powder, among others.
Vinegar
If you want to add the same sour bite to your dish, replace tamarind dish with a smaller amount of vinegar, as it is more potent than the paste.
Lime Juice
The citrus nature of tamarind can be replaced with lime juice, but you won't need quite as much volume of fresh lime juice, due to its concentrated and powerful flavor. [5]
Pomegranate Molasses
In terms of consistency and a blend of tart and sweet flavor, pomegranate molasses may be the best replacement for tamarind paste, if you can find it (or make it at home). [6]
How to Store Tamarind Paste?
If you make your own tamarind paste at home, it is simple to store, provided you have a glass jar and a refrigerator. After straining your tamarind paste, simply let it cool and store it in an airtight jar in the refrigerator. Some people claim to store tamarind paste at room temperature, where it can maintain a shelf life of up to 2 years, but there is a greater risk of the paste developing mold in this form. [7]