In a world full of fruits, vegetables, cereals, meat, poultry, and dairy, where do lentils stand? Do they deserve to be made an essential part of our diet or should we let them stay in their dungeon of darkness forever? Well, before we come to any conclusions, let's talk a little about what are lentils.
Belonging to the legume family, lentils are an annual plant producing edible seeds shaped like lenses. These plants are usually around 16 inches tall, carrying pods containing seeds that we come to consume. They constitute a significant part of the Indian diet, where they are famously called 'dal', which is eaten with Indian flatbread (chapati) or rice. The reason why they are so extensively eaten in the Indian subcontinent can be attributed to their nutrient content. In a diet dominantly vegetarian, lentils add to the protein, iron, phosphorus, and potassium content among other things, as per the USDA. [1] Having talked about what lentils are, in this article, we majorly discuss the health benefits, nutrition, and ways to add them to our diet. So let's dive in.
Are Lentils Good For You?
Lentils have an amazing list of health benefits due to their rich polyphenol and antioxidant content. They help fight obesity, improve heart health, reduce the risk of cancer, and more. Let us take a detailed look at them below.
Rich in Polyphenols
Lentils are a great source of polyphenols, as per a study published in the Journal of Agriculture and Food Chemistry. Polyphenols are known for various health benefits associated with them as they make lentils antioxidant-rich, antibacterial, anti-fungal, antiviral, and anti-inflammatory among other things. [2]
Antioxidant Capacity
When compared to chickpeas, soybeans, and other legumes, lentils have shown to have the highest antioxidant capacity of all. It is also shown to have a greater antioxidant capacity than various fruits and vegetables, as per a research published in the International Journal of Molecular Sciences. [3]
Improve Heart Health
Lentils, rich in polyphenols, help in reducing blood pressure and prevent the risk of cardiovascular diseases. They also reduce the risk of hypertension and coronary artery diseases, due to their antihyperlipidemic, anti-cholesterolemic, and cardioprotective effects on the body, as per a study published in 2014. Studies suggest that regular consumption of lentils in a diet can help improve cardiovascular health. [4]
Fight Obesity
As per a study published in the British Journal of Nutrition, [5]eating lentils with pizza, pasta or any sauce helps in reducing food intake and body weight. Various researches have shown an inverse relationship between the consumption of lentils and obesity. They have also shown to reduce postprandial glucose and fat, which are both significant in the control and fight towards obesity.
Prevent Diabetes
As per a study published in the journal Food Chemistry, [6]lentils help in the prevention and management of diabetes by improving blood glucose and lipid metabolism in the body. Regular consumption of cooked lentils by diabetic patients controls fasting blood sugar, glycemic index, and starch digestibility, all of which help reduce diabetes-related complications. [7]
Anti-cancer Potential
As per a study published in the International Journal of Cancer [8], lentils are known to reduce the incidence of colon, breast, liver, and thyroid cancer. According to another study published in the Nutrition Research journal lentils' rich polyphenolic content prevents carcinogens through chemo-preventive activities. On the other hand, the presence of lectins in them are also shown to have anti-cancer properties, as they inhibit the growth of tumors. [9]
Ways To Add Lentils To Your Diet
There are many different and innovative ways you can add lentils to your diet, as mentioned in detail below.
You can add boiled lentils to your leafy green salad for a dose of protein and nutritive goodness.
Try mixing cooked and sauteed lentils with chopped bell pepper and red onions with a dressing of your choice. You can top it off with herbs like mint, parsley, or oregano.
You can also add cooked lentils to tacos or quesadillas along with your other usual fillings.
You can try the delicious Indian recipes with lentils, which include tadka dal, khichdi, and yellow mung dal among others.
You can also try our amazing lentil soup recipe, as given below.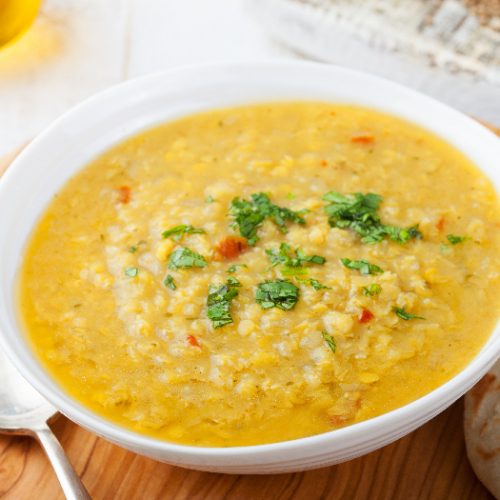 Simple & Healthy Lentil Soup Recipe
The healthiest way to add the phytochemical-rich lentils to your diet is through the delicious lentil soup. Let us take a look at how to make it.
Print
Pin
Rate
Ingredients
2

tbsp

olive oil

2

tsp

salt

1

pound

lentils

rinsed

1

cup

onion

finely chopped

1/2

cup

celery

1

cup

tomatoes

chopped

1/2

cup

carrot

chopped

2

quarts

chicken or vegetable broth

1/2

tsp

coriander

ground

1/2

tsp

cumin

ground

1/2

tsp

black pepper

ground
Instructions
The first thing you need to do is put olive oil in a 6-quart Dutch oven over medium heat.

Once the oil is hot, add onions, carrots, celery, and salt to it and let is sweat till the onions become translucent. This should take about 6-7 minutes. Now, add tomatoes to the mix and stir for two minutes.

The moment your mixture starts becoming thick, add lentils, broth, coriander, cumin, and black pepper to it. At this point, you can increase the heat to high to bring the lentils to a boil.

Once, the lentils have been boiled, reduce the heat to low and let it cook on simmer, till you see the lentils become soft. This should take approximately half an hour to 40 minutes.

All you need to do now is use a hand blender to puree the lentils as per your preference and then serve hot.
Notes
You can skip past the blending step if you do not mind the thickness of lentils. You can also have it with rice or bread if you are having only soup for a meal, it will make the experience more wholesome. Try adding fresh coriander to your lentil soup recipe for an additional taste.
Word of Caution
Lentils are safe to consume as long as you do not have an allergy to any of them. The only point of concern can be about their fiber content, which when taken in excess can cause bloating, gas, and cramping in the stomach. So make sure to have lentils in moderation whenever you plan to have them.