Celery leaves have become dear to chefs and home cooks across the world, thanks to the rising trend of sustainable cooking. Once discarded for their dubious usefulness, these leaves have now attained quite a bit of stardom because of preparations like celery pesto and celery salt.
Celery leaves impart a similar flavor as celery. However, there is a slight difference between the inner and the outer leaves. The outer layer consists of dark green, intensely flavored leaves, which may overwhelm your salads due to which it is best to use them in soups, sauces or purees. The inner portion consists of light green leaves that possess a mild flavor. You can enjoy them raw in salads or use them to garnish meat and eggs.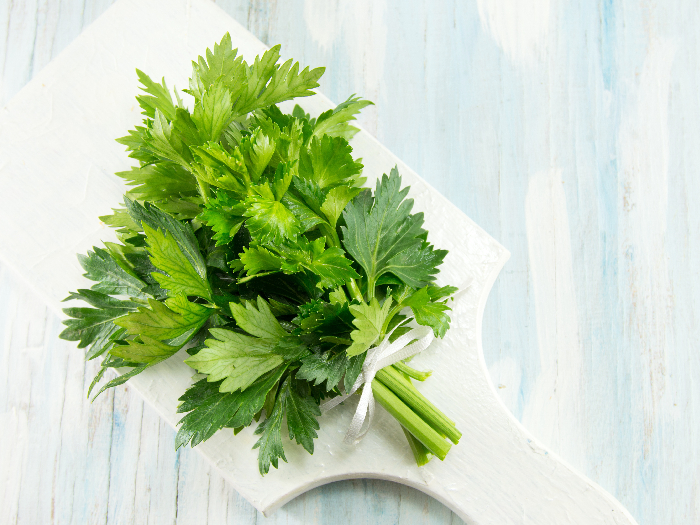 Benefits
Celery leaves are rich in nutrients like calcium, potassium, vitamin E, and many antioxidants. They are low in calories and carbs, making for an ideal addition to a weight loss diet.
How to Use
Using celery leaves in your day-to-day meals is simple. You can practically add them to everything from soups to smoothies. Below mentioned are a few exciting ways to use these leaves.
Celery salt: Dry 1 cup celery leaves in a low oven or a dehydrator. Now pulverize them and add about 1/8th teaspoon of salt to the leaves. Mix thoroughly and store in an airtight jar.
Pesto: Combine 3 cups of leaves with 2 cloves of garlic, 1/2 cup of olive oil, salt (as per taste), 1 teaspoon of lemon juice, and some basil or parsley leaves in a food processor. Let the machine work its magic and give you a brand new pesto for your Doritos, pasta or pizza!
Salads: Toss a few leaves into your robust green leaf salad. A rich walnut, apple, pear salad mixed with fresh celery leaves and a rich olive oil dressing is enough to fill you up!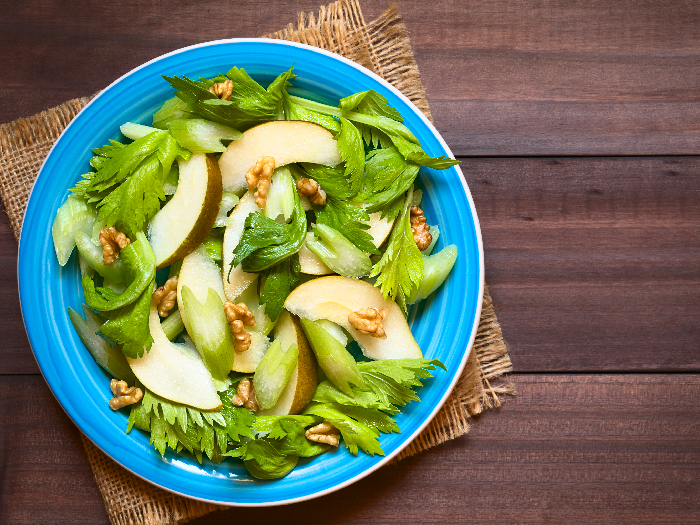 Risotto, soups, and stews: Celery leaves go very well with creamy soups and winter stews. You can mix them before serving or add them to the blender while making the soup if you don't like chewing leaves.
Garnish: You can use these leaves to garnish your pasta, pizzas, and even mojitos. Celery leaves work as a great alternative to any dish that calls for cilantro, parsley, or basil leaves.
Smoothies: A couple of celery leaves blended into the breakfast green smoothie is sure to give you a nutritious start. You can also add these leaves to various fruit smoothies like pineapple, apple, guava, and kiwi.
Celery stalks have a crisp texture, which may not go well with all your dishes. While cooking these recipes, you can use the leaves for getting the taste of celery without the texture of the stalks.
Picking Fresh Celery
Selecting celery is an enjoyable activity. Look for crispy green stalks with dense leaves. Most supermarkets and local stores sell the stalks separated from the leaves. But if you happen to have a farmers market around, you can easily spot a beautiful bunch of intact celery with a copious amount of vibrant, green leaves. That's the one for you! Grab it and get cooking.