Vanilla chia pudding makes for a tasty and healthy breakfast option. It is an aspirational dish for those who want to start the day on a healthy note without compromising on the taste. After all, who doesn't want to eat healthy food that is also delicious, right? This dish, like all other chia seed recipes, calls for soaking the seeds in water or milk for sometime. On the other hand, vanilla, which is perhaps the most universally accepted and loved flavor, complements the tapioca-like texture of the seeds and gives it a sweet, perfumed aroma with a woody or smoky taste. When paired with a variety of fruits and nuts, the pudding tastes flavorful, refreshing and light.
How to Make Vanilla Chia Pudding ?
To make the perfect vanilla chia pudding, it is important to get the ratio of the milk to chia seeds right. Ideally, for every 3/4 cup of milk, use 3 tablespoon chia seeds. If you're someone who is focused on losing weight, then ensure you pick up the right kind of milk that has some water consistency. Almond milk works best, but other plant-based varieties such as rice, coconut, hemp, and soy milk could be used too. If you don't like the tapioca-like texture of chia seeds, you can also grind them to fine, uniform, porridge-like consistency. Now, if you are someone who is planning to get into the habit of eating healthy first thing in the morning, follow this simple, easy-to-follow recipe to make the perfect vanilla chia pudding.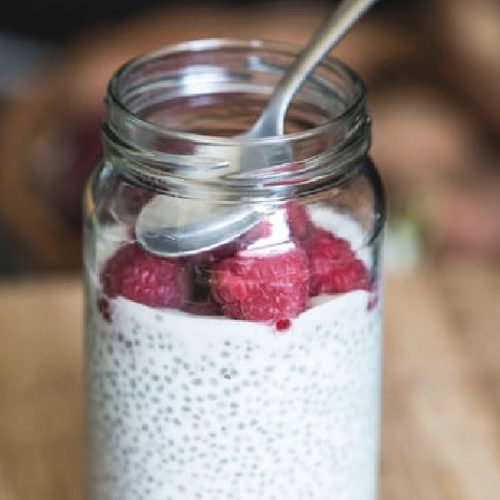 Delicious and Nutritious Vanilla Chia Pudding
The best option for a quick, delicious and wholesome breakfast!
Print
Pin
Rate
Instructions
To make vanilla chia pudding, blend a cup of almond milk, 3 tablespoon of chia seeds, 1 tablespoon of pure maple syrup and 1 teaspoon of vanilla extract until you get a smooth consistency. Once it is done, pour it in a sealed container and refrigerate it overnight.

Next morning, serve it with fresh fruits of your choice and a dash of cinnamon to enhance the taste. You can also add nuts like almonds, pistachios, sunflower seeds, pumpkin seeds and the like, if you so prefer.

Note that we blended all the ingredients together as we prefer the consistency that way. If you don't want to blend it altogether, you can add milk, maple syrup, vanilla and chia seeds (in that order) in a glass container and seal it with a lid after stirring it well with a spoon. Stirring is important as that will help in preventing lumps to be formed. Once done, refrigerate it overnight. Next day garnish it with your favorite fruit and nuts and you're good to go!
Connect With Us
If you have tried this recipe, we would love your feedback in the comments section below. And while we can't taste it, we would love to see how it turned out! You can connect with us on Facebook or Instagram and tag your picture with #organicfactsrecipes. [1] [2]
Do you wish to share your winning recipes with us? Please click here and fill in the details to get started.