Dandelion greens can add a punchy bitterness when added to salads and make the most delightful play with creamy poached eggs or the hard-boiled version, hot buttered potatoes, and salty bacon. One of the most popular dandelion salad recipes combines all of these to make a sublime spring salad.
The peppery-tasting dandelion greens have been enjoyed by the French and the Greeks, who love them with just a dash of lemon juice and olive oil. In the US, however, these invasive plants were mostly looked at as weeds. Now, with the wealth of health benefits of dandelion greens being explored, dandelion leaves are available in farmer's markets and select grocery stores too.
Dandelion Salad Recipes
Dandelion greens are usually enjoyed for their bitter taste but if you want to tame the bitterness, you can dip the leaves in cold water, cover them with a cotton cloth, and refrigerate for a few hours. This will not just leach away some of the bitterness, but also give it the crispness required for a good salad. The other popular way of removing the sharp taste is by sautéing the greens.
If you are planning to forage dandelion leaves from your backyard, do ensure that it is chemical and pesticide-free. Make sure you pick the tender, young leaves as they can be eaten raw. The older, larger leaves need to be cooked to be palatable. The best time to forage dandelion greens is in the spring or early summer.
Dandelion Greens With Warm Bacon Dressing
Enjoy this salad, inspired by a French bistro recipe, where the bitterness of the dandelion greens pairs beautifully with the richness of smoky bacon.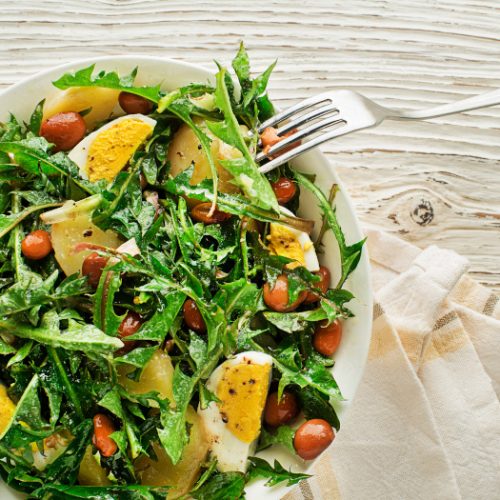 Dandelion Salad With Warm Bacon Dressing
One of the most popular ways to enjoy fresh dandelion greens!
Print
Pin
Rate
[1]
[2]
Ingredients
1

lb

dandelion greens

stem removed

2

eggs

hard-boiled

2

potatoes

boiled

1/4

cup

kidney beans

drained and rinsed
Salad Dressing
5

bacon slices

2

tbsp

cider vinegar

2

tbsp

shallot

finely chopped

1

tbsp

Dijon mustard [3]

optional

1/2

tsp

black pepper

freshly ground

salt

as per taste
Instructions
First, assemble the salad in a large bowl. Start by laying the cleaned dandelion greens. You can cut the leaves into 2-inch length for a better presentation.

Quarter the eggs and potatoes and lay it on the greens. Add the kidney beans.

To make the salad dressing, cook the bacon in a large heavy skillet till golden and crisp. Transfer to a cutting board and chop it finely. Reserve the bacon fat.

In a small bowl, whisk together cider vinegar, shallot, Dijon mustard, bacon fat, salt, and pepper. Since the bacon fat is salty, you may want to go easy on the salt.

Drizzle the dressing on the assembled salad and toss to coat the greens well. Sprinkle the chopped bacon on top.

For a vegetarian version, omit the bacon and eggs. Grate Parmigiano Reggiano on the salad to create the salty taste of the bacon.
Notes
You can substitute any yellow mustard for Dijon mustard.
Other Ways To Use Dandelion Greens
Wilted Dandelion Greens Salad: Sautée finely chopped garlic with olive oil in a skillet. Once you get the aroma of garlic, add the dandelion greens and toss them in the oil and cook for a couple of minutes only. Once they wilt, remove from heat and add freshly squeezed lemon juice. They are delicious to eat plain like this, or you can add it to pasta or even couscous.
Dandelion Green Spring Salad: Combine the bitter green dandelion green leaves with milder green salad leaves like baby spinach or lettuce. Mix and match any of the following ingredients to make a wholesome spring or early fall salad.
Drizzle balsamic vinegar and extra virgin olive oil. Season with salt and pepper, toss the salad well and serve immediately.
Dandelion Pesto: In a food processor or blender, place 2 cups of tightly packed dandelion greens, 4-5 basil leaves, 1 cup of lightly toasted pine nuts, 1/2 cup of olive oil, and blend well. Season with salt and pepper. You can also add 1/4 cup of Parmigiano Reggiano cheese, when blending, for a sharper and tangier version. This unusual pesto tastes wonderful as a spread on a lightly toasted baguette or when tossed with freshly cooked pasta. You can also smear it on roasted potatoes. The pesto will stay for 3-4 days when refrigerated. To avoid the pesto getting a dark green color on top, you can put a teaspoon of olive oil to form a layer to prevent oxidation.
We hope we have encouraged you to try dandelion greens the next time you want to make a unique salad!