Some of the home remedies for dark underarms include the application of lemon, yogurt, sandalwood paste, turmeric, coconut oil, rice flour, and vinegar. Other home remedies include the use of skin scrub, waxing, exfoliation, and talcum powder, while avoiding the use of alcohol-based deodorants and antiperspirants.
Home Remedies for Dark Underarms
Home remedies for dark underarms include the following:
Lemon
Lemon is used as a cure for a number of skin-related medical conditions, including dark underarms. Rubbing a piece of lemon on the underarms after a shower can have good results for this condition.
Yogurt
Yogurt is a good remedy for underarm darkening. The vitamins and fatty acids found in yogurt are good for the skin, as they minimize the dark patterns and the skin damage. Apply 2 tablespoons of yogurt on each armpit and wait for 15 to 20 minutes before cleaning it off (Deshpandey, 2008).
Skin Scrub
A natural skin scrub can be made at home that can be applied on the underarms. This is a good and safe remedy to remove dead skin which has accumulated in the underarm area to cause darkening of the skin. Baking soda and chickpea flour mixed with small quantities of water can be used as a scrub. Chickpea flour mixed either with yogurt or milk is also a good scrub.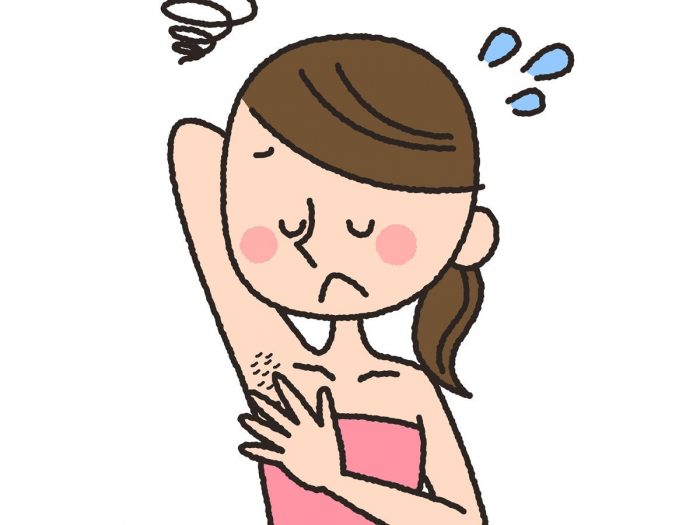 Sandalwood Paste
Sandalwood paste is another good remedy for dark underarms. Application of sandalwood paste on the darkened underarms can ease any burning sensations that are associated with the area and gradually reduce the darkening . The fragrance of sandalwood also eliminates bad odors.
Turmeric & Lemon Juice Preparation
Add 5 ml of lemon juice and a small quantity of turmeric. This mixture can be applied to underarms and must be kept on for about 15 to 20 minutes before being washed off. It offers a good remedy for underarm darkening.
Rice Flour & Vinegar
Mix a few tablespoons of rice flour with strong vinegar. Apply this paste on the dark underarms after a hot shower. Let the paste stay on for 15 minutes and then rinse it off with warm water. Acidic vinegar will destroy the bacteria which feed on the dead skin cells and will remove the darkened area over time.
Honey and Lemon
Make a mixture of lemon juice and honey in small quantities, no more than a tablespoon each. Apply this mixture on the underarms and let it remain for about 20 minutes and then rinse it off with warm water. This procedure can be done before taking shower.
Cucumber and Turmeric
Extract juice from a cucumber and mix it with turmeric. Apply this mixture on the affected area. This treatment also effectively treats dark underarms.
Potatoes
Potatoes are considered a natural bleaching agent and hence can offer help against underarm darkening. Apply potato juice on the underarms for gradual and progressive results. Leave the juice on for about 20 minutes to more than a half an hour for effects to occur. This process can be repeated every day for better results.
Talcum Powder
Deodorants and antiperspirants contain alcohol that can irritate the skin. This irritation can be eliminated by the use of talcum powder. Talcum powder absorbs much of the moisture and helps in keeping the underarm skin dry, thereby preventing the growth of bacteria and keeping the skin from darkening.
Exfoliation
Exfoliation of the skin needs to be done regularly to avoid dark underarms. As skin cells accumulate on the outer layers of the skin, they make the underarms look darker. Underarms are dark and moist places, which are ideal for bacteria to thrive and cause body odor. Regular showers and exfoliation help to get rid of bacteria, odor, and dark underarms.
Coconut oil
Coconut oil is a good home remedy for underarm darkening. Application of coconut oil will reduce darkening of the underarm area over time.
Waxing
Waxing can be good for underarm darkening because waxing removes the hair from its roots rather than shaving the hair. Removal of hair from the roots is preferable, as it allows new and thinner hair to grow, thereby helping to maintain light-colored skin.
These are some of the simple home remedies for dark underarms that can help in effectively removing the dark coloring without any side-effects.
There are certain things to avoid in case of underarm darkening. Some of these things include the following:
Diabetes
If you are suffering from Type II diabetes, then you should also look for Acanthosis nigricans. With this condition, an excess of insulin can trigger the skin cells to produce melanin, which can darken the skin on the underarms, as well as the neck.
Alcohol-Based Deodorants
Alcohol-based deodorants and antiperspirants can affect the skin by causing irritation. Avoid these alcohol-based deodorants and opt for alcohol-free deodorants for better results.
Avoid Shaving of the Armpits
Shaving of the armpits has also been associated with underarm darkening. Shaving causes skin irritation, which results in underarm darkening. Instead of shaving, one can opt for waxing, which is much more effective.
Wear Cotton Clothes
Cotton clothes are very good at absorbing sweat. Try to wear cotton clothes most of the time to avoid sweat accumulation, bacteria growth, and subsequent dark underarms that result from those two things.
Loosely-Fitting Clothes
If cotton clothes are not an option, try to wear those types of clothes that fit loosely around the arms. Wearing loose clothes will provide proper air circulation around the underarms and help in avoiding skin irritation.