If you have those garden green beans lying around and you're wondering what to do with them – here is the perfect recipe for grilled green beans! It's incredibly tasty and easy to make. You can have them as a summer side dish or a simple party snack – packed with flavor and fun, green beans can be cooked over an actual grill, pan, or a cast iron skillet.
Grilled Green Beans
Many people would tell you that roasting a vegetable really changes everything for the better – a perfectly crispy, caramelized, and delicious indulgence. But it can get a bit tiring to stand outside doing all that roasting in the heat or heating up the whole house by roasting inside the kitchen in the oven. There comes the savior – try grilling! It brings out the same perfect flavor – in the form of a smokey, browned, and charred vegetable.
Green beans take hardly 15 minutes to cook to perfection and bring to your plate a nutritious, healthy, and delightful meal. They can be paired with almost any other meal, be it chicken, pork, steak, fish, or any kind of seafood. You can also have grilled green beans with salads, scrambles, and wraps. All you need to do is just pair them up with some amazing herbs and spices. Let's take a look at the recipe below.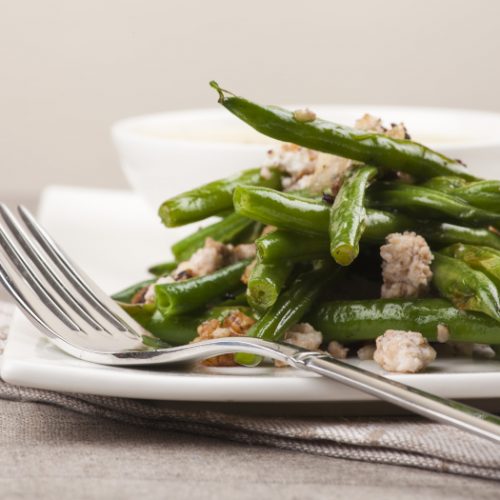 Simple & Delicious Grilled Green Beans Recipe
You can have these amazing grilled green beans with cheese, herbs, spices, and different seasoning!
Print
Pin
Rate
[1]
[2]
Ingredients
1

pound

green beans

ends trimmed

3

tbsp

olive oil

1

tbsp

chili garlic paste

2

tbsp

soy sauce

1

pinch

red pepper flakes

sesame seeds

for garnish

salt

as per taste
Instructions
To prepare your grilled green be

ans, you need to preheat a large grill pan. On the side, take a large bowl in which you can whisk the oil, soy sauce, chili garlic paste, and red pepper flakes. Then you add green beans and salt to it and whisk it all properly.

Transfer the green beans from the bowl to the grill pan and cook untill they become charred. This would take around 5-7 minutes. If you're using a grill, then place a thick layer of foil over the grates and then transfer your beans onto it.

Your green beans are ready now, take them off the heat and garnish with sesame seeds. You can also use other seasoning if you have a specific taste in mind. Have them while they are still hot!
Grilled Green Beans Recipe Ideas
You can also try other dressing combinations for your green beans. You can use Parmesan cheese, garlic, lemon, Cajun seasoning, old bay seasoning, balsamic vinegar, or tomatoes and onions among other ingredients. Many people also prefer adding bacon to their green beans, by grilling them wrapped inside a bacon. You can also try our recipe – Bacon-wrapped Asparagus – to understand better about how to cook bacon-wrapped green beans. This gives them both a juicy and tender taste.