One of the most popular and invigorating types of tea is spearmint tea. It is enjoyed around the world for its impressive benefits. It may help with digestion, immunity, and fungal infections. It may also help to boost dental health, reduce facial hair growth, and lower inflammation, among others.
What is Spearmint Tea?
This tea is made from the leaves of spearmint herb which is native to Europe and is scientifically known as Mentha spicata. Unlike many other forms of tea, which use dry leaves and are steeped in a bag or a special tool, spearmint tea is best when the leaves come fresh from the garden and are brewed directly in the boiled water. There are numerous varieties of mint out there in the herbal tea world, but one of the most common types is spearmint tea, which has a sweet taste that is slightly weaker than peppermint, but enjoys all the same benefits – and more!
Spearmint grows up to 1 meter in height with a thick stalk and sharply pointed leaves, which give the plant its name. Able to grow abundantly in a wide variety of temperate climates, this is also one of the most common forms of mint in the world, and its leaves can be used for many different things.
The essential oil from spearmint leaves is also highly valuable and can deliver more concentrated doses of the nutrients and organic compounds that regular drinkers of spearmint tea can benefit from. [1]
Watch Video: 5 Surprising Benefits Of Spearmint Tea
5 Surprising Benefits Of Spearmint Tea | Organic Facts
Nutrition Facts
There are a number of important compounds and antioxidants that can be derived from spearmint tea, notably limonene and L-carvone, along with various other flavonoids, and limited amounts of menthol (significantly less than in peppermint). These compounds can boost overall health in a surprising number of ways, which is why spearmint tea is often considered a sweeter alternative to peppermint tea. [3] [4]
Almost all of the health benefits are the same, and drinking the tea is an absolute pleasure. Now, let's have a closer look at some of the benefits of spearmint tea.
Health Benefits
Health benefits of spearmint infusion include the following:
May Boost Immune System
Spearmint essential oil has a powerful antibacterial capacity, meaning that it can help to stave off infections in many topical applications. That same antibacterial potential is present in spearmint tea as well, which is why many people turn to this tea for an immune system boost. [5] [6]
May Relieve Nausea
The anti-inflammatory effects of spearmint tea may help your stomach settle down when you're experiencing any sort of stomach upset or nausea. In fact, spearmint essential oil has even been shown to reduce nausea and vomiting in patients on chemotherapy treatment. A study in the Indian Journal of Pharmacology [7] showed that spearmint significantly increased lipase activity of the pancreas and intestinal mucosa, and also increased intestinal amylase activity. This may potentially aid digestion and decrease the likelihood of unpleasant digestive problems like cramping, bloating and constipation.
May Help Balance Hormone Levels
Another interesting effect of spearmint tea is that it can impact the hormonal balance within our bodies. There are countless different hormonal interactions that define our appearance, behavior, mood, and daily energy cycles. In women with hirsutism related to PCOS, "free and total testosterone levels were significantly reduced over the 30 day period in the spearmint tea group." These possibly antiandrogenic properties may help balance hormones. [8] [9]
May Reduce Hirsutism
A specific hormonal issue that spearmint tea can handle, is hirsutism, which is defined as the growth of unwanted hair on certain women's bodies, due to an unusually high level of androgens. By reducing this 'male' hormone and regulating the rest of the body's hormones, spearmint tea, in a controlled study of 42 patients, was able to measurably reduce the hormonal imbalances associated with hirsutism.
May Improve Memory
The limonene found in this tea is known to counter the negative effects of free radicals and possibly increase neurotransmitter activity, to the point of improving memory, concentration, and focus. Spearmint tea can help improve spatial memory and reduce anxiety to help tackle cognitive tasks at hand. [10]
May Prevent Chronic Diseases
According to an article by Stephanie Liou of Stanford University, free radicals are possibly highly reactive and can cause damage to DNA, cell membranes and more through a process called oxidation. The antioxidants found in spearmint tea, however, can react with and neutralize these free radicals keeping the body healthy, without putting undue strain on the immune system. [11]
May Prevent Cancer
Dr. Roderick Dashwood, from the Texas A&M College of Medicine, in his research on the 'Antimutagenic activity of Spearmint', found that spearmint infusion is helpful in inhibiting carcinogenesis. Another study published in the Journal of Functional Foods showed that piperitenone oxide found in spearmint has strong anticarcinogenic properties, especially against colon cancer. [12] [13]
May Reduce Inflammation
Chronic inflammation is associated with many different chronic diseases and has even been implicated in the development of some cancers and heart disease.
Spearmint tea helps reduce headaches and other pains throughout the body, particularly in the joints. This is also an application of spearmint essential oil. The anti-inflammatory compounds in this powerful plant have also been shown to decrease markers of inflammation including white blood cell count in animal models. [14]
May Prevent Fungal Infections
Spearmint has long been used in traditional medicine due to its powerful antifungal activity. The use of spearmint tea is an effective antifungal agent. A study published in the Journal of Agricultural and Food Chemistry showed "a 95% reduction in the number of metabolically active cells within 6 hours" of treatment with spearmint essential oil
How to Make Spearmint Tea?
Making spearmint tea is a piece of cake. It hardly takes more than 15 minutes. You can have it every day if you like the taste.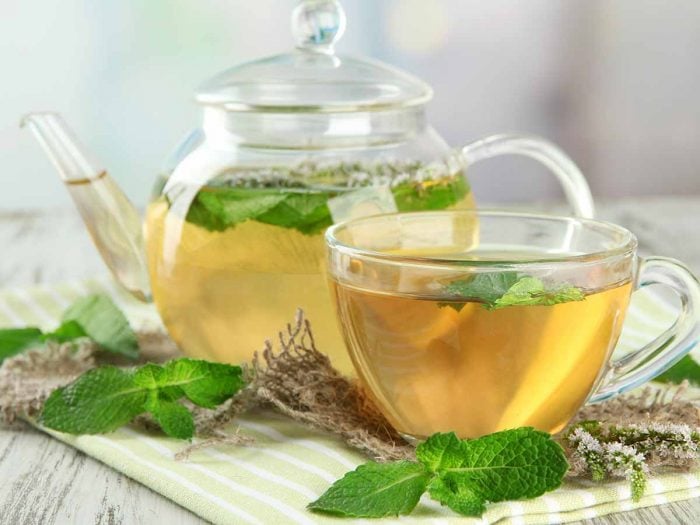 Ingredients
1 1/2

cup

water

1

tbsp

spearmint leaves

dried
OR
2

tbsp

spearmint leaves

fresh
Instructions
Boil the water in a saucepan.

After you see bubbles coming out, remove the water from heat.

Add the spearmint leaves to it and let it stay for about 5 minutes. You can also keep it for longer if you want a strong flavor.

Now strain the infusion into a cup or a mug with a strainer. Freshly brewed spearmint tea is ready now!

If you like your teas sweet, then you can add 1 tsp of honey to it.
Word of Caution: If you are pregnant, breastfeeding or on medication, consult with your doctor before adding large quantities of pearmint tea or making any other significant change to your diet. While this is considered a mild tea, it is better to ask your doctor, in case there are potential interactions with any prescribed medication.