Home

›

Oils

›

Coconut Oil for Dandruff
Coconut Oil for Dandruff
Using coconut oil to eliminate dandruff is extremely effective, and has been used for thousands of years as a natural treatment, particularly in countries where coconuts are widely cultivated. The unique nutrient composition of coconut oil can counteract or neutralize not only the worst symptoms of dandruff, but also the underlying cause of this irritating and unsightly condition.
Dandruff is characterized by the flaking of dry skin from the scalp, which is both itchy and embarrassing, as the small white flakes will tumble down onto your shoulders, and can even be visibly seen in the hair in particularly bad cases. Coconut oil is used for many different applications related to hair health, and can often be found in cosmetic products, shampoos and conditioners. It is also one of the most common oils for hair masks and at-home treatments for brittle hair, hair loss and split ends, so it comes as no surprise that it is also effective for the treatment of dandruff.
Coconut oil possesses a wealth of nutrients, minerals, antioxidant compounds and beneficial fatty acids that can attack this problem head-on and treat the symptoms, while also stimulating rapid healing and providing a shield against future instances of dandruff. The medium-chain fatty acids found in this oil, particularly lauric, capric and caprylic acids, are able to penetrate deeply into the scalp and deliver a number of benefits that will keep your shoulder clean and your confidence boosted!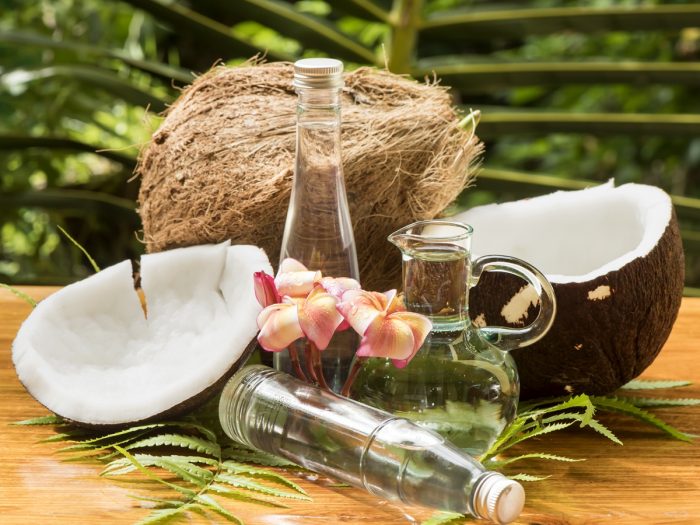 Causes of Dandruff
There are a number of causes for dandruff, including an overgrowth of a fungal yeast infection, eczema, psoriasis, dry skin, dermatitis, poor hygiene, over-washing of the hair, or overly sensitive skin to hair products. If you want to effectively eliminate or mitigate this condition of your scalp, it is important to understand what the actual cause of your dandruff is. This can be difficult to determine, prompting people to try many different products and approaches, and they often find little or no success.
For example, if your dandruff is being caused by an overgrowth of a yeast infection, moisturizing the scalp with Shea butter or shampooing your hair every day won't be a viable solution; in fact, it could even make the condition worse. Similarly, if you are over-washing your hair and sucking the oil out of your skin, but the dandruff is caused by a dry scalp, you won't seen an improvement in your symptoms.
The reason that coconut oil is such an effective treatment for dandruff is because it has a comprehensive range of effects, and is able to neutralize dandruff, regardless of the severity of symptoms or the underlying cause. For this reason, populations in tropical areas have been successfully and religiously using coconut oil to improve their hair health and eliminate dandruff for countless generations. Only in the past 50 years or so has the popularity and availability of coconut oil made it a viable treatment in more temperate areas and the broader population.
How to Get Rid of Dandruff Using Coconut Oil
You should use coconut oil to eliminate dandruff, versus other traditional or cosmetic approaches, because it can moisturize the skin, eliminate fungal and bacterial infections, condition the hair and scalp, stimulates the regrowth of healthy skin cells, soothes itching and inflammation, and improves the aroma and appearance of the hair. For these reasons, among others, this oil is highly recommended as a treatment for this very common problem.
Antioxidant Activity: The polyphenolic compounds in this oil, combined with vitamin E (tocopherol) can protect the delicate skin of the scalp against the impact of free radicals, which causes oxidative stress, weakening the cells and making them more susceptible to infections and cell death. Vitamin E, which acts as an antioxidant, is also one of the best substances for penetrating the skin to deliver nutrients where they are needed most.
Moisturizing Power: Coconut oil is an excellent moisturizer for the skin, so if your dandruff is caused by excessive dry skin, or over-washing of your hair with oil-sapping shampoos, this oil will be an excellent strategy. Without moisture, the skin cells begin to die and flake off, so delivering vitamin E and other medium-chain fatty acids deep into the cells will not only rejuvenate the skin, but also prevent further moisture loss.
Regrowth and Repair: Once the underlying cause of dandruff is addressed, those damaged skin cells and hair follicles will need to be repaired, and fresh cells will need to take their place. Coconut oil is able to stimulate blood flow to the scalp, which delivers nutrients and oxygen to those cells, speeding up the process of repair and regrowth. The antioxidant properties of the oil are also excellent for growth, while simultaneously protecting against any ongoing damage at a cellular level. Excessive scratching of the skin of the scalp can also cause inflammation and damage to the cells, which needs to be fixed.
Anti-fungal Properties: An overgrowth of a particular yeast infection, called Malassezia, is responsible for many cases of dandruff, although few people even know that the fungal infection exists and can have such a long-term, detrimental impact on the scalp. The medium-chain fatty acids found within coconut oil also possess anti-fungal properties, which can effectively neutralize these fungal bodies and make it more difficult for them to return. Many other traditional remedies lack an anti-fungal element, which is why dandruff is so stubborn and hard to treat for some people.
Immune System Support: Fungal infections are not the only pathogenic cause of dandruff; seborrhoeic dermatitis is another common issue, which is basically like acne of the scalp. This can cause a great deal of irritation and itchiness, because the follicles are being clogged by an excess of oil, bacteria begins to thrive, and the body sends antibodies to fight the infection. This inflammation results in more discomfort and scratching, resulting in more flaking and dandruff. The antibacterial properties of lauric and capric acids found in coconut oil are particularly effective at eliminating these bacteria and expelling the toxins and grime in the follicles, which can solve the problem at the "root".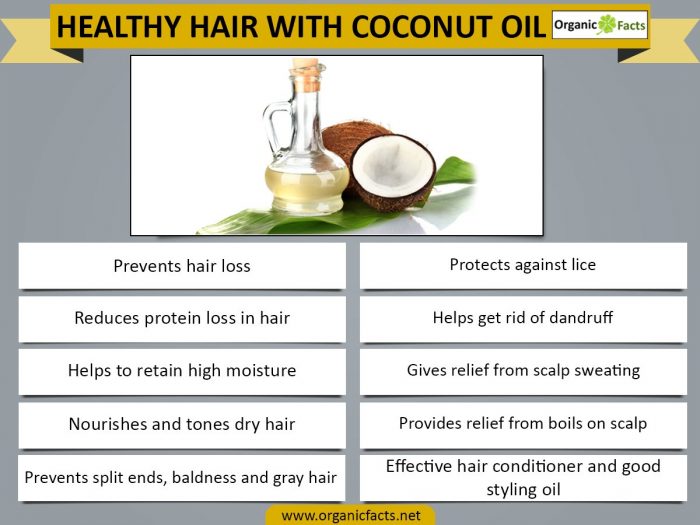 Prevents Itchiness: Dandruff has plenty of negative visible side effects, but the inflammation and itchiness of the scalp may be the most annoying. Coconut oil has proven analgesic and anti-inflammatory effects, which can ostensibly numb the scalp slightly, cooling the skin, and eliminating that constant need to itch, which will in turn minimize the amount of skin flakes on your shoulders.
Reduce Protein and Hair Loss: If your hair is unable to retain its protein, it can cause the hair to weaken and even fall out, opening up those hair follicles for potential infection, and leaving your overall hair health in even worse shape. Coconut oil can coat the hair strands to prevent this protein loss and support the hair follicles with its antioxidant and vitamin E components.
How to Use Coconut Oil for Dandruff
You can use coconut oil in conjunction with many other healthy substances, such as yogurt, Fenugreek, rosemary essential oil, camphor and tea tree oil. Depending on the particular cause or symptoms of your dandruff problem, these are some of the most effective at-home recipes for coconut oil dandruff treatments.
For all of these remedies, use virgin organic coconut oil, if possible, as it will have the purest concentration of powerful nutrients, and has not been processed with any other chemicals, bleaches or deodorizers.
Pure Coconut Oil
Ingredients:
2 tablespoons of coconut oil
Warm water
Before using this simple approach, wash your hair normally and then dry the hair to where it is only damp.
Apply the coconut oil (in liquid form) to your scalp, massaging it with your fingers for 3-5 minutes. Be sure to cover all areas of the scalp, particularly the crown of your head.
After 5-10 minutes, rinse the mixture out with warm water and dry gently.
Repeat this process once each week until your dandruff symptoms disappear.
Alternatively: After applying the coconut oil, put on a shower cap and let the oil soak on your scalp overnight. Rinse out the oil in the morning with warm water.
Camphor and Coconut
Ingredients:
1 teaspoon of camphor
1/2 cup of virgin organic coconut oil
Airtight container
Thoroughly mix the camphor and coconut oil.
Before bed, scoop a small amount on your fingers and massage onto your entire scalp.
Allow the mixture to soak fully into the scalp (should take 30-40 minutes)
Repeat this process every day for 1-2 weeks, or until dandruff symptoms disappear.
Between treatments, store this mixture in an airtight container, as the camphor can cause rapid breakdown of coconut oil.
Coconut and Lemon Juice
Ingredients:
2 tablespoons of lemon juice
2 tablespoons of virgin organic coconut oil
Mix the lemon juice and oil together and heat to a low level.
Apply the mixture to your scalp, rubbing directly into the scalp for 5-10 minutes.
Keep it on your scalp for 20-30 minutes.
Wash your hair with a very mild shampoo and rinse with warm water.
Repeat 1-2 times per week until symptoms improve and dandruff disappears!
Coconut and Fenugreek
Ingredients:
1 tablespoon fenugreek seeds (crushed)
4 tablespoons of virgin organic coconut oil (liquid)
Mix the powdered fenugreek into the warm oil, then allow the mixture to cool.
Generously massage this mixture into the scalp.
Keep it on your head for 2-3 hours (wear a shower cap, if necessary)
Wash out the mixture with a very mild shampoo and gently dry the hair.
Repeat 2-3 times per week until the dandruff symptoms are eliminated.
Coconut and Oregano Oil
Ingredients:
1 teaspoon oregano oil (concentrated and potent)
5 teaspoons of virgin organic coconut oil
Mix the two oils in a small bowl until it is consistent. Oregano oil is very potent and can cause irritation on the scalp if not properly mixed with the coconut oil.
Apply this mixture to the scalp, focusing on the roots, but also pulling the mixture through the strands of hair to boost protein retention.
Massage the mixture into the scalp for 5-10 minutes.
Thoroughly wash your hair with your normal shampoo.
Repeat this process twice weekly for best results.
Coconut, Honey, Olive Oil and Yogurt
Ingredients:
2 tablespoons of virgin organic coconut oil
2 tablespoons of extra virgin olive oil
2 tablespoons of organic honey
3 tablespoons of yogurt
Blend all ingredients in a medium-sized bowl until they form a consistent paste.
Slowly apply an even amount of the paste to your entire scalp, massaging gently with your fingertips for 5-10 minutes. This will help to exfoliate and stimulate blood flow, causing the pores to open, increasing the beneficial effects.
Keep the mixture on for 45-60 minutes (wear a shower cap, if necessary).
Wash your hair with a mild shampoo. This paste can be hard to remove fully from the hair and scalp, so be thorough and rinse multiple times with warm water.
Allow your hair to air dry.
Once the hair is dry, take a teaspoon of coconut oil and dissolve it between your hands.
Massage this into your scalp by itself, and allow it to soak in completely.
Repeat this two-step process at least once per week until your dandruff symptoms are eliminated.
References