The health benefits of sauerkraut include its ability to aid in digestion, weight loss, increase blood circulation, protect heart health, and provide energy. It also strengthens the immune system and bones, lowers cholesterol levels, eliminates inflammation, and prevents cancer. Sauerkraut is good for improving brain health, relieving asthma and stress, and eye and skin care.
What is Sauerkraut?
Sauerkraut is made from chopped fermented cabbage and spices, which give it a slightly sour taste. It is popularly used as a side dish or as a condiment in sausages or hot dogs. The fermentation process of sauerkraut is similar to that of kimchi or pickles, meaning that there is no exposure to heat during the process, as it will kill the bacteria that makes the fermentation possible.
Nutritional Value of Sauerkraut
Sauerkraut is low in calories, and rich in protein and dietary fiber. It contains vitamins like vitamin A, vitamin C, vitamin K, and various B vitamins like vitamin B6 and folate. It is also a good source of minerals like iron, manganese, copper, sodium, potassium, magnesium, and calcium. Moreover, the fermentation of sauerkraut also promotes the growth of beneficial probiotics that aid in improving the gut health.
Health Benefits of Sauerkraut
Sauerkraut gives plenty of health benefits to those who consume it. Let's have a detailed look at them.
Rich in Iron
Iron, in sauerkraut, helps boost energy as it increases the metabolism and blood circulation, which increases oxygenation of organs. High levels of iron help prevent anemia and its symptoms like headaches, fatigue, and cognitive impairment.
Digestive Health
The fermentation process of sauerkraut produces good bacteria, probiotics, which are healthy for your gut. Sauerkraut is also rich in fiber, which aids in regular and smooth bowel movements. This helps in eliminating constipation, bloating, cramping, and excessive gas along the way. By regulating the digestive system, it can also prevent serious conditions like gastric ulcers, Crohn's disease, irritable bowel syndrome (IBS), and even colon cancer.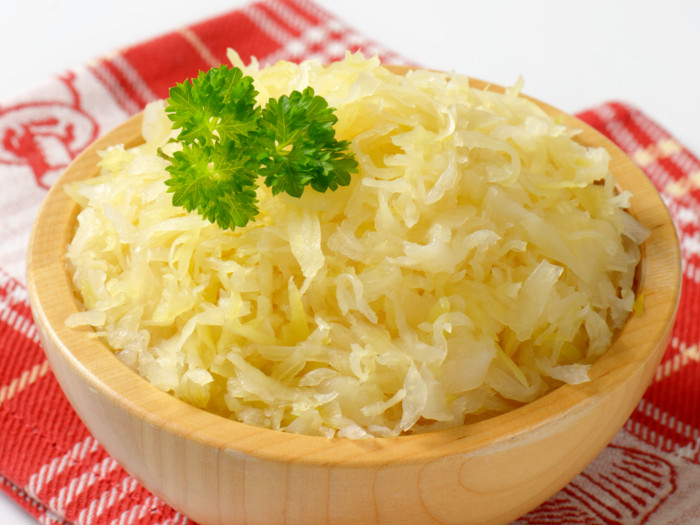 Heart Health
Sauerkraut is a lacto-fermented food and hence, has probiotics, which can help in lowering the LDL cholesterol. Therefore, your overall cholesterol levels are balanced. This can prevent atherosclerosis, heart attacks, strokes, and a variety of other cardiovascular issues.
Weight Loss
Sauerkraut is a low-calorie food that is high in fiber and probiotics. All of these help you manage weight and also shed those extra pounds if there are any. The probiotics are also known for reducing the fat absorption by the body and giving a slim waistline.
Brain Health
The probiotics in sauerkraut help in turning your mood around if you are feeling stressed out. Regularly consuming this fermented dish can relieve stress and social anxiety. Probiotic-rich foods also keep the gut healthy, which is actually linked to an improved mood and brain health. Therefore, sauerkraut is known to help prevent conditions like autism, Parkinson's disease, depression, and obsessive-compulsive disorder (OCD).
Eye and Skin Care
Sauerkraut contains quite a few carotenes and a significant amount of vitamin A. This essential vitamin acts as an antioxidant, as do the carotenes, and eliminates free radicals from the body. Sauerkraut has been linked to improved eye health, as vitamin A in it reduces the chances of macular degeneration and cataract formation. Furthermore, vitamin A helps slow down the appearance of wrinkles and blemishes and keep your skin looking young and healthy.
Boosted Immunity
A single serving of sauerkraut has 35% of your daily recommended intake of vitamin C, which is important for a healthy immune system. Vitamin C stimulates the production of white blood cells and increases cellular regeneration and repair. It also plays a key role in the formation of collagen, a foundational component for our body, including organs, blood vessels, skin, hair, muscles, and bones.
The probiotics that sauerkraut contains also help prevent allergies and infections that lead to common cold and urinary tract infection (UTI). These good bacteria also aid in recovering faster if you fall sick.
Anti-inflammatory Properties
There are certain organic compounds found in sauerkraut that work as anti-inflammatory agents. Phytonutrient antioxidants in sauerkraut can double as anti-inflammatory agents, reducing the pain and discomfort of joints, muscles, or other inflamed areas.
Cancer Prevention
The presence of antioxidant compounds in sauerkraut help eliminate free radicals from the body, which can lead to cancer. The fermentation process also aids in apoptosis, thereby destroying the cancer cells before they grow. Also, women who regularly eat sauerkraut can lower their chances of breast cancer significantly.
Strong Bones
The minerals found in sauerkraut make it ideal for building strong bones and preventing osteoporosis. The high level of vitamin K2 is important for maintaining the integrity and strength of your bones, as vitamin K produces the proteins that regulate bone mineralization. This vitamin also aids in delaying the onset of age-related bone loss in post-menopausal women.
Word of Caution: Despite all of these health benefits, sauerkraut is very high in sodium, which can be a dangerous dietary addition to people suffering from various cardiovascular and renal diseases. Speak to your doctor about an appropriate level of sauerkraut consumption if you suffer from these types of health concerns.
History
Historical records point to its origin being somewhere in China, having been brought to Europe at some point during the existence of Roman Empire. Pickled or fermented foods like sauerkraut were very valuable in the era before refrigeration, as it allowed food to stay fresh during long journeys. Many people now associate sauerkraut with Eastern European countries and Germany, where it is heavily used in certain cultural dishes, but it truly is an international favorite.