Home

›

Wasabi
7 Wonderful Benefits of Wasabi
The health benefits of wasabi include providing a reduced risk of cancer and heart disease, as well as anti-inflammatory properties for joints and muscles. It also helps to defend against bacterial infections in the body and mouth, and can even reduce the irritating effects of seasonal allergies. This potent plant can be used to treat respiratory problems, and wasabi's wealth of antioxidants helps to boost the immune system and can aid in removing harmful toxins from the body.
Wasabi not only has a powerful taste, but also powerful effects on our overall health! It is a plant closely related to cabbages and horseradish, and is a member of the Brassicaceae family in taxonomic classification. It is commonly known as Japanese horseradish, although that is a slight misnomer, because it is not from a species of horseradish. It does, however, have the strong flavor or "kick" of horseradish. Although it does have a strong, spicy taste, it is different than the taste of capsaicin, the chemical found in chili peppers that gives them their hot or spicy flavor. Whereas capsaicin gives the sensation of "burning" on the tongue, wasabi affects the olfactory sense, releasing chemical vapors that affect the nasal passage.
The potent taste of wasabi is similar to hot mustard, and it is most commonly used as a condiment. Since its unique flavor is not oil-based as it is with chili peppers, the strong or uncomfortable sensation of eating wasabi does not last very long, and some people actually find it pleasant and invigorating!
The powerful smell is derived from a specific part of the plant's chemical makeup, the high levels of allyl isothiocyanate, while the taste comes from closely related isothiocyanate compounds. These chemicals work as a defense mechanism against predators who try to consume the plant, but it hasn't worked too well on humans! These isothiocyanate chemicals also have a strong impact on the health benefits of wasabi, which will be discussed in the next section.
It is usually found in Japanese cuisine, and it is a traditional staple of that country. It is also primarily grown there, because it is very difficult to cultivate. Even in Japan, there are only a few areas of the country where large-scale cultivation of wasabi takes place, mainly in mountainous river valleys or stream beds. In North America, it has only been successfully grown in two places, North Carolina and the province of British Columbia.
The entire plant is used to serve various purposes, and chefs can purchase it as a root to be prepared, or as a powder, which is slightly easier to use. Normal consumers can typically buy tubes of wasabi that are ready to use in their cooking.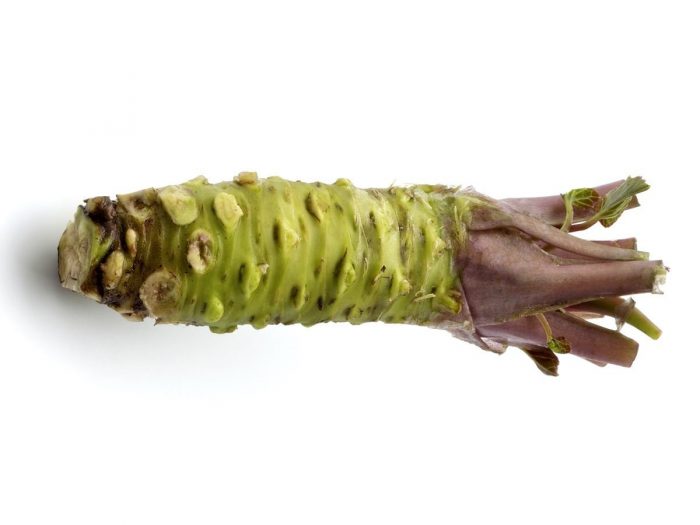 If you are a culinary purist, be sure to buy the real thing when shopping for wasabi. It is popular, but it is not cheap, and is not a widely exported product from Japan. Therefore, many companies create imitation wasabi from mustard, horseradish, and other components. The effect on your nose might be similar, but it is not a true wasabi experience, and it doesn't give you all the same health benefits as true wasabi. High-end or traditional Japanese restaurants will typically have the genuine article, as well as specialty or import food stores.
Nutritional Value of Wasabi
Health Benefits of Wasabi
Cardiovascular Health
Arthritis and Inflammation
Antibacterial Effects
Respiratory Conditions
Wasabi Health Risks
References