The fragrance of jasmine rice is unmistakable, with its notes of freshly-made popcorn as well as the exotic pandan leaves. This wonderful rice from Southeast Asia is best enjoyed when freshly made with stir-fried dishes. So let's find out more about jasmine rice and how to make it well.
What Is Jasmine Rice?
Jasmine rice, also known as Thai fragrant rice, is a popular type of long-grain rice that is primarily grown in Thailand. It is known for its floral aroma reminiscent of jasmine flowers; however, its fragrance is inherent and not from the white aromatic flowers. It has a nutty flavor and soft, sticky texture, which lends itself as an accompaniment to curries, stir-fries, and sautéed vegetables. It is also used to make the famous Thai coconut-mango sticky rice. You can try our easy Traditional Thai Dessert Recipe to make this delicious tropical dessert. [1]
You can buy jasmine rice sourced from Thailand, Vietnam, or Cambodia in most supermarkets as well as online stores. There is also a US hybrid version available called jasmati but it is better to buy the imported variety to get the perfect fragrant Thai rice. [2]
Types
There are three types of jasmine rice available in the market:
White jasmine rice: This variety of rice is processed refined white rice grains, with the bran and germ removed.
Brown jasmine rice: This is less processed than white rice and has a light tan color. It also has a more chewy texture. [3]
Black jasmine rice: Also known as forbidden rice, it was once only offered to the nobles and the kings.
Nutrition Facts
According to the USDA, a quarter cup of uncooked jasmine rice (yields 3/4 cup cooked rice) has 160 calories. It contains 36 grams of carbohydrates and 3 grams of protein. It also has a glycemic index of 68-80, which may not be preferable for people with diabetes as it may cause a sugar spike. However, eating it with other foods with a low glycemic index and a high amount of fiber may help lower the glycemic index of the meal. [4] [5]
Brown rice is always a better and healthier option as compared to white rice due to its extra dose of dietary fiber. Several research studies have shown that brown jasmine rice has a high number of compounds called γ-Oryzanol. This compound may help boost athletic performance and reduce cholesterol. However, human studies are needed to verify these properties. [6] [7]
How To Cook Jasmine Rice?
Jasmine rice can get a tad too sticky and glutinous if not cooked properly. It is better to steam-cook the rice rather than boil it to avoid the extra starchiness. However, if you do have to boil it, then use more water than the standard 1.5 cup water to 1 cup rice ratio and let it simmer in a large saucepan for the perfect rice. Here is the step-by-step method to make instant pot jasmine rice.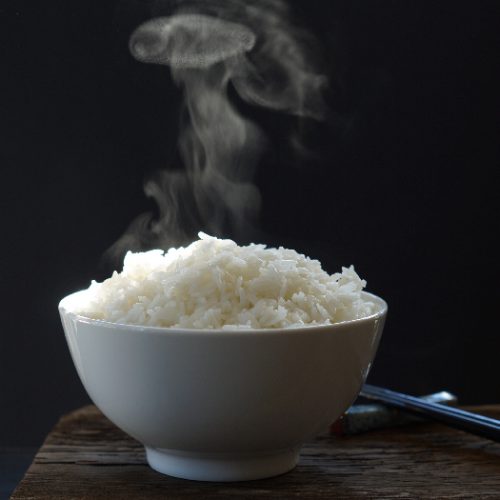 Instant Pot Jasmine Rice Recipe
This instant pot jasmine rice is fluffy and easy to make.
Print
Pin
Rate
[8]
[9]
Ingredients
3

cups

jasmine rice

3

cups

water

1

tsp

salt

1-2

drops

cooking oil
Instructions
To make jasmine rice, it is important to rinse it well until the water runs clear. You can also pre-soak it for half an hour to remove any kind of dirt.

Add the rice, water, salt, and cooking oil to the insert of your Instant Pot. Make sure all the rice grains are properly immersed in the water.

Secure the cover and turn the valve to seal. Then, set Instant Pot for 5 minutes on high pressure. When the timer goes off, let the rice rest for 10 minutes before serving it.

Fluff the rice with a fork and enjoy!
What To Serve With Jasmine Rice?
Here are our favorite recipes that you can serve alongside jasmine rice:
Please let us know what are your favorite dishes to have with jasmine rice in the comment below. You can also share your recipe with us here!