Jasmine tea is one of the most popular teas offered at Asian restaurants. The delicate and fragrant brew can easily be paired with bold herbal and spicy flavors. While the tea is usually sipped as a hot beverage in between or after meals, it can also be enjoyed cold on a hot summer day.
The tea is believed to have originally come from Persia, through India, to China. Jasmine tea first appeared in official records during the Song Dynasty in China, which ended in the 13th Century A.D., but at that time, it was mainly reserved for royalty. So let's find out more about this regal brew.
What Is Jasmine Tea?
Jasmine tea is a scented tea made by blending green, white, oolong, or black tea leaves of the Camellia sinensis plant with jasmine flowers. The most common variety is jasmine green tea. It is not a caffeine-free beverage and cannot be termed an herbal tea. Some varieties of tea are tea leaves flavored with the jasmine flower extract or jasmine essential oil. The tea is rich in antioxidants that can have a wide range of beneficial effects on your body. For more, you can visit 10 Proven Benefits of Jasmine Tea. [1] [2] [3]
Types
There are several varieties of jasmine tea available in the market. The appearance, flavor, and price of the tea depend on the origin and the grade of tea leaves. To know more types of tea leaves, we encourage you to read A Beginner's Guide To Types Of Tea. You can buy a loose-leaf variety of tea, tea bags, or closely rolled and rolled scented tea leaves known as jasmine pearls. There are also artisanal teas where jasmine is combined with other fragrant flowers like marigold into a tightly packed tea flower, which blooms when steeped in hot water.
Jasmine teas usually have a delicate scent with a bright finish. This is one of the reasons they also make for a gentle palate cleanser and can be sipped in between meals. Avoid teas that are scented with an artificial jasmine flavor as they will not give you the same soothing experience as sipping one made with real jasmine flowers.
How to Make Jasmine Tea?
Jasmine tea is best enjoyed when steeped for about three minutes with filtered water that is around 160 to 180 degrees. You can experiment with duration times to find out your preferences on how strong or mellow you like it. The water should be simmering and not boiling to avoid an astringent-tasting brew. If you are using an electric kettle that does not have a temperature control setting, you can simply let the boiling hot water stay in the kettle for a minute before using it. Each jasmine tea variation comes with its package instructions and it is best to follow them for a perfect cup. High-quality tea leaves can be steeped multiple times but the taste and fragrances get mellow with each steeping.
The tea is best had without milk and sugar to enjoy the perfect floral notes. However, if you feel the need to sweeten it, you can add a little raw honey.
Other Jasmine Tea Recipes
Iced Jasmine Tea: To make iced jasmine tea, steep the tea leaves in filtered water in a pitcher and refrigerate it for 6 to 12 hours. Enjoy this refreshing cold brew at any time of the day. You can sweeten it with simple sugar syrup or honey.
Desserts: You can use jasmine tea to flavor any delicate desserts or sweet baked goods like tea cakes, sorbets, puddings, and even a traditional crème brûlée. While jasmine works wonderfully well by itself, it also pairs well with citrus flavors like orange and lemon. So, experiment with a jasmine tea flavored lemon cake using our Moist & Fluffy Lemon Cake Recipe or make an exotic tropical treat by blending the tea into our 3-Ingredient Mango Sorbet Recipe.
Make your jasmine tea with fresh flowers: If you get hold of fresh jasmine flowers and want to make your jasmine tea at home, here is a simple, easy recipe. Do make sure you choose the right flowers of the Jasminum species such as J. officinale (common jasmine), J. sambac (Arabian jasmine), or J. polyanthum (pink or white jasmine)as other varieties like star jasmine are toxic. Also, the flowers should be free of pesticides and chemicals. Flower buds or freshly opened flowers, plucked when the dew has dried, are the best ones to use.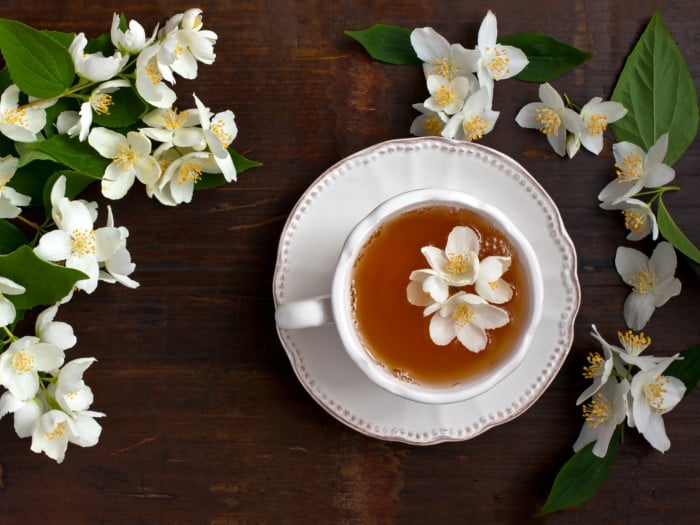 Perfectly Scented Jasmine Tea Recipe
A wonderfully fragrant tea made with fresh jasmine flowers.
Print
Pin
Rate
[4]
[5]
Ingredients
1/2

cup

green or black tea

loose leaf

1

cup

jasmine flowers

fresh, chemical-free
Instructions
Add 1/4 cup of the green or black tea leaves to an empty mason jar. Add the jasmine flowers and tap the jar gently on a flat surface so that they settle together.

Now, cover the flowers with the rest of the tea leaves.

To release the fragrance of the jasmine flowers, keep a small heavy object on top of the tea layers and close the jar.

Keep the jar in a dark, dry place for a day for the flavors and fragrance to be properly infused into the tea leaves.

Your jasmine scented tea leaves for ready for use. The tea leaves can stay with the dried flowers for up to 6 months if stored well.

You can steep the tea leaves for 3 minutes for a perfect cup of tea. To sweeten this tea, use honey or date syrup. Enjoy!
Notes
You can experiment with oolong and white tea leaves too.
Buying & Storing: You can buy jasmine tea online or from select tea stores. It is best to refer to buyer reviews to get a better sense of the product quality. Store this scented tea in an airtight container, preferably away from strong-smelling products as the tea leaves can absorb these scents. Certain wooden containers, airtight tins with strong-smelling rubber seals, and plastic containers can leave your tea with an unpleasant aroma and flavor.