If there's one sauce that can instantly elevate the taste of any dish it's added to, it has to be lemon butter sauce. With its deliciously creamy buttery flavor and a slight citrusy aftertaste, lemon butter sauce is a chef's secret weapon that adds magic to anything its added to, right from pasta, seafood to chicken, or even something as simple as roasted vegetables. Knowing how to make this sauce at home is probably one of the most useful culinary tricks you can learn. So let's help you with that, shall we?
How To Make Creamy Lemon Butter Sauce?
Learning how to make lemon butter sauce at home is necessary as it can dramatically transform even the dullest dish into something spectacular. And worry not as it is incredibly easy to prepare from scratch. All you'll need is some lemon juice, good quality butter, shallots, garlic, and herbs of your choice to enhance its flavor. You can also add garlic and cream to make the sauce rich and thicker in consistency.
Here's all you need to know about the individual ingredients:
Lemon Juice: Use freshly squeezed unsweetened lemon juice, and not the store-bought ones, for this recipe to give it a citrus flavor. To know how many lemons are required for the juice, read our article, How Much Juice Can A Lemon Yield.
Butter: Ideally, two slabs of unsalted butter should work. Some prefer to make butter sauce for this recipe separately and then add the citrusy flavor to it in the end. To make the butter sauce, add melted butter, which is often diluted with water, and at times thickened with flour or egg yolk, or both.
Shallots: Shallots are onions with a mild flavor. Minced shallots cooked in butter enhance the overall flavor of the sauce.
Herbs: Any green herbs works wonder with this sauce. You can use just about any herb be it finely chopped marjoram, chives, tarragon, parsley, or thyme to enhance its flavor.
Garlic: This is an optional ingredient, though personally speaking, sauteed garlic adds great flavor and complexity to any savory recipe. Sauteing the garlic in butter brings out its sharp flavor. Be careful while sauteing the garlic using butter because it burns much faster than oil.
Cream: If you are not satisfied with the consistency of the butter sauce and want it thicker, add cream to it.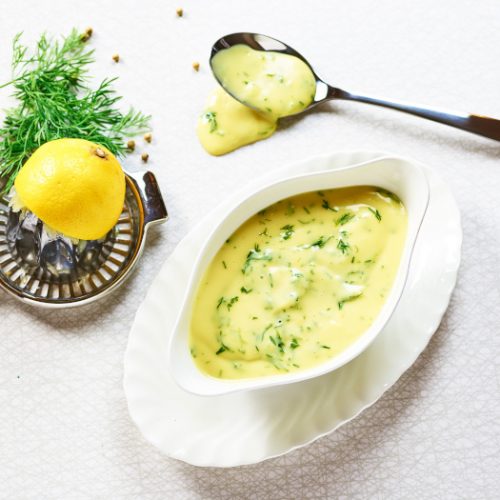 Delicious Lemon Butter Garlic Sauce Recipe
This tangy, creamy, and downright delicious lemon butter sauce can single-handedly uplift a boring dish and your mood as well!
Print
Pin
Rate
Ingredients
3

medium-sized

freshly squeezed lemon

2

small

shallots

finely chopped or minced

1/2

cup

fresh cream

100

gram

unsalted butter

melted

2

large

garlic cloves

finely chopped

1

tbsp

of fresh thyme

finely chopped

2

tbsp

of fresh parsley

finely chopped

salt & pepper

as per taste
Instructions
To make lemon butter sauce, take a small saucepan and melt butter over medium to low heat.

Allow the butter to cook in the saucepan without burning it. Keep swirling the pan to ensure the butter doesn't burn as that can easily happen within seconds if left unattended.

Now as the butter turns to a golden brown color and starts to give out a nutty aroma, keep swirling the saucepan for the next 5 minutes or so.

Once that happens, add the minced shallots and garlic. Allow them to cook in the butter until they begin to turn golden brown.

Once that happens, take the pan down the heat and quickly stir in the herbs ( in this case, finely chopped thyme and parsley sprigs), lemon juice, and salt and pepper as per taste.

If you want the sauce to be thicker, add 1/2 a cup of fresh cream into it. This will make the sauce thicker and creamier. After it's made, you can serve it over pasta, salmon, or sauteed vegetables to dramatically enhance their flavor.
Tips & Tricks
Here are a few tips and tricks to keep in mind while making the sauce.
You can substitute the butter with hazelnut butter (Beurre noisette) as it gives an aromatic flavor to the sauce. You can use garlic flavored butter as well, but in case you use it, don't add garlic separately to the sauce.
A tablespoon of this sauce is usually enough when drizzled over seafood, meat, or pasta.
You can make this sauce up to half an hour ahead of using it. If you need to reheat it, do it over low heat as butter burns easily.
You can serve it with any kind of seafood such as salmon, scallops, shrimp, prawns, and the like. We have the perfect recipe that you can try out, Barramundi with Lemon Butter Sauce Recipe.
You can also use it as a pasta sauce, or drizzle it over roasted chicken and vegetables to instantly elevate its taste.
If you try our lemon sauce recipe or have your own unique one, let us know how it turned out. While we may not be able to taste it, we'll definitely love to know about your experience.