Raki may not be well known to those who don't consider themselves "adventurous" drinkers, but if you've ever traveled through certain parts of Europe, you may have come across this exotic type of alcohol.
What is Raki?
According to the Turkish Cultural Foundation, raki is an alcoholic drink that is popular in Turkey and the Baltic region, primarily as an aperitif. It is made by distilling a mash of grape remains, known as grape pomace, twice. This alcohol is made from either raisins or fresh grapes, although varieties that are made with fresh grapes are considered to be of a higher quality and are often higher in alcohol content. After distilling, the drink is flavored with aniseed, giving it a strong herbal licorice taste. On average, it has an ABV of around 37-45%.
How to Drink Raki?
This liquor is almost never served without water being added, usually an ice cube or two. This turns the liquor a milky white, giving it the nickname 'lion's milk', as per Erdir Zat, writer of the book 'Raki Modern And Unconventional'.
How to Make?
To make this alcohol at home, you will need to use a copper alembic still. Let us take a look at the recipe below.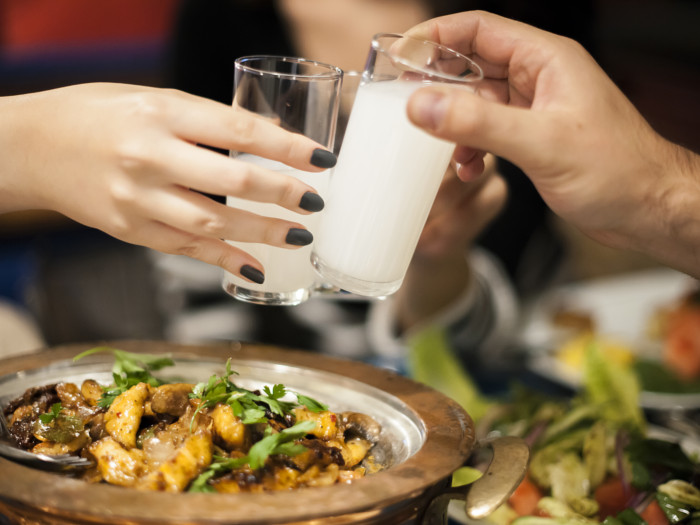 Traditional Turkish Raki Recipe
The perfect drink for the fall season!
Print
Pin
Rate
Ingredients
2

pounds

of raisins

1/4

tsp

of tannin powder

2

pounds

of sugar

1/2

tsp

of pectic enzyme and yeast

100

gram

of aniseed
Instructions
To make raki, soak two pounds of raisins overnight. Blend into a mash, and then put in the fermenter.

Add ¼ teaspoon of tannin powder and 1 tablespoon of acid blend.

Dissolve two pounds of sugar in boiling water, then pour this over the raisin mash.

When the mixture cools, add a ½ teaspoon of pectic enzyme and yeast.

Ferment until the mixture is dry.

Distill with 100g of aniseed. Dilute when ready to drink.
Notes
You should let it sit for 5 weeks before consuming it.
Raki vs. Ouzo
Flavor: Both this alcohol and ouzo are flavored with anise, which gives them both a strong

licorice

flavor.
Color: Both raki and ouzo turn white when water is added, which is why they are often equated or mistaken for one another, as per a paper published by Prof. Dr. R Ertan Anli.
Origin: Raki is originally from

Turkey

and ouzo is Greek.
ABV: Raki typically has a much higher ABV than ouzo. Ouzo usually has a lower ABV of approximately 25-35%.