Aloe vera juice is made from the leaves of the aloe vera plant, and unlike the processes to acquire the extract of this plant, the juice is made by crushing, grinding, and blending the entire leaf. After several filtering steps, the juice can be consumed for its concentrated nutritional values. While the smell of this plant can be potent, the juice is quite mild and easy to drink, which is why it has recently become so popular as a health supplement or dietary drink. So, let's take a look at how to make aloe vera juice!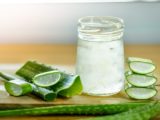 Using a sharp knife, remove the outer layer of the aloe vera leaf, which often has thorns on it.

The second layer of aloe vera leaves is the latex of the leaf, which is typically yellowish in color.

Cut through the latex layer of the leaf, which will reveal the clear aloe vera gel inside.

Scoop out as much of the gel as possible and transfer to a small bowl.

Measure out two tablespoons of aloe vera gel and add it to the water in the blender.

Blend thoroughly for 2-3 minutes, until the liquid has a uniform consistency.

Add lime juice or a cucumber for taste and enjoy!
You can also prepare a variation of aloe vera juice with honey, alcohol, or white vinegar for additional flavor.
Connect With Us
If you have tried this recipe, we would love your feedback in the comments section below. And while we can't taste it, we would love to see how it turned out! You can connect with us on Facebook or Twitter and tag your picture with #organicfactsrecipes.