Pomegranate juice always tastes great and can make a tasty spritzer if mixed with sparkling water. Let us learn how to make pomegranate juice quickly with below easy steps.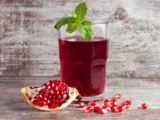 Servings

Prep Time

2

cups

15-20

minutes
Servings

Prep Time

2

cups

15-20

minutes
Seed a pomegranate using a knife. While slitting the top of the pomegranate, don't push your knife too deep as it may ruin some seeds.

Take out all the seeds from the pith and place them in a blender. Seeds require quick "pulse" blending only a few times.

Don't blend the seeds constantly for a long period of time, or the juice will turn cloudy and bitter.

Now, with the help of the strainer, strain the juice into a clean container.

Extract as much juice as possible by pushing against the remaining pulp using the back of the spoon.

Pomegranate juice tastes better when served chilled.