When it comes to low-carb cooking and baking, coconut flour is the most commonly used flour alternative. It is absolutely appropriate for the keto diet as it is high in fiber and low in carbs. For those following a paleo diet, coconut flour works the best as it is an economical and viable gluten-free, nut-free and grain-free option. According to a study published in the British Journal of Nutrition, coconut flour ranks low in glycemic index (GI) and regulates the blood sugar levels in the body. This means that those who wish to lose weight or have insulin resistance and diabetes can consume the baked goods made from this flour in limited quantities. However, while it is a healthier substitute for all-purpose flour, it is not exactly the easiest flour to work with as it absorbs plenty of liquid and can have quite a dry texture. [1]
How to Make Coconut Flour?
Given its coarse texture, coconut flour works best as a supporting flour. In most cases, it is the perfect add-in for low-carb almond flour recipes. The blend of these two flours enhances the texture and feel of baked goods. As an ingredient, it also proves beneficial in the dredging process of bread-making. You can use this unique flour to thicken soups and stews and use it as a binding agent to make grain-free wraps, burgers and pizza crust. Additionally, you can make the perfect keto chapatis or Indian bread.
To make this flour at home you have to first take out the coconut pulp, which can be obtained from either fresh coconuts or dried coconut flakes. You can make coconut milk out of the pulp and use the remnants to make the flour so that there is no wastage. While coconut flour is available in stores, you can easily make it at home. This is an inexpensive option and will also allow you to have control over the ingredients. So, want to know the recipe in detail? Let's find out.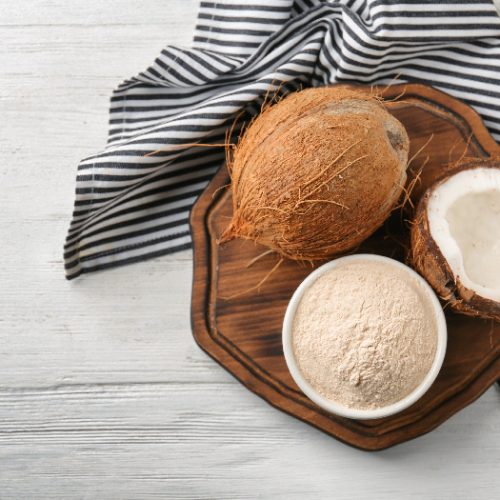 The Best Coconut Flour Recipe
An easy way to make the perfect low-carb and gluten-free flour for all your baked products!
Print
Pin
Rate
Ingredients
200

grams

chopped or shredded coconut meat

1

unit

muslin cloth

1.5

cups

of hot water
Instructions
To make the coconut flour, in a blender or a food processor, blend coconut meat and water for a minute at least.

Now take a big bowl and put the mixture in it. Place a muslin cloth over it. Use the cloth to drain the mixture and squeeze out the liquid. If you're wondering what the liquid is, it is nothing else but coconut milk. Keep it aside as you can use this as a substitute for regular cow milk if you're vegan. You can also add it as an ingredient to your desserts, soups, and pasta.

Meanwhile, squeeze as much water as you can, and the remnant inside the cloth is moist coconut flour.

Given that the flour has a lot of moisture in it, take a parchment paper and spread the flour over it

in a thin layer. Bake it at 300 degrees Fahrenheit for around 18 minutes.

If you don't have an oven, you can feel free to use a skillet on a low flame. Spread the flour in it and keep stirring it till all the water has evaporated. Ensure that the flour doesn't turn brown. If the flour turns brown, it means that it has burnt and burnt flour is of no use.

Once done, keep the flour for drying. If after drying, you still find it coarse, grind it more till it forms a fine texture. To get a very fine mixture of the coconut flour, you need a powerful grinder or food processor.

This flour can be stored for 3 weeks in an airtight container. It, however, needs to be refrigerated.
Notes
1) There is a difference in the taste, feel and texture of store-bought coconut flour and the one made at home. Needless to say, the end result will also differ. So keep that in mind when you decide which flour to use. 2) If you want a sweetened version of the flour, you can add 2 teaspoons of added sugar per ounce.
How to Use Coconut Flour?
Before using coconut flour for baking, it needs to sift thoroughly as foods baked with it can often have a granular texture. Given that a small amount of this flour can absorb very large amounts of water, it has a drying effect on baked goods. The best way to offset the natural heaviness of the flour in any baked good is by adding eggs to it. While the egg yolks add moisture to the flour, the protein in the egg whites provides a structure to the baked products. For every 1/4 cup of coconut flour (30 grams), you will need at least one egg for both moisture and structure.
If you're vegan, then eggs are definitely not an option for you. You can then add other flours like cassava flour, hazelnut flour, a little tapioca starch or even almond flour to enhance the flavor and baking properties. You may also want to add dates or apple sauce to your flour, but given their strong flavors, they can be added only while making a selected range of desserts.
Connect With Us
If you have tried this recipe, we would love your feedback in the comments section below. And while we can't taste it, we would love to see how it turned out! You can connect with us on Facebook or Instagram and tag your picture with #organicfactsrecipes. [2] [3]
Do you wish to share your winning recipes with us? Please click here and fill in the details to get started.