Roast garlic is one of those secret ingredients that can make an ordinary dish turn sublime. Imagine being served a platter of warm, buttered crostini – the delicious aromas of butter and bread is enough to make anyone happy. But if you want to take it up a notch and have a gourmet crostini, put some creamy roasted garlic on the warm buttered bread and bite into it. The candy-like, yet savory taste will truly make that a memorable crostini experience.
So if you are convinced about roasting garlic or maybe a little curious, let's find out how to make this delicious condiment.
How To Roast Garlic?
Roast garlic can be made and kept on hand to flavor different dishes like mashed potatoes, sautéed shrimp, and soups. Garlic has several health benefits but sometimes, people may be sensitive to raw garlic. Roasted garlic is an excellent way to include it in the diet.
The garlic is usually roasted in the oven using an aluminum foil wrap. However, many people are not comfortable using aluminum foil when it is heated to high temperatures as it may be toxic for health. If you are not sure about aluminum leaching into your food, you can use different techniques to be on the safer side. These include: [1]
Use parchment paper to cover the garlic and then make an aluminum foil wrap around it.
You can make roast garlic cloves on the stovetop.
Use 2 muffin pans, one on top of each other, to house the garlic bulbs. This will have the same effect as a foil wrap.
Roast Garlic Recipe
Let's look at two simple ways that you can use for this recipe – one way is by using the oven and the second method is on the stovetop, without using foil.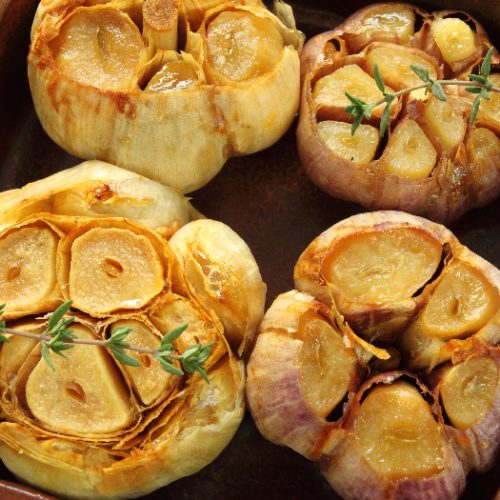 How To Roast Garlic: 2 Simple Recipes
Learn how to roast an entire garlic bulb as well as how to roast garlic cloves. We explain how you can do it in a simple way, using an oven or a skillet.
Print
Pin
Rate
[2]
[3]
Instructions
How To Roast Garlic In The Oven?
Preheat the oven to 400°F. Set the rack in the middle position.

Prepare the garlic heads by discarding the papery skins of the whole garlic. You should be able to see only the individual skins of the garlic cloves connected in the garlic bulb.

Slice off the top head of the garlic, say about 1/4 inch. Place on aluminum foil and drizzle olive oil over the exposed garlic cloves. Season with salt and pepper.

Wrap the garlic in the foil and let it bake for 40 minutes.

Let the garlic cool slightly and then serve.
How To Roast Garlic On The Stovetop?
To make it on the stovetop, you need to have individual cloves of garlic instead of the garlic bulb. Make sure you remove the paper from the garlic cloves but leave the skin on.

Take a saucepan or a skillet. Warm 3 tbsp of olive oil and add the garlic cloves to the pan. You can roast the cloves of 2 garlic bulbs at a time. Just make sure they are not overcrowding because this will cause them to steam.

Let them roast for about 35-40 minutes on slow to medium flame. The oil should not sizzle; this will cause the garlic cloves to fry instead of roasting.

Remove the garlic cloves and let them cool. You can use the oil as a garlic-infused oil for pasta and salad dressings.
Notes
You can use the oven method to roast garlic on the grill or in a toaster oven.
You can also roast peeled garlic in a pan on the stovetop, using the same recipe.
Use the stovetop method to roast minced garlic - it should take less than five minutes. Once the minced garlic turns a light golden brown, remove it from the heat.
If you want to roast minced garlic in the oven, put it on a baking sheet and drizzle olive oil and roast at 325°F for about ten minutes.
For a quick-fix method, you can roast the garlic in a microwave at 50 percent power for about 3 minutes. However, it will not have the same deep flavors as the roasted garlic made on a pan and in the oven.
Ways To Use Roast Garlic
You can eat warm, toasty garlic directly out of the clove or mash it with a fork to make it into a creamy spread. Simple and delicious ways to use roast garlic are:
As a spread: You can slather in on bread or crackers.
In salad dressings: You can mash it and add the creamy paste to vinaigrettes for a flavorful dressing.
You can use roast garlic in any recipe instead of regular garlic and you may be surprised with the resultant flavors. Here are our recommendations:
How to Store Roast Garlic: Roasted garlic does not keep well in the refrigerator and is best used immediately. However, you can also freeze the garlic. If it is whole garlic, remove individual cloves and freeze them on a baking sheet. Transfer them to a sealed bag for future use.
Enjoy making your roasted garlic and do let us know in the comments below, your favorite way of using it!