If there is one dish that can unite the Middle East, it is the Fattoush. You can clearly see the appeal of this timeless salad. It's a little bit of this and that, it uses up stale bread, and the result is as fresh as a daisy. What I love most about it is that it is endlessly adaptable. Unlike the French and the Italians, the Middle Eastern people are not as finicky about rules. It means you can use whatever vegetables you have at hand and go crazy on the dressing! The only constants are the use of sumac and bread.
What is Fattoush?
The fattoush is an Arabic salad made with mixed greens, vegetables like radishes and cucumbers, and stale pita bread. It is one of the most popular salads in the Middle East, eaten with almost every meal and oftentimes by itself. It belongs to that wonderful Middle Eastern tradition of fatteh which uses stale flatbread with other ingredients. It's the perfect way to use up any leftover bread. As far as the vegetables go, use whatever is in season.
How to Make a Fattoush Salad?
The salad is incredibly easy to make. It's just a matter of chopping up the ingredients and tossing them together with some dressing. You don't even need knife skills that the equally famous Middle Eastern salad tabbouleh asks for. Remember, this is a salad that is meant to use up what you have and what you love. So, if you don't have something, don't sweat it! Go ahead and add the greens and the vegetables you like. That said, we would recommend adding cucumber for texture, radish for pepperiness, tomatoes for their juicy loveliness. The only constant is the use of sumac and bread.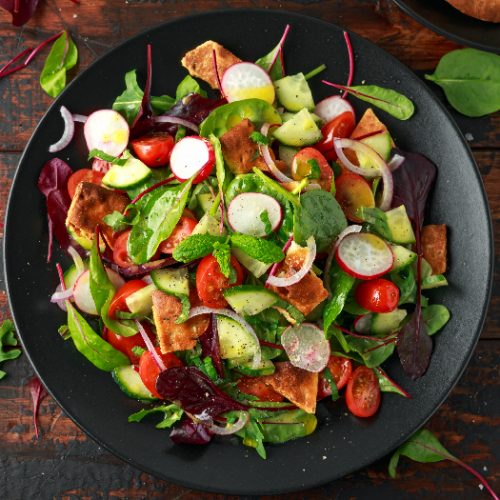 Refreshing Fattoush Salad Recipe
The fattoush salad uses stale bread with fresh, seasonal vegetables. It can be eaten as a meal or as an accompaniment.
Print
Pin
Rate
[1]
[2]
Ingredients
2

loaves

pita bread

1

cup

lettuce leaves

chopped

100

gm

purslane

chopped

3

tomatoes

chopped

3

Persian cucumbers

chopped

3

radishes

sliced thin

2

spring onion

1/2

cup

flat-leaf parsley

chopped

1/2

cup

mint leaves

chopped

olive oil

for brushing
For the Fattoush Dressing
3

tbsp

olive oil

extra virgin

2

tbsp

lemon juice [3]

1

tbsp

pomegranate molasses

1

garlic clove

crushed

1

tsp

sumac

plus extra for sprinkling

1

tbsp

white wine vinegar

salt

to taste
Instructions
Prepare the bread by brushing the pita loaves with olive oil and heating them in the oven at 200C for 15 minutes till they are crisp. Break the crisped bread into shards. You can use any other flatbread.

Make the dressing by adding all ingredients to an airtight jar and giving it a brisk shake. Alternatively, add them to a bowl and briskly whisk them together till you have an emulsion.

In a large bowl, put all the chopped vegetables and leaves of the salad along with the bread shards. Pour over the dressing and give it a good mix.

Sprinkle some sumac over the top. Your fattoush salad is ready!
Notes
You can add some grilled chicken if you want to make this a meal.
A note about the ingredients:
Although we have used pita bread, any type of flatbread can be used to make this salad. Just make sure you crisp them in the oven. Alternatively, you can also pan-fry the bread shards.
Lettuce is quite common in a fattoush salad. But if you find that boring, you can just leave it out. Add arugula, purslane leaves, spring onion. In fact, add any greens you like.
Go for seasonal juicy tomatoes. They are always the best in a salad.
We have used Persian cucumbers. These are smaller than the regular English cucumbers and contain lesser seeds. This means more texture and taste. If you cannot find them at your regular grocer, use any other cucumber. Deseed them before chopping.
Other possible additions include peppers, cilantro, allspice, and cinnamon.
We have used the traditional pomegranate molasses in the recipe. Its treacly-sweet tartness can elevate the dressing to another level. However, if you cannot source it, use reduced balsamic vinegar. To make this, simmer the balsamic vinegar on your hob till you have a syrupy consistency.
You can buy sumac at any grocer specializing in products from the Middle-East. You may find pomegranate molasses there as well. Alternatively, buy them from an online store.
Fattoush Dressing
The simplest fattoush dressing would be olive oil with lemon juice. But the vinegarette with the addition of white wine vinegar adds another layer. The pomegranate molasses is just a luxurious touch and one that takes the salad to another level. The balsamic vinegar reduction (as explained above) can also work.
Because it is made according to what the cook may like, you will find slight tweaks to this basic recipe from one household to another. The basic dressing is the most common and extremely refreshing. But you can also try a yogurt-based dressing. You can use it instead of the vinegarette or add this as an extra layer. To make it, add a tablespoon of tahini to 3 tablespoons of greek yogurt, squeeze in half a lemon and give it a brisk whisk. Use this dressing sparingly.
Do you have your own fattoush salad recipe? Share it with us. If you have tried our recipe, share your experience. While we cannot taste it, we would love to hear how it went! So, leave a comment.