Sloe gin is not the first bottle you may reach for in the liquor aisle, but it presents some interesting health benefits and a unique production process.
What is Sloe Gin?
Sloe gin is a British liqueur, made by soaking sloe berries in gin. This process produces a tart, almond-flavored gin. In the EU, this specialty gin is required to be at least 25% ABV, but in homemade recipes, the ABV can vary from 15-30%. Once the bottle of sloe gin is opened and strained of any fruit matter, the liqueur will keep indefinitely.
This type of gin was traditionally spiced with cinnamon and vanilla and sipped warm as a winter drink. However, when the liqueur was introduced in America in the early 20th century, it became popular as a summer drink and was usually served cold with tonic or mixed in cocktails. Since it is technically classified as gin, which is a distilled liquor, this variety should be gluten-free, but it is best to check by brand.
Plum brandy is a popular substitute for sloe gin, along with apple brandy and various other fruit-based liqueurs.
Nutrition Facts

---

Sloe gin fizz

Serving Size :
Nutrient
Value
Carbohydrate, by difference [g]
2.23
Energy [kcal]
66
Alcohol, ethyl [g]
8.3
Water [g]
89.36
Sugars, total including NLEA [g]
1.95
Calcium, Ca [mg]
4
Iron, Fe [mg]
0.02
Magnesium, Mg [mg]
1
Phosphorus, P [mg]
2
Potassium, K [mg]
9
Sodium, Na [mg]
16
Zinc, Zn [mg]
0.09
Copper, Cu [mg]
0.01
Vitamin E (alpha-tocopherol) [mg]
0.02
Cryptoxanthin, beta [µg]
3
Lutein + zeaxanthin [µg]
1
Vitamin C, total ascorbic acid [mg]
1
Thiamin [mg]
0
Riboflavin [mg]
0
Niacin [mg]
0.02
Vitamin B-6 [mg]
0
Folate, total [µg]
1
Choline, total [mg]
0.4
Folate, food [µg]
1
Folate, DFE [µg]
1
Fatty acids, total saturated [g]
0
16:0 [g]
0
18:2 [g]
0
Fatty acids, total polyunsaturated [g]
0
Sources include : USDA
Sloe Gin vs. Gin
Origin: Gin is a clear distilled spirit, made with juniper berries. Slow gin is a liqueur that is flavored primarily with sloe berries, which have been soaked in the gin.
Alcohol content: Gin has a higher

alcohol

content than sloe gin.
Taste: Gin is

herbal

flavored, often with floral notes, whereas sloe gin is traditionally tart, with light

almond

flavors.
How to Make?
It is very easy to make this specialty gin, let's take a look.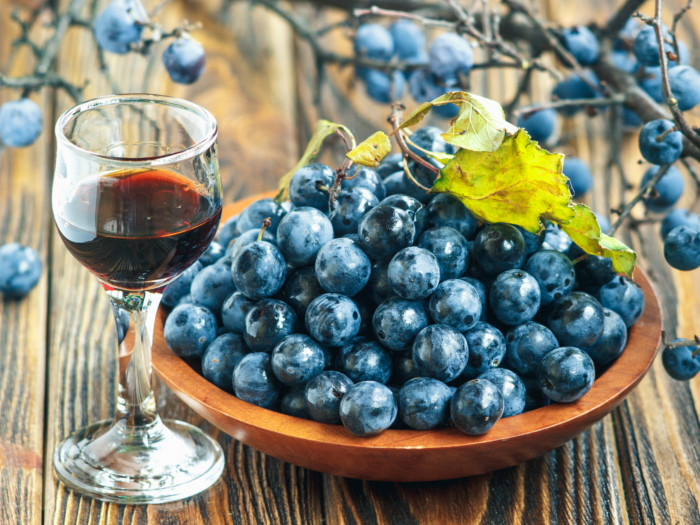 Ingredients
500

grams

of frozen slow berries

250

mg

of caster sugar

750

ml

of chosen brand of gin
Instructions
To make sloe gin, start with 500 grams of frozen sloe berries.

Prick each fruit to puncture it, then put the fruit in a 1.5-liter jar that can be sealed tightly.

Add 250mg of caster sugar, and 750ml of your chosen brand of gin.

Then, seal the mixture and place the bottle in a cool, dark place.

In the first few days, shake the jar daily to help the sugar dissolve.

Wait at least three months - but no more than six - to open the bottles, strain out the spent fruit, and then rebottle.

Sloe gin can be sipped straight either warm or cold; both approaches are delicious!
Connect With Us
If you have tried this recipe, we would love your feedback in the comments section below. And while we can't taste it, we would love to see how it turned out! You can connect with us on Facebook or Instagram and tag your picture with #organicfactsrecipes.
Do you wish to share your winning recipes with us? Please click here and fill in the details to get started.