Tamarind, with its distinct sweet and sour flavor, can add a rich depth of flavor to any dish that it is added to. But you may be surprised that it can contribute to a silky curry or a spicy chutney without revealing its personality. To add it as a condiment, you may have to liquefy it into a sauce or paste, which is then used to enhance the flavor of several dishes. To make your own tamarind sauce from scratch, read on.
What Is Tamarind Sauce?
Tamarind sauce is a thick sauce that is prepared with tamarind paste, sugar, salt, and spices. The flavor is sweet and tangy, which somewhat also depends on the spices and ingredients used. If the tamarind being used is less ripe, chances are that it could be sour in taste. Likewise, if the tamarind in question is ripe or matured, it could be sweeter to taste. This means you will need to add sugar and other ingredients accordingly to get the perfect balance between sweet and tangy. This sauce is then used as a condiment to enhance the flavor of a variety of dishes it is added to or had with. [1]
How To Make Tamarind Sauce?
To prepare tamarind sauce, you need to first make the tamarind paste or concentrate. For that, you will need to soften the naturally thick, fibrous tamarind into a puree-like consistency. The sticky flesh removed from the pod and separated from the seeds is used to make this paste. Immerse the flesh in hot water for over 30 minutes before draining it using a sieve and removing the tamarind pulp and discarding the pith. We have given the step-by-step process of making this sauce at home below.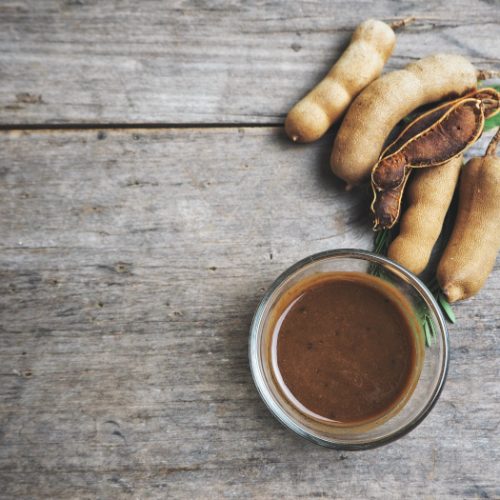 Homemade Tamarind Sauce Recipe
An easy-to-make sweet, spicy, and tangy tamarind sauce, which you can use to devour crispy fried snacks!
Print
Pin
Rate
[2]
[3]
Ingredients
200

gram

tamarind pulp

2

cups

of water

1

tsp

of ground cumin

1

tsp

of cayenne pepper

1

tbsp

of sugar

1

tsp

of ground coriander powder
Instructions
To make tamarind sauce, first, remove the tamarind out of the outer hard shell. Rinse it under the running water to ensure that no bit of the shell remains on the fruit.

Now take a saucepan and add two cups of water to it. Transfer the tamarind into it and bring it to a rolling boil. You will see the tamarind gradually dissolve in the water. Once done, separate the seed from the fruit by using a potato masher. If you find the liquid to be quite thick, then add more water and gradually lower the heat. This in total should not take more than 7 minutes or so.

Now use a sieve to pour the mixture into a bowl. The husk and the seed of the fruit will be left behind. Once done pour it back to the saucepan.

Now, In the saucepan, add the above-mentioned ingredients in the said proportions to the tamarind mixture and bring it to a medium boil. This will help the sauce to thicken. You need to decide what consistency you want your sauce to have. If you think it is too thick, add more water but that could alter the taste and you may then have to add more of the ingredients to get the desired taste. Once, it is done, allow the sauce to cool and you can then store it in sterilized jars in the refrigerator.
Notes
You can substitute sugar with honey or jaggery. Some people may also use pitted dates for flavoring.
You can change the spices according to your preference. Some people like to add ground cloves and pepper too instead of cayenne pepper. Feel free to experiment with it.
Some people like to add citric acid to it to preserve it for a longer duration. It also acts as a flavor enhancer.
How To Use Tamarind Sauce?
Tamarind is a staple in Asian cooking, especially in Indian cuisine. It adds a sweet and tart flavor to the dish. Sometimes it is used to marinate the meat due to its acidic quality. However, it is mainly used as a condiment or a dip to devour fried dishes. Here are a few dishes you can have tamarind sauce with.
If you tried our tamarind sauce recipe, we would love to hear how it turned out and which spices did you use to enhance its flavor. Write to us in the comment section below.