We can thank the legendary Italian lover Giacomo Casanova for oyster's reputation as an aphrodisiac. The legendary Italian lover reportedly ate as many as 50 oysters for breakfast and credited these with his sexual prowess. Oysters have been prized for their ability to boost one's libido, from the ancient Romans to modern Valentine Day menu-planners. They've also always enjoyed a special place in our culinary tradition, loved by kings, lovers, Gods, and the common man.
Purists prefer their oyster raw. The delicate seafood only needs the barest spritz of lime or light dressing, if at all. But the FDA warns against raw oysters because they can be contaminated with naturally occurring bacteria, vibrio vulnificus. These bacteria cause infection which can turn fatal in some cases. People with low immunity, children, and pregnant women should not eat raw oysters. So, forget the purists and snobs. And don't hesitate to cook your oysters. We have 5 easy oyster recipes to get you started. [1]
How to Cook Oysters?
Oysters can be tricky to cook. Like most seafood, oysters are delicate in flavor. Hence, they must be cooked carefully. Then there is the hard shell to deal with. But once you get the hang of it, oysters are actually incredibly easy to make, quick, delicious, and a sure-fire people pleaser. Before you start cooking your oysters, you need to know how to buy, clean, and shuck them. So, here's a short primer:
Buying Oysters
You can get oysters at retail stores. But many people prefer buying them from a reputable seafood market or shop. It is best to pick a place with a good turnover so that you know they are stocking the freshest produce.
The oysters should be on a bed of ice.
It should not smell fishy. Rather, it should have that fresh off-the-sea smell.
It should feel heavy when compared to its size. This would indicate plump flesh within and enough of the water that feeds it.
Avoid shells that are gaping or sound hollow when you tap them.
Look for the freshest produce. Check the tag for the harvest date. Fishmongers are legally required to carry them. If yours does not show you the tags even when asked, it's time to look for a different fishmonger.
Cleaning & Storing Oysters
Toss out any oysters with open shells. Clean the oyster under freshwater, washing them rigorously. You can use a hard brush to clean the grit. Do not use soap. You can store the oysters in your fridge for up to a week. But don't let them get dry. Bung them in a container, cover with a damp tea towel and stick them in the fridge.
Shucking Oyster
Many people are intimidated by the hard shell of the oyster, unsure of the right method of opening them. But all you need is a tea towel and an oyster knife. If you don't have one (and why would you) a paring knife, table knife, or even a flat-head screwdriver would do just as well. Here's a step-by-step guide on shucking or opening the oyster shell.
You will need something to hold the oyster as the shell can be slippery. You can hold it in your gloved hands, but this can put your palm in danger of an accidental cut. For a newbie, it's better to place the oyster on a towel or rag on a counter and use the same to hold the oyster from the top.
Place the oyster flat side down and the cupped side up.
Hold the oyster at the wider end. Insert your knife between the shells at the narrow pointy end.
Slide the knife along the side, opening up the shell.
Now you have to loosen the flesh inside. Slide the knife gently under the flesh, loosening it from the shell as you go.
You can serve them raw in the shell, or take out the flesh and cook it.
Cooking Oysters
Oysters are cooked with or without their shells. The shells open up as they cook. You can fry, broil, bake, or steam them. We have picked 5 most popular recipes to help you out.
Scalloped Oysters
If you want to impress your guests, but don't want to spend your time slaving in the kitchen, scalloped oysters are the way to go. This recipe follows the basic tenet of using just a few ingredients to showcase the star of the show, the oysters. To make this oyster casserole, you line a buttered baking dish with crushed-buttered saltine crackers. Spread a layer of freshly shucked oysters, reserving the liquid. Dot it liberally with butter, salt, pepper, and parsley. Repeat the alternate layers of crackers and oysters with butter, salt, and pepper. Finally, pour over a mix of oyster liquid and cream at the top. Bake in a preheated oven, at 350 degrees Fahrenheit, till the top puffs up. Serve it warm with a sprinkling of parsley.
Fried Oysters
Fried oysters are a popular appetizer. You can also make it at home. We have a delicious recipe that gets its kick from a spiced marinate. Our version has a jazzed up breadcrumb coating that adds to the vow factor.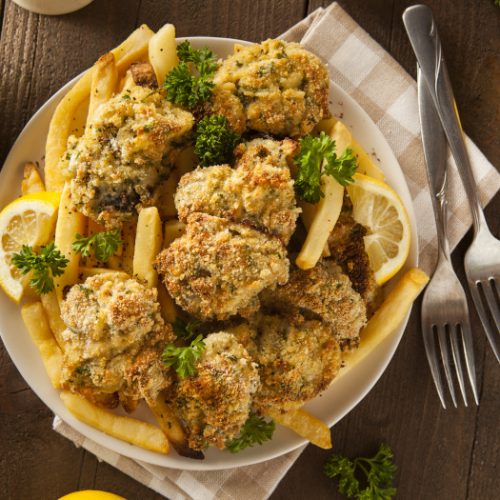 Fried Oyster Recipe
The perfect fried oysters are crispy on the outside and buttery soft on the inside.
Print
Pin
Rate
[2]
[3]
Instructions
Marinate the shucked oysters in a mix of buttermilk, garlic powder, paprika, and oregano. Take them out after 5 minutes and then drain.

Now make three stations for coating the oysters. You will need two plates and a shallow dish for this. The first plate will contain flour, seasoned with salt and pepper. Beat the egg with a little water or milk in the shallow dish. The third plate is for the breadcrumbs. Add the parmesan to jazz it up.

Dredge the marinated oysters in the seasoned flour, followed by a dip in beaten eggs, then a final coating of breadcrumbs. You can use a tong to move around the oysters. Place all your breaded oysters on a plate.

Pour the oil into a Dutch oven, a large stockpot, or a deep pan. Heat the oil

to 350-375 degrees Fahrenheit. To check drop a piece of bread. It will float on top, getting a fried brown color.

Deep fry the breaded oysters in the hot oil. In 2-3 minutes they will turn golden brown. Take out the deep-fried oysters and drain on a paper towel.

Serve the fried oysters with a sauce of your choice.
Baked oysters
It is best to bake the oysters in their shell. Other than the aesthetic aspect, the shells make a lovely bowl for each oyster. Place the shells with their oysters on a baking tray. You can place them on a bed of salt or uncooked rice to help balance them. Top the oysters with some scant herbed butter or shredded cheese of your choice. Other topping options include bacon, onion, or spinach. Just make sure that you don't put too much of it. Top this with some breadcrumbs. Place these in the oven and bake at 425 degrees Fahrenheit till the breadcrumbs turn golden-brown. Sprinkle with fresh parsley before serving.
Charbroiled oysters
You broil the oysters using the same recipe as baked oysters. Alternately, toss the oysters (with some of their liquid) with herbs like oregano, parsley, and thyme. Add some olive oil and white wine vinegar. Spread on a shallow baking dish and top with parmesan cheese and breadcrumbs. Broil until the top is golden-brown and bubbling. Serve warm with some crusty bread.
Pan-Fried Oysters
The method is pretty much the same as fried oysters, only with less oil. Dredge the drained oysters through seasoned flour, followed by dunking in beaten eggs, and then coat with breadcrumbs. You can jazz up the breadcrumbs with parmesan cheese. Pan fry these in a pan, in about an inch of hot oil. After about a minute or more, turn over the oysters with a pair of tongs. They should have a golden-brown crust. You can serve it with just a squeeze of lime or with a lemon butter sauce.
These are our top 5 oyster recipes to get you started. Fried, baked, broiled, or scalloped, oysters are delicious. As we have shown, they are also pretty easy to prepare. Which is your favorite? Share your favorite recipes with us in the comment section below.