Banana pepper belongs to the chili pepper family and is popular for its mildly tangy taste. It is either brightly yellow or light greenish. As it ripens, it takes on darker shades like red and orange. This chili pepper is used for various purposes, of which the most popular is its use in pickles. Let's take a look at banana peppers in detail below.
What are Banana Peppers?
Banana peppers originated in South America and are a cultivar of the Capsicum annuum species and thereby belong to the capsicum family. Their taste varies from medium spicy to none at all. The ripest of these peppers edge towards a sweeter taste. They are slightly tangy too.
Banana pepper is also known as yellow wax pepper or banana chili in some parts. It gets its name because of its appearance that resembles a banana. You can use them in pickles, as a pizza topping, sandwich filling, or inside the meat. Some people also add them to their salsa to give it a slightly sweet and interesting taste.
Banana peppers are often confused with pepperoncini or Friggitelli, therefore it is important to establish that they are both different from each other before we go ahead.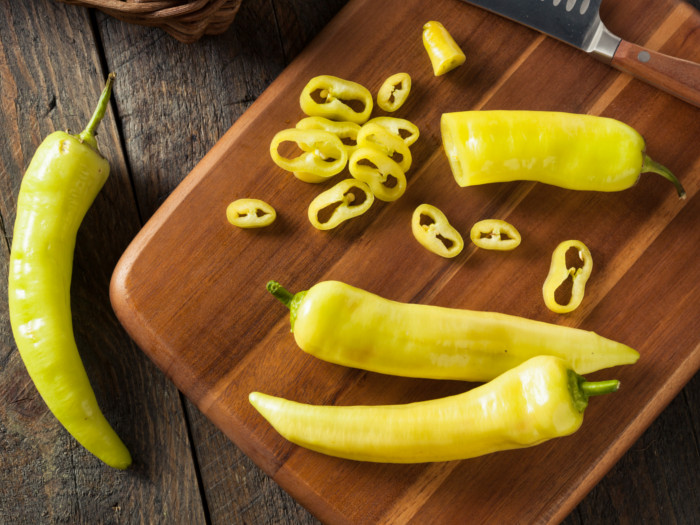 Banana peppers can be cooked in many different and delicious ways. Photo Credit: Shutterstock
Are banana peppers hot?
To put the hotness of this pepper in comparison, the hottest banana pepper is at least five times milder than the mildest jalapeno pepper. The heat of banana pepper measures at around 500 Scoville Heat Units, whereas, jalapeno measures somewhere between 2,500 to 8,000 Scoville Heat Units. This implies that it has almost no heat at all.
Banana Peppers Nutrition
As per the USDA data, banana peppers are rich in water, energy, fiber, sugar (a very low profile), and protein. They are also a good source of iron, calcium, phosphorus, magnesium, potassium, and sodium. It holds some important vitamins such as vitamin C, niacin, folate, vitamin A, beta carotene, vitamin K, and low quantities of thiamin, riboflavin, and vitamin B-6 too. All of these nutrients make these peppers quite wholesome. [1]
Carbs in banana peppers: A 100 gm serving of these peppers contain around 5.35 gm of carbs.
Banana peppers calories: A 100 gm serving of these peppers contain around 27 calories.
This rich nutrient profile of banana peppers makes them a healthy addition to any diet.
Stuffed Banana Peppers
Banana peppers can be made spicy or sweet, as per your taste. Below, we take a look at banana peppers stuffed with minced pork. And there is also something for those looking for a vegetarian alternative!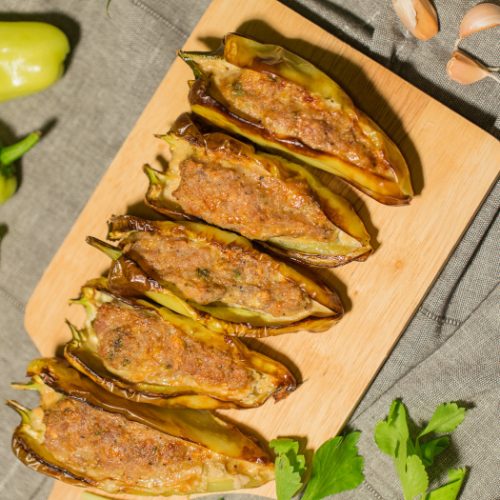 Stuffed Banana Peppers Recipe
Yummy Banana peppers with Minced Pork
Print
Pin
Rate
[2]
[3]
Ingredients
5

banana pepper

1

ounce

goat cheese

1/4

cup

green onion

chopped

1

pinch

black pepper

1/4

pork sausage

minced

1/4

cup

mozzarella cheese

1/4

tsp

basil leaves

dried
Instructions
To start with, preheat the oven to 375 degrees F.

While the oven heats, take a bowl and add sausage, mozzarella, goat cheese, basil leaves, green onion, and black pepper. Mix it well.

Now to prepare your peppers, cut them from the stem and scoop out all the seeds. You can also make a long slit along the length of the pepper for easy filling and cleaning.

Take your pork mix and stuff the pepper to the end. Place them on a baking sheet and bake at 375 degrees F for 15-20 minutes. Your stuffed banana peppers are ready, you can serve them hot!
Notes
Alternate:
If you want a vegetarian version of these peppers, you can alternately use a potato and peanut-based filling. Indians, usually, prepare 'bharwan mirchi' where they use this filling with a lot of Indian masalas (spices) that add to its taste.
You can also try modifying the recipe with your ideas and as per your taste specifications.
Other Recipe Ideas
There are many different ways in which you can prepare these banana peppers, let us take a look at them in detail below.
Pickled Banana Peppers: If you have a huge supply of these peppers, then the best way to store them for the long run is to pickle them. You can have these pickled or canned peppers along with your hamburgers, sandwiches, and other food. If you're canning these peppers, it is very important to follow a good recipe for the best results.
Pizza: One creative way to add these peppers to your food is by dressing your pizza with them. These peppers are tangy and sweet and go well with pepperoni, cheese, mushroom, and sausage.
Deep-fried: Many people, in the Asian part of the world, prefer to deep fry these peppers for a crunchy and exotic taste. You can have them as an appetizer with roasted ham or chicken. This is also a very simple and quick way to prepare banana peppers.
Poppers: Just like jalapeno poppers, you can also prepare poppers with a variety of peppers. You can fill them with cheese or cream and then bake to a crisp at 375 degrees F. Eat these addictive poppers while they are still hot!
These are some ways you can cook these peppers. There are no side effects as such of adding them to your diet. However, if you are prone to certain allergies, are pregnant or breastfeeding, or have a chronic condition, it is a good idea to consult with a medical practitioner.