Who would have thought that sweet potatoes had the potential to become a rockstar? Thanks to the recent trend of sustainable snacking, healthy as well as drool-inducing foods are on the rise. With sweet potato fries taking over the prime spot in everything from Insta-worthy food platters to festive chicken roasts to exotic non-cheese boards (which we think is plain plonking but artful), it is the best time for you to fulfill your cravings in a guilt-free way. It's like a 'pinch me, I'm dreaming!' kind of moment for all the spud-lovers.
We have put together two easy and healthy ways to make these fries. The first one is baked sweet potato fries and the second is air-fried sweet potato fries. But first, let us see how these fries became popular.
The Rise of Sweet Potato Fries
From never-being-acknowledged to going mainstream across restaurants, sweet potato fries have come a long way. The first-ever batch of sweet potato fries was cooked in the 19th century. Interestingly, they were a part of the Guinean cuisine for a long time and are known as patates there. (Potato patato!)
The primary reason behind these orange fried sticks becoming a darling of most people is that they are healthier than the regular French fries. The key ingredient, sweet potato, makes for a good source of fiber, calcium, and vitamin A. And when you bake it, a healthier alternative to deep-fried potatoes comes into existence. [1]
Tips to Make the Best Fries Ever
Do you remember how palate fatigue made it impossible for you to enjoy those frozen fries last time? Suddenly, every piece after the third one lost its charm and you couldn't feel the taste? Well, if you follow these tips while making your fries, you may get exempted from that tasteless experience. Because the fries will be so good!
Slice the potatoes thinly: The skinnier the fries, the better. Use a sharp knife to slice the potatoes. If you like your fries crispy, cut them into thin slices, say about 1/4 inches wide. Use a stable cutting board and keep your sweet potato on it. Working on it lengthwise, cut it in two halves and then slice each half into long thin sticks.
Use cornstarch: After you cut your sweet potato, toss the sticks with cornstarch or tapioca starch. Do this before you add oil to your fries. This helps to make the outsides of your fries nice and crispy. You can also experiment with a mix of different starches like arrowroot starch or rice starch.
Single-layer only: Spreading your fries is always recommended. If you think your fries make up for more than one layer, don't pile them on top of each other. Instead, cook them batch-wise.
Intervene in the cooking process: Say, you've kept the fries for 20 minutes in the oven. Halfway through, open the oven carefully, turn the fries with the help of a spatula and swap the position of the pan carefully so that all the fries are baked properly. The same rule applies if you are cooking in an air fryer.
Season your fries: Some people like to coat their fries with the spice mix before baking them. It helps the sweet potatoes absorb the flavor of the seasonings. The other option is to toss the spices after you have baked your fries. If you are someone who loves having freshly sprinkled seasoning, then you can go for the second option.
Play with the ingredients: You can experiment with different herbs and spices like oregano, chili powder, and peri-peri. If you like using different cooking oils like canola oil or vegetable oil, feel free to use any of them instead of olive oil.
How to Make Sweet Potato Fries?
Making sweet potato fries is very simple. The two most popular ways to make sweet potato fries are baking and air-frying. All you have to do is cut the potatoes into slices, spice them up, and bake! Or air-fry, if you want to do that. Both the recipes are mentioned below in quick and easy steps.
Oven-Baked Sweet Potato Fries Recipe
Ditch the old deep-frying method and go for baking your fries this time. We promise you that they will have a similar greasy feel like regular fries; they will be crispy but still a whole lot more healthy.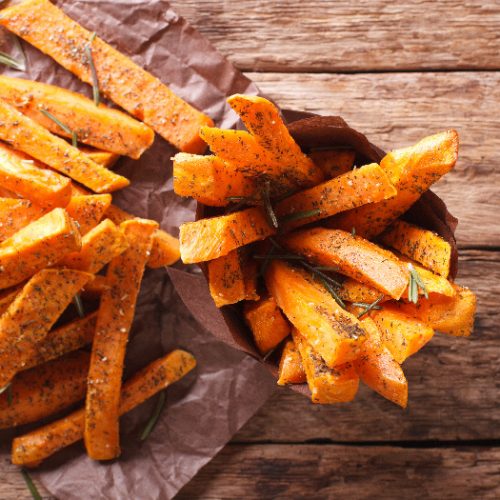 Tastiest Baked Sweet Potato Fries Recipe
Bursting with the flavors of paprika, salt, black pepper, and garlic, these sweet potato fries are so good that you would keep wanting more.
Print
Pin
Rate
Ingredients
2

pound

sweet potatoes

(3 medium-sized)

2

tbsp

olive oil

1

tsp

paprika

1

tsp

garlic powder

1

tsp

sea salt

1/2

tsp

black pepper

ground

1

tbsp

cornstarch

optional
Instructions
Preheat the oven to 400 degrees Fahrenheit.

Till the oven gets ready, wash the sweet potatoes thoroughly under running water and remove their skin.

Now, cut the potatoes length-wise. You want about 1/4 inches wide and 3 inches long sticks.

Once you are done with cutting the potato, add them to a ziplock bag and add the cornstarch to it.

Now, lock the bag and shake the potatoes properly so that the cornstarch gets coated on them. The cornstarch helps your fries get a little extra crispness on the outside. You can skip this step if you don't wish to use cornstarch.

Add the sweet potato sticks to a bowl and toss them with olive oil. Use your hands to mix the fries thoroughly.

Now add the garlic powder, paprika, salt, and black pepper to the fries and mix them well to get a flavorful coat on your fries.

Now line the baking sheet with parchment paper and spread the fries on it. Make sure you keep the sticks separate from each other so that they get baked properly.

Cook the potatoes for about 20 minutes. Once done, flip them over and bake again so that the other side becomes crisp as well. This time keep the fries for 10-15 minutes.

Once you see the fries turning golden, remove them from the sheet and serve with your favorite dip. The salivating period is officially over and you can finally eat all the fries you want.
Easy and Healthy Air-fried Sweet Potato Fries Recipe
Making this version of sweet potato fries is very effortless. If you have an air fryer and a couple of sweet potatoes and you do not know what to do with them, make fries!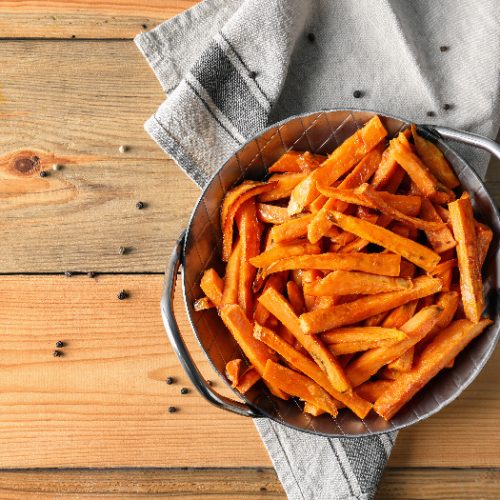 Air-fried Sweet Potato Fries Recipe
Can you say this 10 times without making a mistake? 'I fried sweet potato fries in an air fryer.'
Print
Pin
Rate
Ingredients
2

pound

sweet potatoes

2

tbsp

vegetable oil

1

tsp

paprika

1

tsp

salt

1

tsp

garlic powder

1/2

tsp

black pepper

freshly ground, preferable
Instructions
Preheat the air fryer at 400 degrees Fahrenheit.

Till the air fryer gets ready, wash the sweet potatoes under running water and peel the skin.

Now cut them into 1/2 inch wide sticks vertically and add them to a bowl.

After that, add olive oil and mix both of these ingredients well.

Toss the salt, garlic powder, paprika, and black pepper into the same bowl and combine them well so that each sweet potato stick is well-dressed in these spices.

You want to divide the fries into two or three batches so that they are fried properly. Add the first batch to the fry basket and insert it in the fryer.

Cook it for about 10 minutes. If the fries have not yet become golden, you want to cook them for a few more mins.

Repeat the same procedure for the next batches. By the way, do you know that you could treat the first batch like popcorn? Eat a few fries while the rest of the sticks are graduating.
How to Serve Sweet Potato Fries?
Sweet potato fries are like Johnny Depp. Wherever you put them, they will dazzle!
The protagonist is the only actor: You can go low-key and serve them with the classic condiment: ketchup.
The lead has a best friend: Team up the fries with a hamburger of your choice and enjoy it.
The movie is a multi-starrer: Add them to a fries board with a lot of dipping sauces, including aioli, mustards, guacamole, or sweet chili – whatever your heart desires.
The big-budget feature: Pair the sweet potato fries with roast chicken and they will qualify for a sumptuous party dish.
The Oscar-nominated: The best way would be to put the fries in a fry cone or cup and enjoy the movie night at home in your pajamas.
So which movie are you directing first?
Do Sweet Potatoes Need to be Soaked in Water?
You don't need to soak the sweet potatoes in water. Some people prefer soaking fries in water to get rid of excess starch from the potatoes. Fries tend to become darker if they are not soaked in water and most people like golden-brown fries. Also, with excess starch out of the picture, the fries tend to become slightly crispier than the unsoaked ones. This does not mean that unsoaked fries are a disappointment. The cornstarch coating helps to make your fries crunchy even if you do not soak them. It is a choice that depends completely on whether you want to soak the fries or not. In reality, both versions are tasty.
Are Sweet Potato Fries a Sustainable Snack?
According to Dr. Hussein Mansoor, Director of Research and Development, Tanzania's Ministry of Agriculture and Food Security, "Sweet potato's ability to fit into a range of different agro-ecologies and its ability to use water efficiently, makes it a key ally in building resilient food systems." Since sweet potatoes are so versatile, the baked fries can perfectly fit in the house of sustainable snacks. [2]
You are free to let your inner glutton loose today. We promise you wouldn't become blasé about these fries!