One of winter's most delicious gifts is the acorn squash. The gnarly tough skin hides the secret of the juicy, fleshy, nutty and sweet vegetable within. Acorn squash is also quite a flexible vegetable to cook. You can cook an entire acorn squash or you can cut it in half-moon slices. Either way, the acorn squash makes a delicious addition to any meal. Knowing how to cook acorn squash will also help you in utilizing this delicious and multi-layered vegetable in myriad ways. This easy to cook winter vegetable can easily make the main dish or a quick salad.
How To Cook Acorn Squash Two Ways?
There are many ways you can cook the acorn squash. We have included two primary recipes, sweet and savory. Both the recipes are based on roasting the vegetable. In fact, it is primarily one recipe, which can be adapted to both sweet and savory palate. But first, let's find out how to pick a ripe squash and how to cut it.
How To Pick And Store An Acorn?
A ripe acorn squash is tough at the surface and soft inside. The trick to pick the right acorn lies in its color. The ripe vegetable will have a dark green color. The skin of the vegetable will also become hard. The stem browns and withers as the vegetable ripens. So, look for a squash that is dark green in color with a hard skin. The attached stem should be dry. You can store the entire vegetable in a clean dry space and it will stay for a few months. However, a cut or cooked vegetable should be refrigerated. You can also store the cooked squash in the freezer for up to a month.
Cutting an Acorn Squash
The squash has a hard skin and hence, you will need a chef's knife or a heavy-duty knife to cut it. Start cutting from one side of the stem, slicing through the squash till you split it in two. It is often roasted in this way, in two whole parts. Scoop out the seeds along with the fibrous part. You can roast the seeds to eat later. You can also cut the squash further in half-moon slices.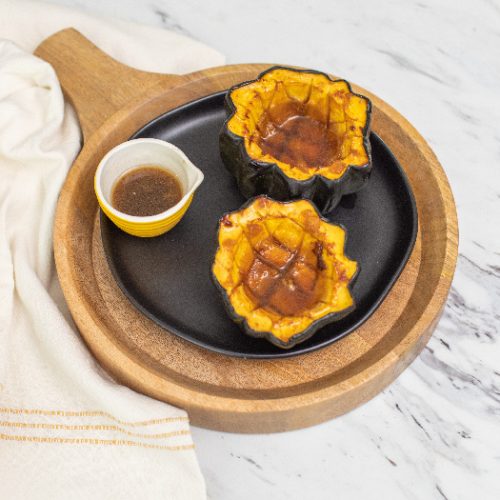 Roasted Acorn Squash, Two Ways: Easy Recipes
These easy recipes just require you to prepare the squash by coating the vegetable with a sweet or savory rub and roasting it till it turns golden.
Print
Pin
Rate
Total Time:
1
hour
5
minutes
[1]
[2]
Ingredients
For sweet version
1/2

cup

unsalted butter

melted

2

tbsp

maple syrup [3]

Salt & pepper

to taste
For savory version
1/2

cup

melted butter or olive oil

Salt

Pepper

freshly ground
Instructions
Start with prepping the acorn. Cut the acorn in two halves using a heavy-duty knife. Cut it lengthwise and split in two. Scoop out the seeds and fibrous inside with a metal spoon. Scour the inner surface in a diamond pattern.

Turn on the oven, place a rack at the bottom half and set the temperature at 375°F. Preheat the oven and line a roasting pan with a baking sheet.

Prepare the squash by rubbing the outside with butter or oil and place it in the pan cut-side down. Roast the squash for at least 15 minutes. After this time, take out the squash and coat the inside.
For sweet version
Whisk together the butter and the maple syrup. With a pastry brush, apply this sweetened butter on the inside flesh. Sprinkle over some salt and pepper.

Roast in the oven till the flesh crystalizes and the edges turn golden-brown. It will take 45 to 60 minutes. Take out the squash and check for doneness. When the squash is cooked, a knife should easily pierce the flesh and the skin.
For savory version
Coat the inside of the squash with the melted butter or olive oil. Sprinkle over the salt and freshly ground black pepper.

Roast the squash as mentioned above and check for doneness at the end. You can serve this version with a fresh, crisp salad.
Notes
You can also cut the squash in half-moon slices and roast them in a similar manner.
Ways to Use Roasted Acorn Squash
Now that you know how to cook acorn squash, here are some simple and quick ideas to use it for your meals. You can serve it as it is, or use it in the following way:
Salad: Roasted squash is beautifully paired with a range of vegetables for a range of salads. Both sweet and savory preparations can be used here. Acorn squash gives any salad a hearty feel. You can add greens or other vegetables like beets or onions. Cheeses like feta and balsamic vinegarette go very well in such salads.
Soup: Roasted squash makes a hearty filling soup. The roasting of the squash gives the soup an added depth. You can simply puree the roasted flesh to make the soup. Combine it with bacon or sprinkle with roasted squash seeds for added flavor and texture.
Pasta: Roasted squash can be diced up and used in place of any pasta vegetable. Roasted squash makes for an excellent filling in a ravioli. Just drizzle over butter and sage for a delicious meal. Roasted and pureed squash also makes a welcome alternative sauce for the pasta.
Curry/Stew: The roasted squash can be diced up and added to any curry or stew. The vegetable has a roasted and creamy texture that goes well in any curry.
With Meat: The nutty and creamy texture of the squash is perfect when used with different kinds of meats, from lambs, porks to beef. You can use mashed squash in place of potatoes with grilled/roasted meat. Or you can use the squash with pulled meat in sandwiches. It also goes well in a meat curry.
Connect With Us
If you have tried this recipe, we would love your feedback in the comments section below. And while we can't taste it, we would love to see how it turned out! You can connect with us on Facebook or Instagram and tag your picture with #organicfactsrecipes. [4] [5]
Do you wish to share your winning recipes with us? Please click here and fill in the details to get started.