Drambuie is a flavorful type of alcohol that provides an interesting alternative to standard whiskeys.
What is Drambuie?
Drambuie is a Scottish spirit that was first developed in the 18th century. The distillery that makes it accredits the name to a Gaelic phrase 'an dram buidheach', which translates to 'the drink that satisfies'. This liqueur was first made by adding honey, herbs, and spices to brandy. The base spirit was changed to whiskey in the 19th century, and from that point on it was known by its current name and widely commercialized. [1]
Drambuie has a golden amber hue and an alcohol content of 40%. It is a blend of scotch whiskeys and offers flavors of heather honey, spices, and cloves. However, the exact recipe is a closely guarded secret.
This niche liqueur is made through a process of distilling gluten grains. Most nutritional bodies advise that the distilling process should successfully remove gluten proteins from any drink. However, if you are highly gluten intolerant, you might want to consider a potato-based spirit, such as vodka, as an alternative.
There are approximately 106 calories in 1 ounce of Drambuie, most of which come from carbohydrates.
How to Make Drambuie?
The official recipe for Drambuie is, as mentioned, a closely guarded secret. However, it is possible to tweak an ordinary bottle of whiskey to get a similar end product. [2]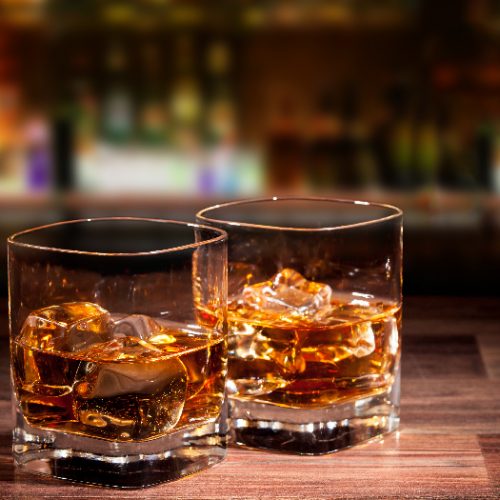 Homemade Drambui Recipe
You can use this recipe as a base for your own version of this classic Scottish liqueur. Play around with the flavors. You can also add ingredients like angelica root, star anise, fennel, nutmeg, and saffron.
Print
Pin
Rate
[3]
[4]
Ingredients
Instructions
Put all the ingredients in the bottle and allow it to sit for two weeks. Shake, strain, and drink neat or on the rocks.
Adverse Risks Associated with Alcohol Consumption: Moderation is key. The risks involved with drinking excessive alcohol can be short term such as violence and injuries to long-term health risks such as chronic diseases. According to the Centers for Disease Control and Prevention, people who should not drink alcohol include women who are pregnant, individuals younger than 21 years of age, and people who are recovering from alcoholism or cannot control the amount they drink. Also, it should be avoided by people who are planning to drive or any other activity that required focus and skill. [6] [7]