Echinacea tea remains one of the healthiest and most versatile teas for treating and preventing a wide variety of ailments, including cold, flu, bladder infections, ear infection, respiratory conditions, arthritis, allergy symptoms, premature aging, and exhaustion. It also has anticancer potential. Along with those benefits, there are some side effects, but these are generally related to those who are specifically allergic to echinacea, or other related plants, such as ragweed and marigold.
This powerful tea has been used for more than 500 years, and perhaps even longer, particularly by Native Americans in North America. While there are nine different species of the echinacea plant, only three of them are commonly used for traditional medicine purposes (Angustifolia, Purpurea, and Pallida). These species tend to be rich in vitamins, minerals, other nutrients, and polysaccharides, as well as antioxidants and flavonoids that deliver a host of health benefits. [1]
Health Benefits of Echinacea Tea
People around the world turn to echinacea as a preventative remedy and treatment, due to its ability to reduce inflammation, protect the immune system, speed healing, clear up the skin, prevent premature aging, boost energy levels and detoxify the body.
Immune System Boost
This herbal tea has been particularly popular in the prevention and treatment of colds and flu. Many people turn to a glass of echinacea tea at the first sign of the sniffles or a sore throat. It has powerful antibacterial effects, as well as a high concentration of vitamin C, which can stimulate the immune system to shut down colds before they take hold, or speed up the recovery process once you've already fallen ill. [2]
Pregnancy
Although many herbal teas and natural remedies are cautioned during pregnancy, research has shown that the benefits of echinacea tea are available to pregnant women, specifically in the first trimester. This can ease stress and cramping, discomfort and sleeplessness, and even address mood shifts, thanks to its stress-reducing properties.
Healing Rate
This tea is well known to help speed the healing process, both following extended illness and injury. The blend of antioxidants and vitamins available helps to stimulate the growth of new cells, eliminate any remaining pathogens, and prevent oxidative stress in those affected areas. [3]
Skin Conditions
For skin conditions, you can safely consume echinacea tea to eliminate symptoms of eczema, acne, boils, and psoriasis, thanks to the vitamin C content and antioxidants. Vitamin C is a critical part of collagen production, which is required for healthy new skin cells. Furthermore, the antioxidants can prevent blemishes, marks, scars, stretch marks and other age spots on the skin, as well as wrinkles. [4]
Energy
There is a slight metabolic boost when you consume echinacea, which is why many people like starting their day with a cup of this healthy beverage. This can help provide more energy throughout the day, and help your body use its energy reserves more efficiently.
Antioxidant Activity
According to a study published by Dr. David D. Kitts, University of British Columbia, Canada, in the Journal of Agriculture and Food Chemistry, the antioxidants, such as flavonoids, that are found in this type of tea are able to prevent the damage of oxidative stress, which is caused by roaming free radicals in the body. These can be a major cause behind various cancers and mutated cells, which is why this tea is praised by some as being a likely preventative measure for high cancer risk patients. [5]
Liver Health
This tea has a few diuretic effects and also helps stimulate protective cells in the liver. This means that there are less toxins in the body, and they are being handled more effectively, making it harder for your body to get sick. This same effect can also help boost kidney and lymphatic system function. [6]
How to Make Echinacea Tea?
Echinacea tea is simple to make, and highly rewarding if you are growing these plants in your home garden. The roots of the Echinacea plant are particularly dense in nutrients, but the leaves and flowers are perfectly strong for brewing tea. You can add in a few extra ingredients to improve the overall flavor, or simply use the echinacea plant parts alone. [7]
First, you will want to remove the leaves and flowers that you wish to use in your tea. Choose leaves that are near the top of the plant, as these will be less bitter, and will have less chance of being eaten by insects or susceptible to any mold. Freshly bloomed flowers are also recommended.
Have a look at our recipe below and try it out to give yourself a fun experience in making this refreshing tea!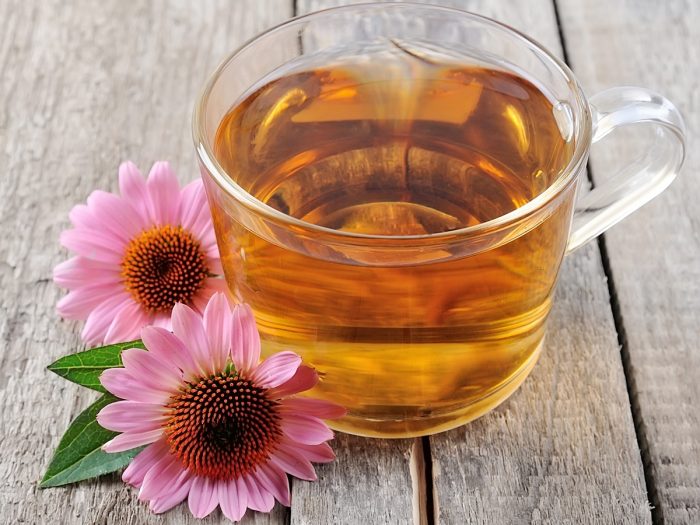 Refreshing Echinacea Tea Recipe
How about a warm cup of this healthy tea that rejuvenates your senses instantly?
Print
Pin
Rate
Ingredients
1

part

Echinacea leaves and flowers (dried, crumbled)

1/4

part

Spearmint leaves (dried, crumbled)

optional

1/4

part

Lemongrass (dried, crumbled)

optional
Instructions
Add the tea leaves to a tea strainer or infuser in the proper ratio.

Boil water in a kettle or small saucepan (if making a large quantity of tea, such as when preparing a pitcher of cold echinacea tea).

Allow the tea leaves to steep in the boiled water for 10-15 minutes to properly infuse.

Remove the strainer/infuser and enjoy your freshly brewed and refreshing tea.

You can also stir in honey to taste, if necessary.
Notes
Allow these leaves to dry in a dark, cool place for a few days. You can use a cooking rack with holes to increase airflow, or a dehydrator if you have them. Once these are dry, you can crumble the leaves and flowers together, and store them in a dry, sealed container for future brews.
Side Effects of Echinacea Tea
Some of the side effects of echinacea tea include:
Rash and irritation on the skin
Worsening of autoimmune disorders
Muscle pain
Headache
Disorientation and dizziness
Nausea and vomiting
However, these side effects are notably rare and do not affect the majority of people who drink this tea. For those with a sensitivity or allergy to other plants in the Asteraceae family (ragweed, marigold, daisies, mums etc.), these side effects are much more likely. [8]
Skin irritation or mild rashes are the most commonly reported side effects. For breastfeeding mothers, there is not enough evidence to prove whether echinacea tea is safe or not, but due to its potency, most doctors recommend avoiding use during this of your life. However, research has been done on the role of echinacea during pregnancy and it is largely believed to be safe during the first trimester, where many of the health benefits of this tea have the most effect.
Finally, the immune-boosting properties of echinacea tea can be dangerous for those suffering from autoimmune disorders or diseases, as this can exacerbate the symptoms of conditions like lupus, multiple sclerosis, or rheumatoid arthritis. If you suffer from one of these conditions, or any other that requires regular use of prescription medications, check with your doctor before taking echinacea tea as a regular part of your health regimen. [9]