Coconut oil is a highly reliable natural option to treat and eliminate yeast infections, primarily through its antibacterial, antiviral and anti-fungal properties. Coconut oil can prevent the yeast infection from proliferating, deny it access to necessary sugars, speed the healing process, and strengthen the immune system.
Yeast infections are caused by the overgrowth of Candida albicans, a fungus that is present in everyone's body. In regulated amounts, it is actually important for our overall health, but certain triggers will cause it to spread and proliferate. Some of the most common areas for yeast infections are the vagina, mouth, skin, and intestine. When something like hormonal changes, allergies, certain antibiotics, chronic stress, pH destabilization or nutrient deficiency affect the body, it can often cause a yeast infection.
Coconut oil is commonly used to combat this fungal infection, due to the presence of powerful medium-chain fatty acids, namely lauric acid, capric acid and caprylic acid. Lauric acid gives an important boost to the immune system that can defend against the overgrowth of fungal cells, while caprylic acid can break down the membrane of the yeast infection, preventing it from spreading any further. As per the USDA, it also contains vitamins, nutrients, and antioxidants that stimulate healing and prevent future infections.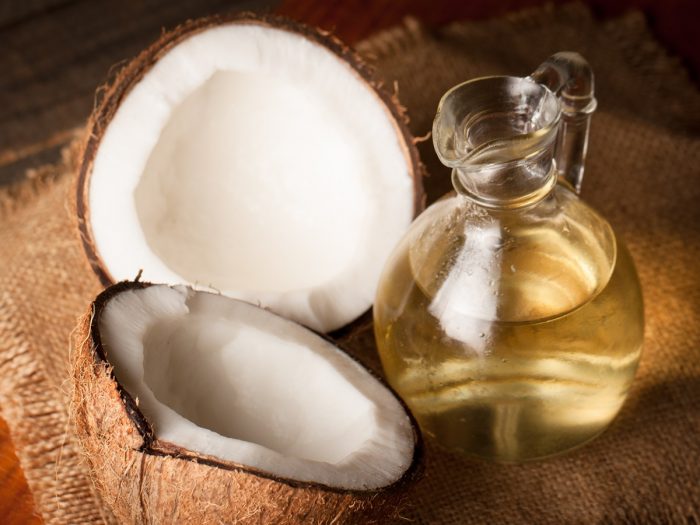 Nutrition Facts

---

Oil, coconut

Serving Size :
Nutrient
Value
Water

[g]

0.03
Energy

[kcal]

892
Protein

[g]

0
Total lipid (fat)

[g]

99.06
Carbohydrate, by difference

[g]

0
Fiber, total dietary

[g]

0
Sugars, total

[g]

0
Calcium, Ca

[mg]

1
Iron, Fe

[mg]

0.05
Magnesium, Mg

[mg]

0
Phosphorus, P

[mg]

0
Potassium, K

[mg]

0
Sodium, Na

[mg]

0
Zinc, Zn

[mg]

0.02
Vitamin C, total ascorbic acid

[mg]

0
Thiamin

[mg]

0
Riboflavin

[mg]

0
Niacin

[mg]

0
Vitamin B-6

[mg]

0
Folate, DFE

[µg]

0
Vitamin B-12

[µg]

0
Vitamin A, RAE

[µg]

0
Vitamin A, IU

[IU]

0
Vitamin E (alpha-tocopherol)

[mg]

0.11
Vitamin D (D2 + D3)

[µg]

0
Vitamin D

[IU]

0
Vitamin K (phylloquinone)

[µg]

0.6
Fatty acids, total saturated

[g]

82.48
Fatty acids, total monounsaturated

[g]

6.33
Fatty acids, total polyunsaturated

[g]

1.7
Fatty acids, total trans

[g]

0.03
Cholesterol

[mg]

0
Caffeine

[mg]

0

Sources include : USDA
How to Use Coconut Oil for Yeast Infection?
You can use coconut oil both topically and internally, either adding it to your diet as an alternative cooking oil or applying it directly to the areas of your skin affected by the yeast infection. Given that vaginal yeast infections are the most common varieties, there are also certain methods particular to that area of the body. A tampon soaked in coconut oil is one popular method of application, and has shown very good results in anecdotal evidence. Just be sure to remove the tampon after no more than 8 hours.
Some people choose to use a pure coconut oil suppository, which consists of pouring two tablespoons of coconut oil into a silicon mold and then refrigerating them for approximately 20 minutes. This suppository can then be inserted into the vagina and allowed to dissolve, and be absorbed by the affected membranes.
Baths using this oil are also effective methods of treating the vaginal variety of yeast infections. You only need to drop in a teaspoon or two of oil into the bath, and then soak for 10-15 minutes. Doing this once a day should clear up the infection within a week.
For skin-based yeast infections, it can be effective to blend coconut oil with other carrier oils, such as cinnamon oil, olive oil, oregano oil, lemon juice or garlic oil, as all of these can be effective astringent and antibacterial substances. Some of those oils are quite potent, however, and should be used with more discretion than coconut oil, which is relatively harmless.
In terms of cooking with this oil, the antibacterial and anti-fungal properties can also take effect from the inside out. Replacing canola oil or olive oil with coconut oil, adding it to your morning oatmeal, or mixing it into your smoothie can be subtle ways to improve the anti-fungal defenses of your body.
Use of Coconut Oil for Yeast Infection During Pregnancy?
It is particularly important to use coconut oil while pregnant, as yeast infections can be more common. The practice of using this oil while pregnant is entirely safe. The weight gain that is a natural part of pregnancy results in skin folds and areas of fat that you may have never had before. This is an ideal place for infections to grow – a moist, warm environment that isn't getting the proper hygienic care.
Being aware of this heightened risk, don't be afraid to apply coconut oil generously to your sensitive areas. You can do this 2-3 times per day, particularly after you shower or bathe. This oily ritual will prevent irritation and chafing, eliminate fungal and bacterial infections, and even slow down the spread or appearance of stretch marks!
How Much Time Does Coconut Oil Take to Cure Yeast Infection?
Most people report yeast infections to be cleared up within a few days of regular coconut oil application in a topical form. Consuming coconut oil to address yeast infections could take slightly longer, as the body has many different potential uses for coconut oil it is given. If you are regularly treating your yeast infection with coconut oil, but are seeing no improvement, it may be time to see a doctor and discuss pharmaceutical options, or an adjustment to your natural health approach.
The process of curing the yeast infection will also be sped up if you reduce your intake of carbohydrates. The yeast require sugar to grow and proliferate, so cutting back on those simple sugars for a few days can slow the infection and make it easier to eliminate.