If you are on a keto diet, you may think that smoothies, with their high carb content and sugar levels, may be off-limits. But that's not true. You can make your own keto smoothie with low-carb ingredients and it can be easy and fun too. So let's get straight to it.
How To Make A Keto Smoothie?
To make an ideal keto smoothie, you need to have ingredients in hand that are high in protein, low in carbs, and high in fat. Also, they need to have very little sugar. This is the ideal way for the body to get into a ketosis state and burn fat effectively. [1]
Ingredients Needed For Low-Carb Smoothies
For a delicious regular smoothie, you need frozen bananas or pineapple to get that thick texture and sweet flavor. Also, milk or yogurt is typically used. But to keep the carb content low, here a few suggested pantry items for a keto smoothie.
You may have to experiment to get the right texture and flavors, according to your taste. Just remember that keto smoothies will not be sweet. You can add half a banana or a date, or even stevia if you are missing the sweet taste. But do try it without the sweeteners. The burst of flavors makes it a wonderful, rewarding beverage.
If you like a thick smoothie, add chia seeds and let it sit for ten minutes. It helps thicken the smoothie. Ingredients like peanut butter and almond butter also help give a thicker texture to the smoothie. Also, it helps to chill the fruits in the freezer to get the desired texture. You can also put black coffee or lemon juices in ice cube trays to have on hand to make a chilled smoothie.
Berrylicious Low-Carb Smoothie
Once you have the ingredients on hand, it is very easy to make keto smoothies. Let's have a look at the recipe below.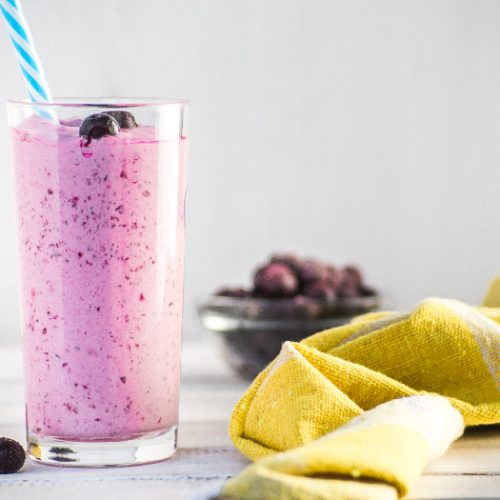 Berry Keto Smoothie Recipe
A delicious, antioxidant-rich smoothie to start your day on a low-carb note!
Print
Pin
Rate
Ingredients
1

cup

coconut milk

1/4

cup

avocado cubes

1/2

cup

berries

1

tsp

chia seeds

1

tsp

nut butter

2

tsp

cocoa powder

unsweetened

1

tsp

low-carb sweetener

optional
Instructions
This recipe is fairly flexible. You can use berries of your choice - either strawberries, blueberries, blackberries, or raspberries. We have used blackberries in this recipe. For nut butter, organic, unsweetened almond or peanut butter works best.

Place all the ingredients in a blender and blend until smooth. Enjoy your keto smoothie chilled!
Let us know how you liked the berrylicious keto smoothie in the comments below. Please do feel free to share your tips and suggestions to make different kinds of keto smoothies!