Imagine you have invited your friends over for dinner and you are cooking Mexican rice. You've got everything right but the garlic is not minced properly so there are some nuggets of it in the rice. Wouldn't it take away the charm of your dish when people bite onto a piece of the acrid garlic? To avoid such errors, we are here for you with an easy, foolproof way to mince garlic. Use it in your rice preparations, sauces, salsa, or shrimp.
How to Mince Garlic?
To begin with, you will have to peel the garlic bulb. You will see that it is wrapped in papery layers and may even have a hard stem still attached. Remove as many of those outer layers of paper as you can. Next, you want to loosen up the individual cloves, so squeeze the bulb back into a ball and roll it between your hands for 15-20 seconds. This will help the cloves separate from each other. At the point where those cloves were attached to the main bulb, there will be a hardened area. Slice this small edge off with your chef knife. Then, smash each bulb with the flat side of your knife so that that clove pops out of the covering. Your garlic cloves are ready for mincing.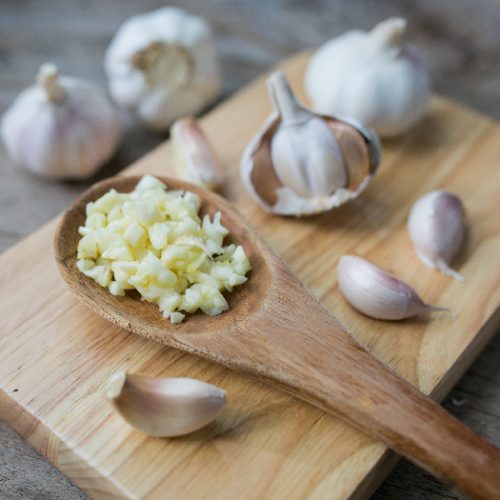 How To Mince Garlic: Easy Recipe
Mincing garlic has never been so easy.
Print
Pin
Rate
[1]
[2]
Instructions
Using a Chef's Knife
Lay each individual clove on a cutting board and smash them with the flat side of your knife. This will cause the garlic clove to burst out.

Now that the cloves have been smashed, gather them into a pile. You can chop them finely, using a rocking motion with a sharp chef's knife.

You can use this minced garlic in recipes like dressings and sauces.
Using a Garlic Press
Take the peeled garlic cloves and place them in the garlic press.

Press it so that the garlic is forced through the holes. Empty the pressed garlic in a bowl and use it in your recipes.
Using a Grater
If you are not able to mince the garlic finely, a microplane is a great option.

Take a clove and grate the garlic like you would grate cheese. This is a simple way to use garlic in your dishes.
Notes
The finer you chop garlic, the more flavor it releases. So, make sure to mince it accordingly. If possible, mince the garlic when you want to use it. Longer cut garlic tends to grow more pungent and harsh in taste. If you are not sure how many garlic cloves to use for the desired amount of minced garlic, note that three to four medium cloves may give you about one tablespoon of minced garlic. This may help you pick the right quantity of garlic.
Using Minced Garlic in Recipes
Minced garlic is an incontestable condiment that can lift up the taste of your stir-fries. The only catch while making this dish is that many people overcook the garlic. If the pan is on medium-high to high heat, cook your minced garlic for no more than 30 seconds. It prevents the garlic from burning and tasting bitter. Add it to your pan after other vegetables like shallots, celery, and carrots have softened.
You can add minced garlic to your spaghetti as well. Saute it in olive oil along with some red paprika and you will have a mind-blowing Aglio e olio for dinner.
Now that you know how to mince garlic and use it in basic preparations, here are a few more recipes you can use it in.
Do you use minced garlic in any other dish? Let us know in the comments below.