If you are on a ketogenic diet and looking for the best low-carbohydrate condiments, mustard certainly tops the list. Yellow mustard, made mainly with mustard powder and vinegar, is an all-American classic and can be your best bet to get rid of the pounds that you are aiming for. However, there are many mustard brands in the market and for a keto diet, it is essential to understand the carbohydrate content to make the best choices.
Is Mustard Keto-friendly?
Most mustard brands are keto-friendly condiments that don't contain any carbohydrates. They can be made a part of your keto meal plan as a condiment, a base for salad dressings, and used in marinades as well as dips. However, certain brands may contain added sweeteners like honey or dried fruits as flavorings that can add to your carbohydrate intake. The standard ingredients in mustard are mustard seeds, distilled vinegar, salt, turmeric, water, garlic, and paprika. [1]
Mustard Nutrition Facts
Here are the nutrition facts for the top ketogenic-friendly mustard varieties for a single serving (one packet of 5g) or a 1 teaspoon. [2] [3]
Yellow mustard: 3 calories and 0 g of carbohydrates.
Dijon mustard: 5 calories and 0 g of carbohydrates.
Spicy brown mustard: 5 calories and 0 g of carbohydrates.
Stoneground mustard: 5 calories and 0 g of carbohydrates.
Most mustard varieties are made of the same ingredients but in different ratios. So, it is advisable to check the nutrition label for ingredients and calorie content. Some brands may have added sugars and spices that can add up as calories or carbohydrates if you are using a lot of mustard. If you are a fan of honey mustard, there are several keto-friendly brands available in the market. However, the bottom line is that if you are watching your carb and calorie intake, it is important to exercise portion control, especially when using mustard as a dip.
How To Make Keto-Friendly Mustard?
If you want to know the exact ingredients that go into your mustard or are up for a fun project, you can make your own yellow mustard at home. Here is a simple, classic recipe for yellow mustard.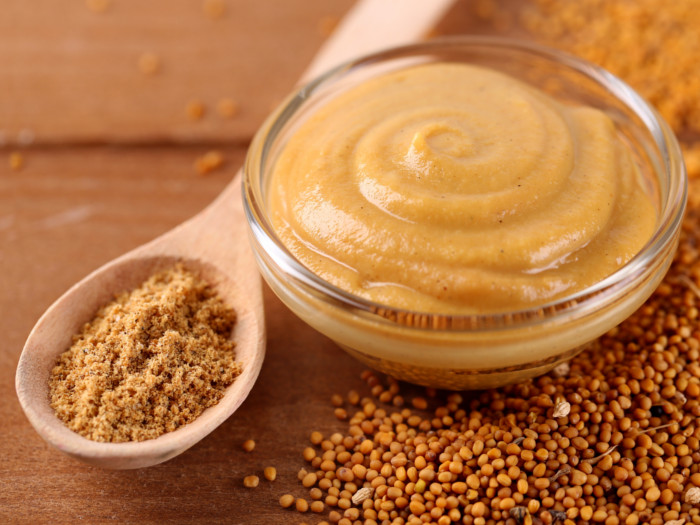 Homemade Yellow Mustard Recipe
This classic condiment is easy to make at home and tastes just like the store-bought variety! It is quite sharp in taste in the first week but mellows with time.
Print
Pin
Rate
Ingredients
3/4

cup

yellow dry mustard powder

1

cup

water

filtered

3/4

tsp

salt

1/2

cup

white distilled vinegar

1/2

tsp

turmeric powder

1/8

tsp

paprika

1/8

tsp

garlic powder
Instructions
To make the mustard, warm water in a stainless steel saucepan and add dry mustard powder, water, salt, garlic powder, turmeric powder, and paprika.

Keep stirring for 30-45 minutes on low heat till it becomes a thick, bubbly mixture. Make sure you open your windows and keep the area well-ventilated as the pungency can cause you to cough.

Now, whisk the vinegar into the thick mixture little by little till it comes to the consistency that you prefer. This may take about 7-10 minutes. Take it off the heat.

Let the prepared mustard mixture come to room temperature. Transfer it to a clean glass jar and refrigerate. You can use it for up to three months.
Notes
It is important to use a stainless steel pot to make the mustard as aluminum or copper can cause it to have an off-color. You can also use glass or ceramic pots.
Keto-friendly Mustard Recipe Ideas
You can use mustard in several ways for keto-friendly dishes. Here are our favorites: