Molasses, also known as black treacle, can be made from sugarcane. This thick sweet syrup is used in a wide variety of dishes including beans, cookies, pulled pork, and more. Molasses can be made in three different ways, one form sugarcane, other from sugar beets, and finally from pomegranate. Let's find out how to make molasses from sugarcane and sugar beets.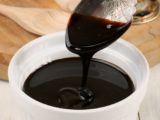 Servings

Prep Time

1

small jar

20

minutes
Servings

Prep Time

1

small jar

20

minutes
Servings

Prep Time

1

small jar

20

minutes

Servings

Prep Time

1

small jar

20

minutes
Molasses using sugar beets
Pour the sugarcane juice into a pot and bring it to boil.

Lower the flame to a steady boil and keep it boiling for 6 hours. Keep stirring it in intervals. A green substance layer may form on the surface. Skim it off using a large spoon.

Once you the color of the molasses has turned from green to yellow, or when thick strands being to appear, turn off the heat.

You may boil it for the second and the third time, depending on the consistency and type of molasses you desire. Light molasses: Obtained from the first boil, the light molasses is thinner and sweeter to taste, comparatively. Dark molasses: The product of the second boil, dark molasses, is darker, thicker, stronger, and less sweet compared to light molasses. Blackstrap molasses: The third and the final boil results in a thickest, darkest and least sweet variety, which is the blackstrap molasses.

Once you are satisfied with the color and consistency, turn off the heat, remove the pot, and pour the molasses into an airtight container while it is still hot. In case you are pouring it in a glass container, make sure to heat the glass container first, else your container might break.

Store the molasses at room temperature in a dry place for up to 18 months.
Molasses using sugar beets
Put the finely chopped sugar beets in a saucepan and cover it with water.

Put it on a gas and bring it to boil. Keep stirring the mixture every 5 minutes to prevent the sugar beets from sticking to the saucepan.

Once the beets turn tender enough, turn off the heat, and collect the beet water in a container straining the content through a colander. You can use the sugar beet remains immediately in recipes like pork, fish, or in salads, or store it for later use.

Pour the collected beet water in another saucepan and bring it to boil until it turns into a thick syrup.

Turn off the heat and let the mixture cool for about 30 minutes. The syrup should now have a good consistency.

Pour it into an airtight glass jar and store it in the refrigerator.
Over time the top layer of the molasses will crystallize and turn into sugar or beet sugar, depending on the ingredient it is prepared from. Remove it, crush it, and store it in another container for later use as a sweetener.
Connect With Us
If you have tried this recipe, we would love your feedback in the comments section below. And while we can't taste it, we would love to see how it turned out! You can connect with us on Facebook or Twitter and tag your picture with #organicfactsrecipes.