Pomegranate molasses is simply made by reducing pomegranate juice into a thick syrup. It is used as a dressing, sauce, or in drinks, tagines, dessert, and more. This tart, thick, ruby red syrup requires only three ingredients, a bit of effort, and a lot of patience. Here's how you can go about it.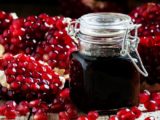 Tany bright sweetener at home!
Servings

Prep Time

1

small jar

5

minutes
Servings

Prep Time

1

small jar

5

minutes
Pour the pomegranate juice, lemon juice, and sugar in a saucepan.

Put it on a gas and bring it to boil.

Let it simmer on the gas for another one hour. Keep stirring it occasionally until it turns magenta pink.

Turn off the heat. The mixture may be slightly runny. It's okay. Let it cool for 30 minutes. It will become thick once it cools down.

Pour the molasses into a glass jar and seal it tightly. Use it immediately or store it in the refrigerator.
The last 10 minutes of cooking is very important. If you don't pay attention, you may end up overcooking it giving it a brown color.
You can refrigerate the molasses and use it up to 4 weeks.
Adding lemon and sugar to the molasses increases its longevity and freshness, and also give it a sweet-tart taste. You can adjust the proportion depending on your preferable taste.
Connect With Us
If you have tried this recipe, we would love your feedback in the comments section below. And while we can't taste it, we would love to see how it turned out! You can connect with us on Facebook or Twitter and tag your picture with #organicfactsrecipes.