You can make weed tea in two different ways, either with the marijuana buds themselves or with the leaves and stems of the marijuana plant. The former will be stronger, but is slightly more intensive, while the latter is a milder tea that is particularly good for aiding sleep. While marijuana or weed remains illegal in many states, its extensive list of health benefits including its inhibitory effects on the body makes it popular worldwide.
It is advised you check your country's laws regarding marijuana usage before making this tea. Having said that, let's take a look at the weed tea recipe now.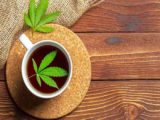 For a relaxing and soothing sensation.
| | | |
| --- | --- | --- |
| | | For a relaxing and soothing sensation. |
Weed Bud Tea (Medium Strength)
Weed Leaf/Stem Tea (Mild)
Weed Bud Tea (Medium Strength)
Grind the marijuana buds down relatively fine. Add the ground marijuana buds with the butter into a bowl.

Stir the butter and marijuana together, ensuring that all of the marijuana is coated with a thin layer of butter.

Bring the water up to a simmer in a medium pot and then gently spoon in the marijuana butter mixture. Scrape the sides of the butter/bud bowl to get all of the ground pieces of marijuana.

Keep the water to a simmer and stir the mixture gently for about 30 minutes while the tea brews.

Strain the mixture after allowing it to cool for a few minutes. Add honey or sugar to taste, and then enjoy!
Weed Leaf/Stem Tea (Mild)
Grind the weed stems in a grinder to extract more THC from them. THC is the chemical compound present in marijuana, which gives it its very famous effects of lowering anxiety and relaxing the body and the mind.

Add half and half in a pan and bring it to a boil. It is recommended not to use water to boil these stems, as THC is only soluble in oils.

Now add the ground stems to half and half and bring it to a boil. Keep stirring all this while, it will only take around 5-7 minutes.

Next, you strain the resulting mixture into a teacup. Add honey or sugar, if needed, and enjoy the soothing sensation of mild marijuana tea!
It is important to be mindful of the amount marijuana you are adding to your tea, as very high or very low levels of it can either have serious health implications or no effect at all.
Connect With Us
If you have tried this recipe, we would love your feedback in the comments section below. And while we can't taste it, we would love to see how it turned out! You can connect with us on Facebook or Twitter and tag your picture with #organicfactsrecipes.